"Off Color" is an occasional series exploring the intersection of race and comedy in Asian America.
Nothing pisses off Ali Wong more than entitlement and nepotism.
For the 33-year-old stand-up comedian and a writer on ABC's "Fresh Off the Boat," success has been a decade-long commitment to performing nearly every single night — including on her wedding day.
"You have to show, and prove," Wong told NBC News. "I'm not going to recommend you [for a job] just because you're my cousin's second cousin."
The youngest of four kids, Wong's knack for public performance began at home with the motivation to be heard.
"When you're [10+ years] younger than everyone else in your family, nothing you ever say really has any credence because everyone sees you as the baby," Wong said. "So when I did give my opinion at the dinner table, I knew I had to bring it."
Similar to a stand-up comedy set with clear anecdotes and well-timed punch lines, Wong's earliest practice in the discipline came in the form of conversations with her family. "I had to make my sentences brief, to the point, well thought-out, and, if possible, funny."
But when it came to developing her bold, sometimes bawdy, comedic voice, she attributed most of the influence to her father, whom Wong describes as "eccentric and unapologetic." Growing up, she watched her father command strangers to stop smoking around him and then fart loudly wherever he wanted, including at libraries and museums.
"He was the ultimate role model for me, because there was no such thing as 'losing face' to him," she said.
"All I ever wanted to do was tell jokes for a living."
In high school, Wong became class president and learned how to command an audience of her peers through weekly speeches. It wasn't until college that she really discovered her love for performing, when she joined UCLA's LCC Theatre Company — founded by one of her best friends, "Fresh Off the Boat" star Randall Park. A completely student-run improve theater group, LCC members had to write, act, direct, and do tech for all of their shows. "It was complete creative freedom," Wong recalled, "and such a great vehicle for someone like me to explore my comedic voice."
After college, Wong tried stand-up comedy for the first time and was intrigued by the creative control of a one-woman show. She started out performing at a laundromat-cum-coffee bar in San Francisco called Brainwash Cafe, a space she now jokingly describes as "basically a homeless shelter."
Soon after, Wong moved to New York City and spent her 20s like many struggling artists in the Big Apple: chasing her dream.
"For the first year I lived in New York, I never ate out," Wong said. "I literally just ate lentils and brown rice at home. Sometimes I'd treat myself to this half chicken from Chinatown that cost $3.50."
Living with six other people in a SoHo loft, Wong was intensely focused on her comedy career. She would perform up to nine sets a night, hopping from venue to venue between 7 p.m. to 2 a.m., honing her voice, delivery, and material.
Her motivation, she explained, was knowing how much practice it took to perfect an act. For Wong, every joke must be a hit at least 20 times on stage in order to be considered for her regular set--a practice she continued with as she developed her craft. Since she took her first solo shot at the mic, Wong said the longest she ever went without doing stand-up was 13 days when she was on her honeymoon in Japan.
Looking back, Wong said her parents were not initially supportive of her comedy career. But she benefited from her elder siblings' battles as they walked paths they would end up clearing for her.
"One of my sisters is an unemployed lesbian," Wong said, "so in my Mom's eyes, I can pretty much do whatever I want."
Wong recalled one point in her life when she intended to pursue a PhD and then a career in teaching--a point in her life she said when her goals actually did align with her parents' expectations. During her undergraduate career, Wong majored in Asian-American studies, but soon realized she could have a real effect on the subject by pursuing her passion outside of academics.
"Because whatever job you do, if you do it well with a unique point of view that makes people pay attention to your voice, it will influence Asian-American studies by nature of you being Asian American," Wong explained.
While Wong identifies as Asian American — her mom is Vietnamese and father is Chinese — she doesn't make race the focus of her jokes or her audience. "I think it's really important to not limit yourself to Asian-American stand-up comedy shows," Wong said. "In order to be the best comic, you have to perform in a wide diversity of rooms."
That perspective also plays into the work she does daily on "Fresh Off the Boat," a show filled with characters that Wong feels should have the freedom to be individuals, rather than be expected to represent everyone within the Asian-American experience. Using "Modern Family" as an example, she questions if white families critique the authenticity of show details about the white characters.
Still, she says, progress on the diversity front is well underway.
"The concept of 'diversity' was this big moral SHOULD," Wong said. "And now with the success of shows like 'Fresh Off the Boat,' 'Empire,' 'Blackish,' and 'Jane the Virgin,' it's become this big business MUST, which is so great."
So great, in fact, that Wong has returned as a writer for "Fresh Off the Boat," which recently got picked up for a full second season. During the first season, Wong said she was initially hesitant to accept the position because she feared it would interfere with her performance schedule.
"Ultimately [I] decided to say yes, to learn how to write my own show," Wong said. Since joining, she said being in the writer's room has been one of the best experiences of her life--from working again with Park to being mentored by show runner Nahnatchka Khan.
"Whatever job you do, if you do it well with a unique point of view that makes people pay attention to your voice, it will influence Asian-American studies by nature of you being Asian American."
"Stand-up is so solo which can be really empowering," Wong said, "but I love being in a writer's room now because it's so collaborative. I love laughing with people again, and creating something together."
Even with that role, Wong still manages to perform every night around Los Angeles. She recently filmed her first stand-up comedy special at the Neptune Theater in Seattle while also pregnant, which she joked about on social media and in interviews while promoting the show.
"How's that for leaning in?" Wong asked, who was seven-months pregnant while filming. "I don't believe any comic has ever done that before."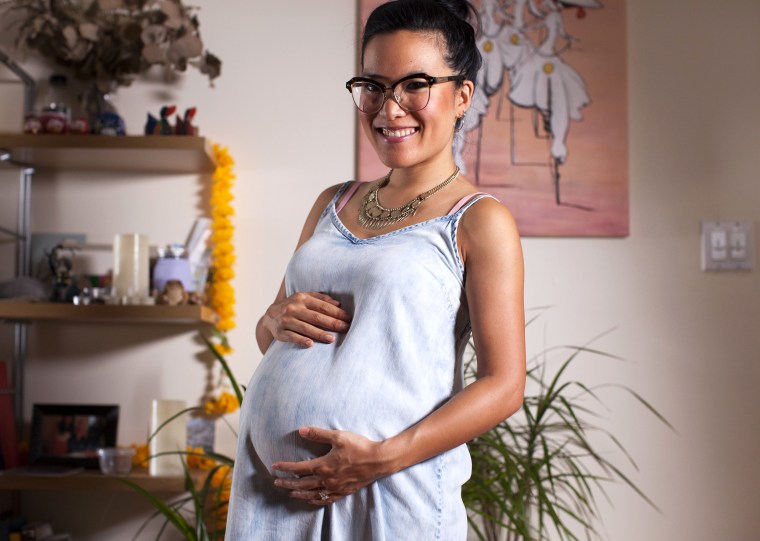 Wong said her comedy career has only helped to inform her impending foray into motherhood. Being in a writer's room with three mothers and two fathers, she said, helped her to envision the balancing act ahead.
"It's very unusual for a female stand-up comic to have kids or even want kids," Wong said. "The stand-up comedy lifestyle is particularly unsupportive of having a family."
But the network of like-minded comics she's encountered in the last few years helped her to see she doesn't have to sacrifice one dream for another.
"All I ever wanted to do was tell jokes for a living," Wong said. "Everything else that has happened since, feels like free money to be honest."