"Off Color" is an occasional series exploring the intersection of race and comedy in Asian America.
Dressed in a white button-down shirt, dark bowtie and black sports jacket, feeding off the energy of Van Halen's "Jump" blaring in the background, Joe Wong revs up the studio audience gathered for a taping of his myth-busters television show in China, "Is It True?"
He high fives the crowd, blows kisses with both hands, and strides up to the main stage, where he pumps his fist and lets out a "roo roo roo" like Arsenio Hall's audience did on his show back in the 90's.
After a quick introduction, Wong jumps right into the jokes.
"Some time ago, I was at home with my wife watching soccer," he says in Mandarin. "My wife was especially into it. She said, 'This goalie is really amazing.' I said, 'What's so amazing?'"
"She said, 'Look - he stood there for many hours and never checked his cellphone once!'"
Wong, 45, is a Chinese-American comedian on a simple mission these days - to make his motherland laugh. He's already figured out how to do that in America, gaining a following after appearing on the "Late Show with David Letterman," "The Ellen DeGeneres Show" and in 2010 at the annual Radio and Television Correspondents Association dinner in Washington, D.C., where he roasted Vice President Joe Biden.
But as Wong has learned since returning to his native China in 2013, trans-cultural comedy is more than just translating jokes back and forth between English and Mandarin.
"I got a lot of criticism in the beginning," Wong told NBC News. "They were like, 'Hey - this is American humor. It's not going to work in China.' But because of the Internet, a lot of Chinese actually watched my sets in America and like my show."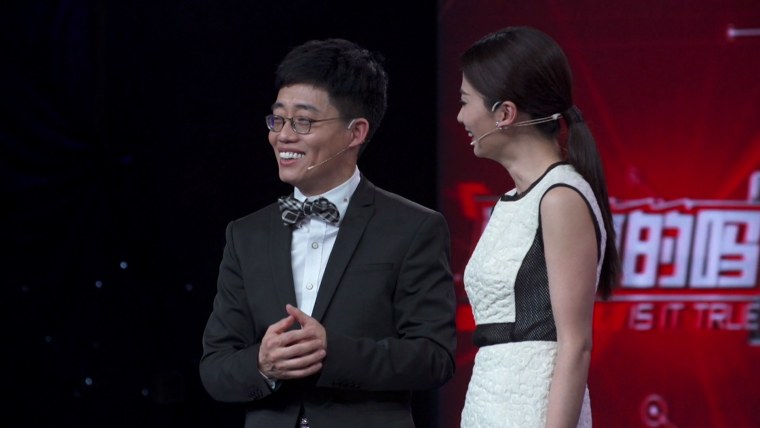 Wong's unlikely foray into stand-up comedy began in the United States, where he earned a doctorate in biochemistry in 1999 from Rice University in Texas. Two years after graduating, while working at a biotech company in Houston, a coworker took him to see his first comedy show ever. On stage performing that night was Emo Philips, a comedian known for his falsetto voice and exaggerated delivery.
Wong, whose second language is English, understood only half of Philips' jokes, but he left inspired.
"It's very liberating in stand-up comedy," Wong said. "You can basically cover any topic you want as long as you make it funny and make people think."
That same year, Wong's company closed in Houston, causing him to move to Boston to join another biotech firm. Wong, who had once studied neurobiology and fruit flies, discovered that he enjoyed observing people and figuring out what made them tick. While in Massachusetts, unbeknownst to his parents in China, Wong decided to enroll in an adult-education class to learn the nuts-and-bolts of stand-up comedy.
Little by little, he began forging a new career in Boston's comedy clubs.
"Most of the time, I was the only Asian guy on the line up," Wong said.
"For a lot of Chinese, all of a sudden it dawned on them that they could do this too"
That mattered little to Wong. What did matter, though, was getting Americans to laugh. For Wong, it was a recursive process of trial-and-error, of reading up on American culture and history, of testing his jokes on his wife, Lucy Jin, to see if she would laugh. His most nerve-wracking performance, Wong said, came in 2010 at the Radio Television and Correspondents Association dinner.
"Even though I practiced those jokes in different comedy clubs, the audience that night wasn't as hot as a club audience, so it took four or five minutes to bring them over," Wong said.
Once he did, laughter ricocheted through the room. Later, video of his performance went viral in China, receiving nearly 10 million hits, Wong said. Even though many Chinese didn't get his jokes, the image of a Chinese American entertaining an audience of 2,400 Americans – including the vice president – spoke volumes.
"For a lot of Chinese, all of a sudden it dawned on them that they could do this too," Wong said.
Wong credits China's newfound interest in standup comedy to his performance at the correspondents' dinner, which he said inspired a new cadre of Chinese comedians drawn from the ranks of students and white-collar workers. Since 2010, more than a half-dozen comedy clubs have cropped up across China, he said, with three in Beijing, China's capital, and two in Shanghai.
Whether in China or the U.S., Wong said, the same topics draw laughter from all audiences. Comedians in both countries, he said, tell jokes about college life, dating, raising children and, yes, sex. There's also some wiggle room for political humor, he said. "But that's not the main part of stand up comedy in any country," Wong said, adding that Chinese comedians don't usually poke fun at top political leaders.
Still, there are differences. "The Chinese love more direct jokes," said Wong, noting that crosstalk, a traditional Chinese dialogue-based comedy with banter and puns, has long been favored in China. "If you just say something funny, or it rhymes, they would applaud."
Americans, by contrast, prefer time to ruminate over their jokes, he said. "You have to use logic to arrive at a truth," Wong said, "and so a play on logic is really a big thing in American humor."
But humor can also transcend cultures. "One of my jokes was, if I were to die in a car accident, I wanted to be in a collision with a cement truck, that way immediately after I die, there is a statue of me," he said. "This joke translates really well because in both countries, people drive."
"There are too many Asian guys talking about their mothers' accents"
These days, Wong is focused on his comedy career in China, performing at schools and comedy clubs and hosting his own popular television show on CCTV2 - "Is It True?" - which airs for one-hour every Saturday night. The combined effort of Wong and two other writers, "Is It True?" aims to prove or disprove myths and rumors found on China's social media.
Wong plays both the funny man and the host, warming up the crowd with a sequence of jokes and later leading discussions among guests on topics like whether brown sugar is good for low blood pressure, and whether chemicals are used in freshly squeezed juices.
"These types of things I'm interested in too because I've been away from China for almost 20 years," Wong said.
Wong still keeps one foot in the Western comedy world, attending shows and festivals in the U.S. where he performs in both English and Mandarin. Most recently, Wong traveled to New York in April to host the annual gala of the Committee of 100, a Chinese-American organization promoting dialogue between the U.S. and China. Former Secretary of State Henry Kissinger and Former U.S. Ambassador to China Gary Locke were expected to attend.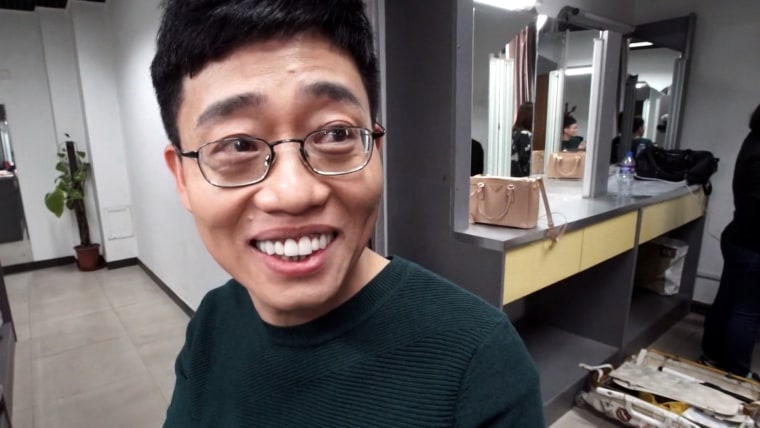 Asked to name his biggest comedic influences, Wong mentioned Woody Allen and Steven Wright, among others. He added that he thinks Korean-American comedian Margaret Cho is "great," but was critical of some Asian Americans who perform standup. "There are too many Asian guys talking about their mothers' accents," he said.
Eschewing that style of humor, Wong said he hopes to create an American sitcom in which he plays a public cable access television talk show host who caters to immigrants. He also said he's been in talks with U.S. producers who want to pair him with an American writer to create a storyline for a comedy, based loosely on Wong's experience in America.
"I'm trying to see if we can come up with a film that is popular in both countries and has nothing to do with Kung Fu, moms or accents," Wong said.
Nearly 14 years after taking his very first comedy class, Wong has indeed accomplished much as a comedian and as an entertainer. But one milestone achievement last year made Wong particularly proud.
"I finally made the hipster crowd laugh in New York," he said, referring to his performance at the Eugene Mirman Comedy Festival in Williamsburg, Brooklyn.
His secret? "In most comedy clubs, the more prepared you are, the better the response you'll get," Wong said. "But with hipsters, sometimes you have to be less prepared and talk more from your heart."