Kristina Wong was having a crisis. The actress, comedian, and performer had for years toured with an acclaimed and popular one-woman show, "Wong Flew Over the Cuckoo's Nest", centered around a semi-personal experience with mental illness. But success was a double-edged sword.
"I toured 'Wong Flew Over the Cuckoo's Nest' for so long and I was just, 'Is this going to be my life?' Wong said. "Like I was, 'Am I going to be in my forties touring the show I made in my twenties?' And I got really depressed. Is this my only value as an artist, as basically a substitute for social worker?"
So, in a stroke of individuality that's marked her career, Wong decided to, Dave Chappelle-style, jump ship and head to, in her words, the "mother mother land"— Africa, more specifically, Uganda. It would be a trip that would ultimately be challenging for the seasoned actress in ways she never expected.
Wong started performing at UCLA, at an Asian-American theatre group founded by none other than Randall Park, most recently of Fresh off the Boat fame. The troupe put on sketches, and saw themselves as fighting the good fight, giving Asian Americans representations, even complicated ones, on stage.
But she found that their work on stage sometimes didn't translate for a skeptical audience. While preparing a piece which portrayed a Taiwanese person in a villainous role, the group found backlash among their target demographic.
"The Taiwanese Student Union came to the second day of our show with this big protest letter, a boycott letter," Wong recalled.
The group, who in their own view was there to make art, was caught off guard.
"We all panicked," Wong said. The group relented, dropping the character, but the incident taught Wong first hand about sticking to your artistic guns.
"I wish we just went and did the scene, " Wong said.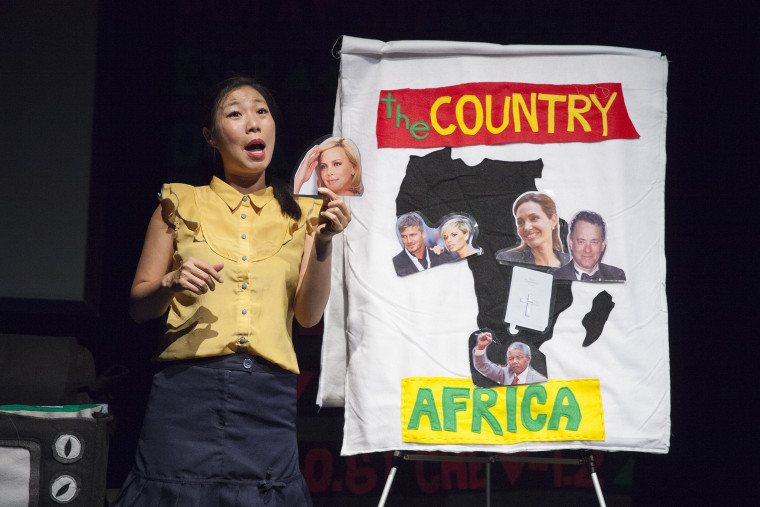 Wong worked for years to break into mainstream acting, a profession that's challenging even to those already considered part of that mainstream, let alone a young, Asian-American actress with an activist streak.
"That world has completely always eluded me," Wong says, referring to commercial acting. "I think there's a certain kind of harmless Asian woman that television wanted to see ten years ago."
"Wong Flew Over the Cuckoo's Nest" was in many ways Wong's breakthrough. The work resonated with an intersection of audiences and dealt with a range of themes.
But Wong found success cut both ways. Finding a viable show meant relatively steady work, touring the show helped garner a following and spread Wong's name and own brand of comedy. But after years of performing the same material, and having other, new material fail to gain traction, Wong began to worry she'd be locked forever in the same kind of mental prison her show depicted.
"I got really down on myself, I got really isolated, I wasn't growing as an artist," Wong says. "Just imagine repeating anything you did eight years ago again and again."
"[I was like] Oprah to them."
So, Uganda. Specifically in the hip hop underground of Uganda — vibrant, edgy, forged on cheap computers and cheaper microphones. She also found that a starving artist in America could be a mogul in comparatively poor Uganda.
In Africa, suddenly Wong found herself in the midst of the events that arm chair activists typically only critiqued from the sidelines.
"I was very familiar with…the problems with showing and trying to be a savior," said Wong. "But I knew I'd just have to navigate it."
By chance, she came across a poor but thriving underground hip hop scene. Wong thought here, even her modest cash flow could make a difference as an investment to help get struggling artists off the ground.
"[I was like] Oprah to them." Wong said.
But like famous rappers have lamented, more money meant more problems. Wong was confronted with tricky moral conundrums that usually followed even simple economic transactions — which rapper would she back? Why one over the other? Which studio was most deserving of her small injections of funding and gear? How do you lift up an industry without getting caught in the politics and rivalries?
The experience left Wong reeling, but inspired. She took her time as a would-be rap mogul and crafted a new one-woman show, "The Wong Street Journal" that challenged Western concepts of equality in a land devoid of it.
"A lot of the show is me navigating very awkward situations around money or power." Wong said.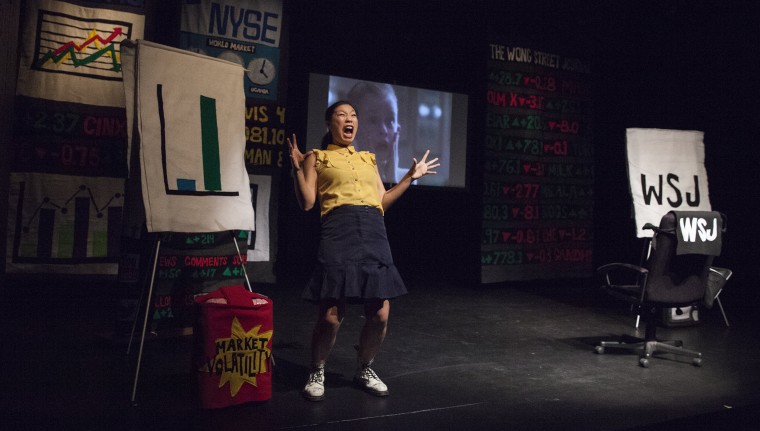 The show, in many ways, is history repeating itself. Some reactions on Twitter and Facebook have been dismissive, like the incensed Taiwanese student group in UCLA years ago.
"Even in the research phase, [this show] has been the subject of Facebook protests," Wong says, "People saying 'this is problematic, that is problematic.'"
But after years of steering her art around complex P.C. potholes, Wong has found less pushback on the show and it's subject than she anticipated.
Wong still relies on lessons learned years back as she rolls out the show. "We're just trying to figure this out!" Wong says.
Like NBC Asian America on Facebook and follow us on Twitter.