Growing up, Tania Chatterjee never talked about the "birds and the bees" with her South Asian parents. Neither did many of her South Asian friends, who she said shared similar frustrations about the generational gap that existed.
"There was no sit down or anything...it's just kind of a common theme, that there's an appropriate time for sex, and that's only after marriage," the 27-year-old from Washington, D.C., told NBC News.
"We have a lot of cultural norms that are related to not speaking about problems, whether it's a lot of norms around the whole idea of saving face...you don't want people to know you're sick or have cancer or HIV."
The stigma around discussing sex within Asian-American and Pacific Islander (AAPI) communities prompted Chatterjee and her brother, Trinish Chatterjee, as well as friends Sree Sinha and Sriya Sarkar, to launch the South Asian Sexual Health Alliance, a safe space and online forum targeting South Asian youth and young adults to discuss sexual health, sexuality, mental health, and LGBTQ issues.
"These three main issues are very stigmatized in the South Asian community and very taboo, and most of us can't go up to a family or community elders and talk about it," Tania Chatterjee said. "So we were thinking of providing this space and hopefully find like-minded people or find people going through the same issues. It helps to know you are not alone."
The alliance has also taken its mission to college campuses: In April, it conducted three workshops at the University of Maryland examining existing stigmas in the South Asian community and how Bollywood influences the community's views on sex and sexuality.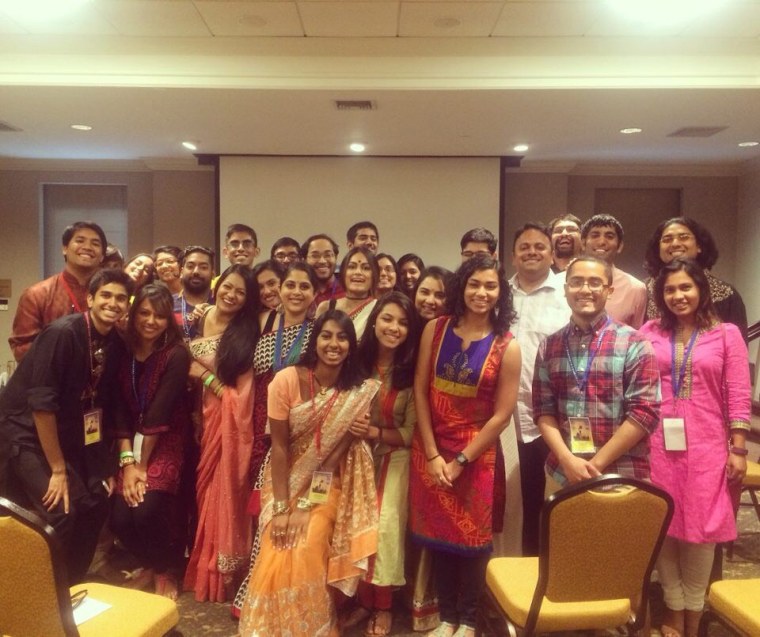 They have also hosted other workshops that touch on substance abuse and mental health in AAPI communities.
"As someone who works in the field, it's important to make sure there are resources out there in the community," Chatterjee, who received a master's degree in reproductive and cancer biology from Johns Hopkins, said.
Sadia Arshad, a member of the Young Women of Color Leadership Council, echoes some of Chatterjee's concerns, noting that growing up as a South Asian Muslim woman, she felt there was a certain level of unease when talking to her mother about sexual and mental health.
"When I did talk to my mom about sexual health, I was very nervous because I wasn't sure she would understand, and I was also concerned about the shame and stigma," said Arshad, who noted that while her mom has always been supportive of her decisions, there is often a generational divide.
"A lot of our mothers and grandmothers were not given space to discuss these topics safely with adequate education," she added.
The lack of conversations surrounding sexual health is not uncommon in AAPI communities, according to Dr. Hyeouk Hahm, chair and associate professor of social research at the Boston University School of Social Work.
Data from Hahm's latest study on young Asian-American women, titled "Asian Women's Action for Resilience and Empowerment," found that the discussion on sexuality in the household was "severely lacking."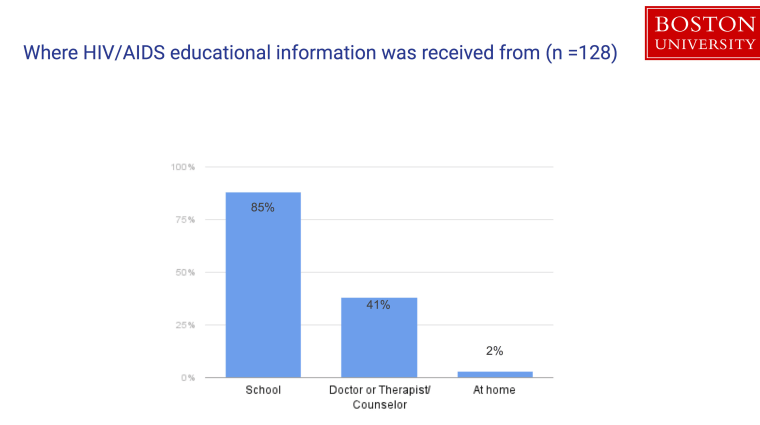 In the 2015 sample, 173 Asian-American women 18 to 35 years of age were evaluated. Of that group, 128 reported having sexual intercourse in the past three months. The majority of women (85 percent) reported having received HIV/AIDS education information from school, 41 percent from a doctor or therapist, and only 2 percent received sexual health information from their home, Hahm said.
"This finding suggests a need to develop culturally relevant strategies to break down myths, stigma, and cultural barriers that limit discussions about sex and HIV among API women and their family members," Hahm told NBC News by email.
Karishma Trivedi, a junior at Georgetown University, said that along with talking about sexual health in the physical contact and contraceptive sense, there is also a "very real need" to focus on talking about the intimacy of relationships, sexual violence, and domestic abuse. "These are the dominant problems facing our community and they are rarely discussed," Trivedi told NBC News.
RELATED: Plan B Vending Machine at UC Davis 'Doesn't Give Judgmental Looks'
Parteek Singh, a senior at the University of California, Davis, said a majority of students on campus are sexually active and should have access to sexual health resources.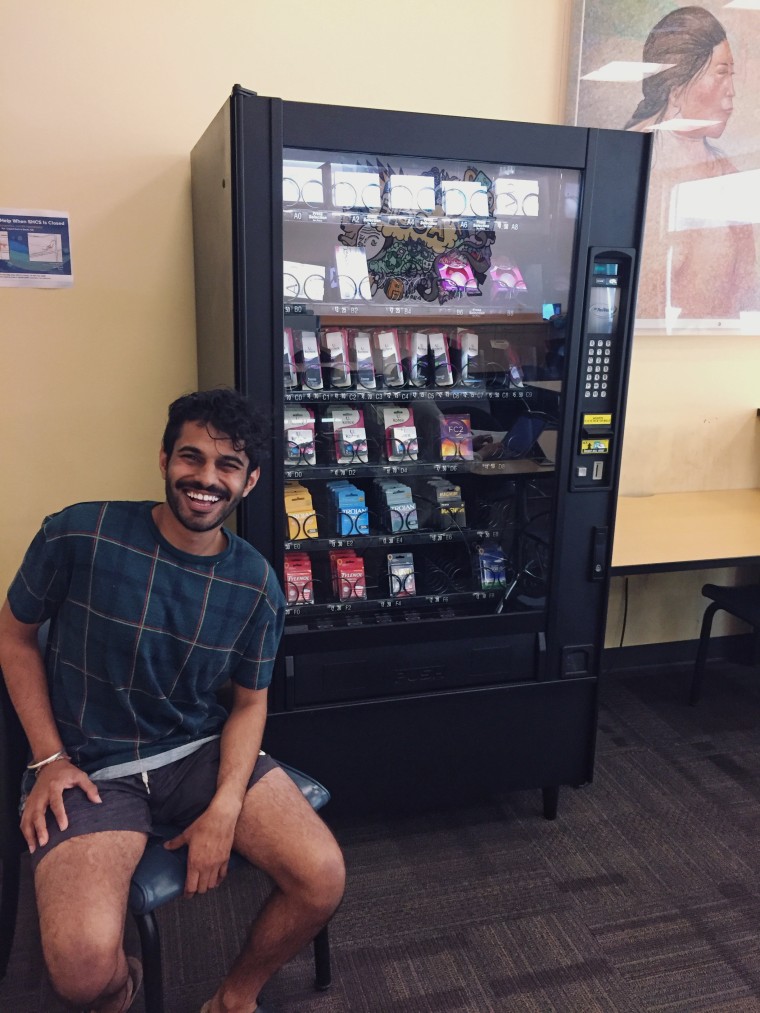 After hearing about a friend who had difficulty accessing emergency contraception at an off-campus pharmacy, Singh researched ways to help make these resources accessible to students on campus after hours, when the school's pharmacy is closed. He spent nearly two years advocating for a vending machine that would sell emergency contraception as well as to increase the number of free HIV testing days on campus.
The vending machine was green-lit and installed on campus last month and is open seven days a week. Singh says so far the vending machine has received positive feedback for its accessibility. "Students appreciate the anonymity factor the machine has, they don't have to interact or deal with people," Singh told NBC News.
Along with emergency contraception, the "Wellness to Go" machine also sells Advil, tampons, allergy medication, condoms, and pregnancy tests. "When you're on a college campus, you need these resources. There needs to be more accessibility," Singh said.
According to the Centers for Disease Control and Prevention (CDC), the number of HIV diagnoses among AAPIs has increased in recent years. One in 5 AAPIs currently live with HIV without knowing their diagnosis, according to CDC data.
Likewise, data collected by the CDC also shows that sexually transmitted diseases rates are increasing in the AAPI community. Rates of reported Chlamydia cases increased 7.8 percent among Asians and 8.9 percent among Native Hawaiians and Pacific Islanders between 2011 and 2015. Rates for Gonorrhea and Syphilis also increased during that time frame.
Sapna Mysoor, director of capacity building assistance and training at the Asian and Pacific Islander Wellness Center (API Wellness), said stigma is an issue across communities of color when talking about or accessing sexual health services.
"We have a lot of cultural norms that are related to not speaking about problems, whether it's a lot of norms around the whole idea of saving face...you don't want people to know you're sick or have cancer or HIV," Mysoor told NBC News.
RELATED: Little Sex Ed, Stereotypes Could Lead to Health Risks, Family Planning Issues
In 2005, API Wellness helped establish National Asian Pacific Islander HIV/AIDS Awareness Day, which falls on May 19, along with a social marketing campaign called the Banyan Tree Project, which incorporates the slogan, "Saving Face Can't Make You Safe," to help end the stigma of HIV in the AAPI community.
"We recognized at the time that in order to build awareness, we need to put out messages to API communities around the acceptance of people living with HIV, and the reduction of stigma that was related to HIV," said Mysoor, adding that the stigma around HIV is very much still present in the AAPI community.
According to a study from Rutgers University that surveyed 665 South Asians, 129 (19 percent) had been tested for HIV, compared to 44 percent of the general population.
Ahead of May 19, API Wellness hopes to put together a toolkit on existing HIV treatment and updated fact sheets to raise awareness about HIV/AIDS.
"HIV is particularly stigmatized because it's related to sex and what could be viewed as mainstream API community as deviant sex," she said, noting that there's a community level stigma that results in people being isolated and possibly being disowned by families.
"It results in those affected or at risk for HIV to have their own internalized stigma," Mysoor added. "They themselves feel very ashamed of who they are and how they are behaving which then leads to people not getting tested for HIV because they don't even want to know."
"When I did talk to my mom about sexual health, I was very nervous because I wasn't sure she would understand, and I was also concerned about the shame and stigma."
Ahead of National Asian and Pacific Islander HIV/AIDS Awareness Day, nonprofit health group APAIT will continue to conduct outreach through its "Status is Sexy" campaign which features brand ambassadors like actor Jake Choi, according to program analyst Abigail Radaza.
The social media campaign, which launched in 2014, aims to promote HIV testing and eradicate the fear of HIV.
"The aim of campaign is to destigmatize and normalize the fact that you can go and find out your HIV status in terms of education and not have to feel as if there would be any judgment," Radaza told NBC News, adding that misconceptions may include the idea of not feeling the need to be tested.
While the cultural stigma surrounding HIV and sexual health still exists, there's also a linguistic barrier for those with limited English proficiency who are in need of services, Radaza added.
"If somebody is in need of linguistically competent services and can't find it in your area, it also becomes difficult to get an HIV test and not have that fear that you'd be discriminated against because maybe you couldn't understand the words being told to you, or the fear of finding out your status and what happens next," she said.
Follow NBC Asian America on Facebook, Twitter, Instagram and Tumblr.