Asian-American and Arab-American leaders are speaking out following Michigan Governor Rick Snyder's new stance regarding Syrian refugees after the Paris attacks.
"Michigan is a welcoming state and we are proud of our rich history of immigration," wrote Snyder in a statement. "But our first priority is protecting the safety of our residents. Given the terrible situations in Paris and Beirut, I've directed that we put on hold our efforts to accept new refugees until the U.S. Department of Homeland Security completes a full review of security clearances and procedures."
Previously, Snyder had advocated for bringing more Syrian refugees to Michigan in an attempt to revitalize the state's economy. Earlier this month, Snyder had visited BanglaTown on the border of Hamtramck and Detroit to cut the ribbon at the opening of the new office of the Bangladeshi American Public Affairs Committee. He praised the city of Hamtramck, which had just elected what is believed to be the first Muslim-majority City Council in America. According to the Detroit Free Press, Snyder said earlier this month, "I believe I'm the most pro-immigration governor in the country."
Now, Michigan leaders are not so certain.
"I am very disappointed by the Governor's decision to halt Michigan's efforts to resettle Syrian refugees in Michigan," Michigan Representative Stephanie Chang told NBC News. "Michigan is supposed to be a welcoming state, and the Governor's office seems to be moving backward on that positive momentum. Providing assistance to those who are fleeing crisis in their country should be a priority if we are truly to be a pro-immigrant, pro-refugee state."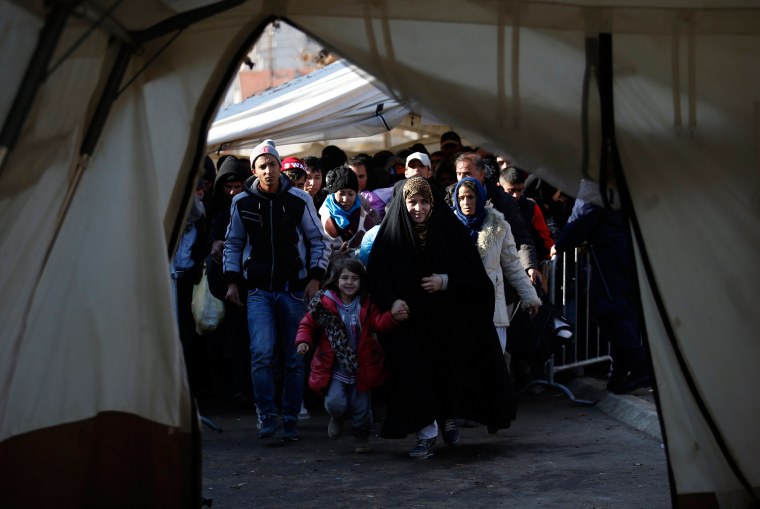 "A clear articulation of the rationale and timing for the decision should be made," Professor Jamie Hsu, Chair of the Michigan Asian Pacific American Affairs Commission (MAPAC), told NBC News. "This temporary measure needs to be put into context and not be interpreted as a change of our fundamental belief that immigrants are and will be an essential part of Michigan's success and prosperity."
Arab-American leaders were also disappointed by the governor's announcement. ACCESS (Arab Community Center for Economic and Social Services), the largest Arab American human services nonprofit in the country, wrote in a statement: "The Governor's remarks are hasty in the absence of a conclusion to any investigation into the attacks on Paris, especially considering the robust and lengthy screening procedures for Syrian refugees already in place by the U.S. Department of Homeland Security. While we share the Governor's concern for making the safety and security of Michigan communities an utmost priority, we ask that the Governor not discard the values of diversity and inclusion that make our state great. We urge the Governor to consider the implications of equating desperate refugee families with the terrorists they are fleeing from, and recommit to making Michigan a welcoming state for all."
Former Michigan Representative Rashida Tlaib tweeted that the Governor was sending the wrong message.
Steve Tobocman, Executive Director of Global Detroit, added to NBC News that he did not think that concerns about security would affect the business climate for immigrants in Michigan. "After working with Governor Snyder and his team for the past five years, I firmly believe that his statements in wake of the horrible tragedy in Paris will not impact the state's commitment to welcoming or the work that we endeavor to pursue in Banglatown. Even in his announcement about the security clearance processes for Syrian refugees, the Governor was quick to re-emphasize his commitment to welcoming," Tobocman said.
Monday night, Snyder released a letter to Secretary of State John Kerry and Secretary of Homeland Security Jeh Johnson that reaffirmed Michigan was welcoming of immigrants, but reiterated his concerns about security. "I've been a vocal advocate for making Michigan a home where refugees from around the world can build a new life. I am unwavering in that determination," Snyder wrote. "I am asking for a full review of security clearances and procedures for all refugees who have the potential to be placed in Michigan. I know that background checks are an important component in a long and detailed process. In times of great challenges such as this, I think it would be proper to take a closer look at those processes to determine if there are areas that could be strengthened."
IN-DEPTH