Last month, several federal lawmakers introduced legislation to reform a controversial visa program known as the H-1B, which attracts overseas specialized workers to come to the United States for employment, many of them from India and China.
For one immigration expert, the bills that have the best chance of making it through Congress are those that zero in on concerns over American workers, such as those in software, being replaced by counterparts from outsourcing companies, some of whose employees are H-1B recipients.
"I think that's the issue that's gotten the most energy," William Stock, an immigration lawyer from Philadelphia and president of the American Immigration Lawyers Association, told NBC News. "And if we're going to see a targeted bill on H-1B, a sort of narrow bill aimed at that issue is what may have the most likelihood of passing."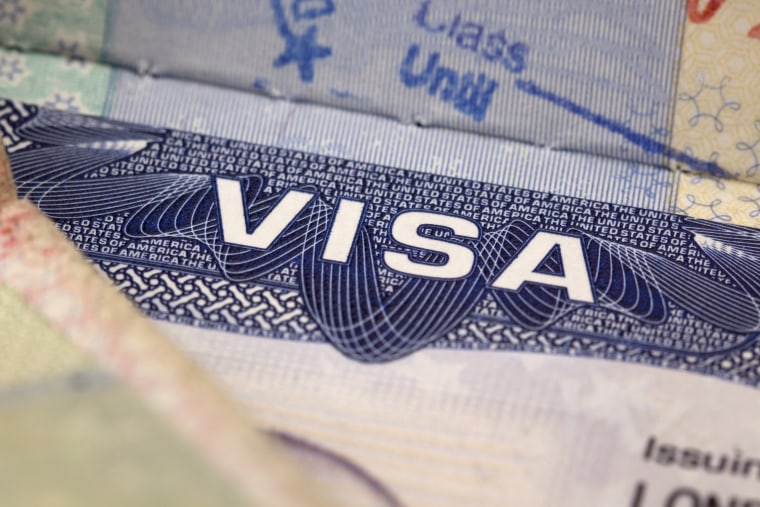 RELATED: Tech Worker Visas Face Uncertain Future Under Trump, Sessions
Created in 1990, the H-1B program allows U.S. companies to sponsor non-immigrant visas to temporarily employ foreign workers with bachelor's degrees in specialty fields like engineering, computer programming, and science. India and China, in that order, are the top two countries from which H-1B recipients hail, Stock said.
The government sets an annual cap of 85,000 H-1B visas, which includes 20,000 for foreign workers with U.S. advanced degrees. In 2016, the cap was reached in just one week, for the fourth consecutive year, with more than 200,000 H-1B applications filed.
RELATED: Less Than a Week After Applications Opening, 2017 H-1B Visa Cap Hit
A lottery is used to decide who receives the visas, which are good at the sponsoring company for up to three years. H-1Bs can be extended for an additional three years.
As immigration takes center stage in the first month of Donald Trump's presidency, how to attract what some lawmakers call the "best and brightest" through the H-1B visa program has been the subject of much debate. Federal lawmakers have adopted varying approaches to reforming the program with their legislation.
Rep. Darrell Issa (R-CA), for instance, reintroduced a bill last month to help stop the outsourcing of jobs. It calls for boosting the H-1B annual salary requirement from $60,000 to $100,000 and eliminating the master's degree exemption, according to a statement from his office. H-1B applicants, he said, have abused this by obtaining low-quality certificates to meet the standard.
"By raising the salary to a level more in-line with the average American salary for these positions, it would help cut down on abuse and ensure these positions remain available for companies who truly need them," the statement reads.
Rep. Zoe Lofgren (D-CA) introduced her own bill that would award visas according to which employers offer the highest salary. It also calls for removing a country cap on employment-based immigrant visas and would apportion 20 percent of H-1B visas annually for small businesses or startups.
"It offers a market-based solution that gives priority to those companies willing to pay the most," she said in a statement. "This ensures American employers have access to the talent they need, while removing incentives for companies to undercut American wages and outsource jobs."
And a bill from Sens. Chuck Grassley (R-IA) and Dick Durbin (D-Il) seeks to ensure American workers are not undercut by cheap labor.
For H-1B visas, it would establish a system that gives preference to foreign students educated in the U.S., to advanced degree holders, to those paid a high wage, and to workers with valuable skills.
The bill would also go after outsourcing companies that use visa programs to temporarily bring over large numbers of foreign workers for training, only to send them back home to perform the same job.
"We need programs dedicated to putting American workers first," Grassley said in a statement. "When skilled foreign workers are needed to meet the demands of our labor market, we must also ensure that visa applicants who honed their skills at American colleges and universities are a priority over the importation of more foreign workers."
With many H-1B recipients hailing from Asian countries, how the visa program is ultimately reformed remains an important topic within the Asian-American community, according to Cliff Li, executive director of the National Committee of Asian American Republicans.
RELATED: 'Battle for Talent Is Global': Rust Belt Seeks Visa Reform
In addition to India and China, H-1B visas are also popular among citizens of the Philippines and South Korea, Stock, the immigration lawyer, said.
In an email to NBC News, Li, who is Chinese American, said he had gone through the H-1B process in the 1990s, later becoming an American citizen.
"While we are strongly against illegal immigration, we believe legal immigration, especially the means to attract hi-tech talents, is vital to our future keeping the U.S. at the cutting edge of technology," Li said. "The H-1B program should be revamped to deal with known abuses and prevent the job losses of U.S. workers."
For tech workers in India, talk of H-1B reform and what may lie ahead has sown fears in that country. Earlier in the week, shares of top Indian IT companies dipped following news of Lofgren's bill, the Associated Press reported. Some Indians worry that an H-1B overhaul may dry up job opportunities for them.
In fiscal year 2014, citizens of India made up 70 percent of the 316,000 H-1B petitions approved by the U.S. Citizenship and Immigration Services, according to the Migration Policy Institute.
"From their perspective, the doors are being narrowed," Stock said. "But I think that means there's going to be more opportunities with companies in India. The next step of this, though, that everyone needs to understand is this is not just an attack on immigration. This is an attack on the global supply chain."
Follow NBC Asian America on Facebook, Twitter, Instagram and Tumblr.