Members of New York's congressional delegation sent a letter to the New York Police Department (NYPD) expressing concern over what they say is a rise in crime against Asian Americans and urging the department to hire more Asian police officers.
"We expect [the] NYPD to not only examine these trends but propose tangible solutions to address this problem."
The letter, dated Feb. 3 and addressed to Police Commissioner William J. Bratton, said that "Asian/Pacific Islander" was the only category for which the percentage of victims increased for every type of crime. The data comes from yearly reports compiled by the NYPD between 2008 and 2014 that categorize victims, suspects and arrestees according to race or ethnicity.
"The rise in crime against the Asian-American community is very troubling," U.S. Rep. Grace Meng (D-NY), who represents Queens where one-in-four residents is Asian, said in a statement. "We hope that after receiving our letter, the NYPD will determine why this is occurring and make every effort to combat this disturbing spike in criminal activity."
The NYPD did not respond to a request for comment.
READ: Letter to Police Commissioner William J. Bratton
A comparison of the 2008 and 2014 NYPD reports, titled "Crime and Enhancement Activity in New York City," shows an increase in the percentage of Asian-American victims of misdemeanors and felonies. For felony sex crimes, for instance, Asians made up 2.1 percent of victims in 2008 and 5.5 percent in 2014, according to the letter and NYPD data.
Within those years, the percentages of Asian-American victims in some crime categories fluctuated, according to NYPD statistics. For rape, for example, the percentage of Asian-American victims rose from 5.4 percent in 2012 to 6.5 percent in 2013, but dropped back down to 5.4 percent in 2014, the last year data was publicly available, NYPD figures show.
In 2008, 11.7 percent of New Yorkers were Asian, compared to 13 percent in 2014, according to the NYPD, which took its numbers from the American Community Survey of the U.S. Census.
In the letter, federal lawmakers also urged the NYPD to recruit more Asians to join the force. At the end of 2014, 6.2 percent of the department's uniformed ranks was Asian, according to the NYPD.
The federal lawmakers' letter comes as police continue to investigate two assaults against Asian Americans in New York late last year. The first occurred on Nov. 29 when playwright David Henry Hwang was stabbed in the neck while walking home from a grocery store in Brooklyn.
RELATED: Tony Award-Winning Playwright Reportedly Slashed in Neck Near New York Home
RELATED: Playwright David Henry Hwang Reflects on Recent Neck Stabbing, His Future Work
The second happened in Queens on Dec. 16 when 16-year-old Jia Jia Liang, an exchange student from China, was slashed across the neck and cheek while on her way to school. It will likely take a year for Liang to fully recover from her injuries, which required 200 stitches, New York Assemblyman Ron Kim of Queens told NBC News last month.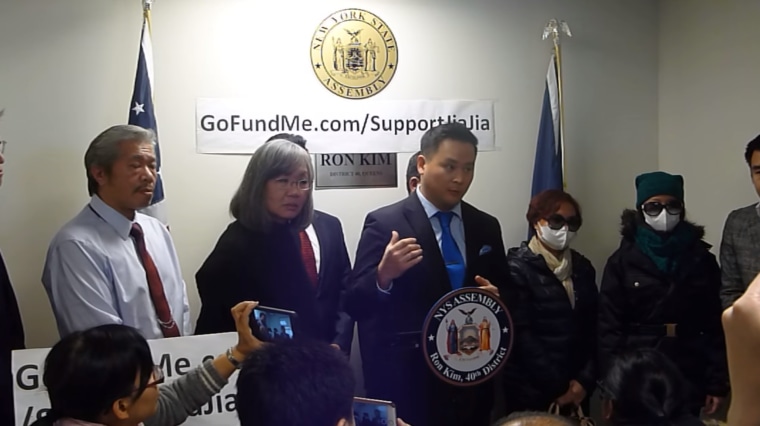 Kim said he also sent a letter in December to Bratton and New York Mayor Bill de Blasio detailing concerns over whether there was a rise in crime against Asians.
So far, no arrests have been made in either case. But in early January, police were investigating a note that was left on a car that two men allegedly vandalized outside the house where Liang was staying. The note was addressed to someone living there and said Liang was not the target, according to NBC New York.
RELATED: Fund Started to Help Exchange Student in New York Slashed in Face, Neck
Residents in Manhattan's Chinatown were also on edge last June after 25-year-old Tyrell Shaw allegedly attacked four Asian women on the street within two weeks, striking each with a hard object in a bag. Shaw, who was reportedly unhappy about not being able to date Asian women, later committed suicide.
U.S. Rep. Nydia Velazquez (D-NY), whose district includes parts of Brooklyn and Manhattan's Chinatown, called the recent statistics on crime rates in New York's Asian-American communities troubling.
"We expect [the] NYPD to not only examine these trends but propose tangible solutions to address this problem," Velazquez said in a statement.
Follow NBC Asian America on Facebook, Twitter, Instagram, and Tumblr.