Two weeks after approximately two-thirds of the President's Advisory Commission on Asian Americans and Pacific Islanders resigned, the Congressional Asian Pacific American Caucus (CAPAC) renewed calls for President Donald Trump to meet with the caucus in order to discuss the issues affecting Asian-American and Pacific Islander (AAPI) communities.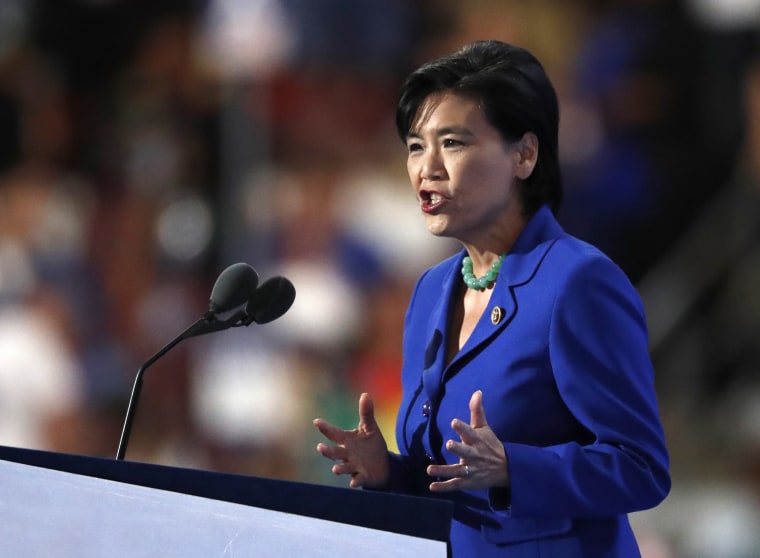 CAPAC first requested a meeting with Trump on Nov. 23, 2016, sent a second request on Feb. 17, 2017, and most recently sent a letter and took to Twitter on March 1 to call for a meeting. None of their requests have been answered, CAPAC Chair Rep. Judy Chu (D-Calif.) said.
RELATED: 10 Resign from President's Advisory Commission on Asian Americans and Pacific Islanders
"Since the Congressional Asian Pacific American Caucus was founded in 1994, we have always engaged with the White House, regardless of which political party is in power," Chu told NBC News. "To have our multiple requests for a meeting ignored is not only disappointing, but it also prevents Asian Americans and Pacific Islanders from having an equal voice in shaping our nation's policies."
NBC News has reached out to the White House for comment.
The caucus' letter to the president states that the United States' 20 million AAPIs are the fastest growing demographic in the country, have more immigrants than any other racial group, and face social and economic challenges in many areas.
"Our constituencies are scared and have major concerns regarding the President's Muslim ban, immigration raids, and efforts to dismantle the Affordable Care Act," Chu said. "Over the past few months, we have also seen an uptick in hate rhetoric and violence targeting our communities that harkens back to dark chapters in our nation's history when AAPIs did not have a voice in government. We refuse to allow this to be the new normal, and urge the President to work with us to address the concerns of our diverse constituencies. We will not allow history to repeat itself under our watch."
RELATED: Congressional Black Caucus Says Trump Ignored Letter Asking for Cooperation
The Congressional Black Caucus has previously said that the White House ignored a letter from them calling for a meeting. "We sent you a letter on January 19 but you never wrote us back," the CDC posted on Twitter on Feb. 16. Earlier that day, Trump had said he "would love to meet with the black caucus," during a press conference.
Follow NBC Asian America on Facebook, Twitter, Instagram and Tumblr.