Immigration authorities have arrested the imam of a Connecticut mosque on an outstanding deportation order issued last year.
U.S. Immigration and Customs Enforcement (ICE) identified the man as Hafiz Abdul Hannan, a citizen of Pakistan, who was taken into custody on Friday at his home in New Haven, Connecticut.
ICE spokesman Shawn Neudauer told NBC News in an email that an immigration judge handed down an order in March 2016 to deport Hannan.
"Hannan has a previous federal conviction for committing fraud in his immigration documents," Neudauer said. "He will remain in ICE custody pending removal from the United States."
Hannan is listed as imam on the website of Masjid Al-Islam, a mosque founded in 1987 in New Haven.
Mongi Dhaouadi, executive director of the Connecticut chapter of the Council on American-Islamic Relations (CAIR) told NBC News that Hannan is regarded as a great community leader in New Haven and is widely beloved.
"Everybody was shocked to see him being arrested only a few hours before the Friday prayers, a few days before the month of Ramadan, when the community is getting ready for this important holy month," Dhaouadi said. "And so obviously we're concerned about the choosing of the time by the authorities to execute this order."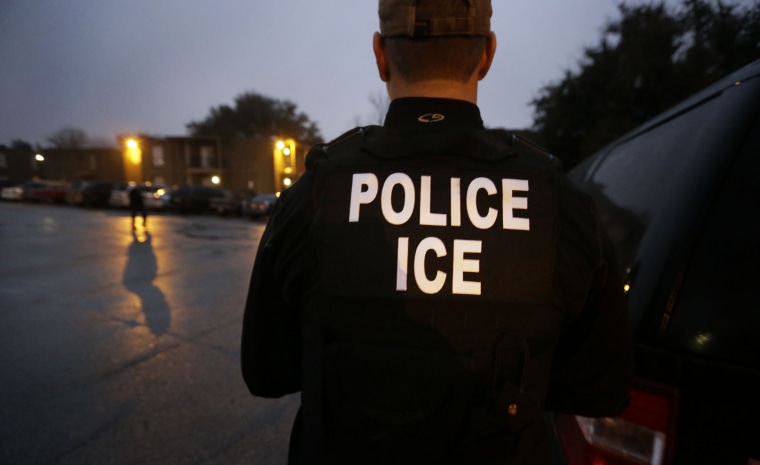 Reached by phone Monday, Saifuddin Hasaan, an assistant to the imam at the mosque, declined to comment on the details of the news.
"We haven't gotten much information, so we're trying to get information today from the family," Hasaan told NBC News. "We're waiting until they speak with the lawyer, and then after that we can give you a statement hopefully."
A phone call and email to an attorney listed in federal electronic court records as representing Hannan in an appeal were not immediately returned Monday.
Details about the appeal and Hannan's immigration case were not immediately known.
The imam's arrest comes as a recently released government report shows ICE arrests are up 40 percent in Donald Trump's first 100 days as president, compared to the same period last year.
The report said 75 percent of those arrested between Jan. 22 and April 29 were convicted criminals. By comparison, around 92 percent of those arrested from January to April 2016 had criminal records.
Trump signed executive orders early in his presidency pledging to crack down on illegal immigration, with criminals as a top priority. But immigrant advocacy groups worry that others who are undocumented and not criminals may also get swept up in dragnets.
The report noted a "rise in non-criminal arrests over the same period, which increased from approximately 4,200 in 2016 to more than 10,800 in 2017," a spike of over 150 percent.
As for Hannan, he was initially detained in Hartford, Connecticut, and then transferred to a facility in Boston, according to his family, Dhaouadi said.
"I'm waiting to hear back from his son, hopefully tonight, to give us an update from his immigration lawyer," he added.
Follow NBC Asian America on Facebook, Twitter, Instagram and Tumblr.