One grandma, one recipe, one culture -- that's the gist of Korean-American journalist Caroline Shin's new web-series, "Cooking with Granny."
The YouTube series premiered on February 24th and will feature a new episode every Tuesday night for the next nine weeks. Each ten minute episode features an immigrant grandmother, cooking a beloved family recipe and sharing the story behind it. Food is the focus, but the accompanying personal stories -- ranging from surviving a brutal war to the difficulties of being an undocumented immigrant in America -- are what make each episode authentic.
Shin's own grandmother, Sanok Kim, who she grew up cooking with in the family's Queens, New York kitchen, is the inspiration behind the series. "We used to make batches of Kimchi, hand-rolled dumplings, and ground garlic in a mortar and pestle, the old school way!" Shin recalled.
Shin says her grandmother is the master chef in the family, and has already begun passing down recipes. "Even all her children cook really well," said Shin. "We have three generations of really good cooking and Korean food is generally very healthy and tasty."
In 1945, Kim, along with her husband and children, made a harrowing trek from Soviet-occupied North Korea to US-occupied South Korea. She eventually moved to New York City in 1985, at the age of 65, to take care of Shin and her siblings when they were just children.
"My parents worked twelve-hour days in Manhattan like so many first-generation immigrants, so I spent a lot of time cooking with my grandma and listening to her stories about surviving the Cold War," said Shin. "She had a really, really dangerous journey and I've always admired her survivor spirit."
"She has to be a great cook, and secondly and just as importantly she has to be willing to tell a personal story."
But Kim's story is not the only one featured in the series. Shin, who appears alongside each grandmother as she prepares her signature dish, featured Louisa Grier from Trinidad & Tobago in one episode. Grier opened up about enduring domestic violence at home, as well as employer abuse as an undocumented resident in the U.S. Nina Iskin, a Russian grandmother, described surviving the Leningrad blockade as a child, one of the deadliest sieges in military history.
Shin found each of the grandmothers through personal contacts in New York City, where she grew up. Ideas for other grandmothers came through her "Cooking with Granny" Kickstarter page.
"I always choose the grandma first," said Shin. "She has to be a great cook, and secondly and just as importantly she has to be willing to tell a personal story."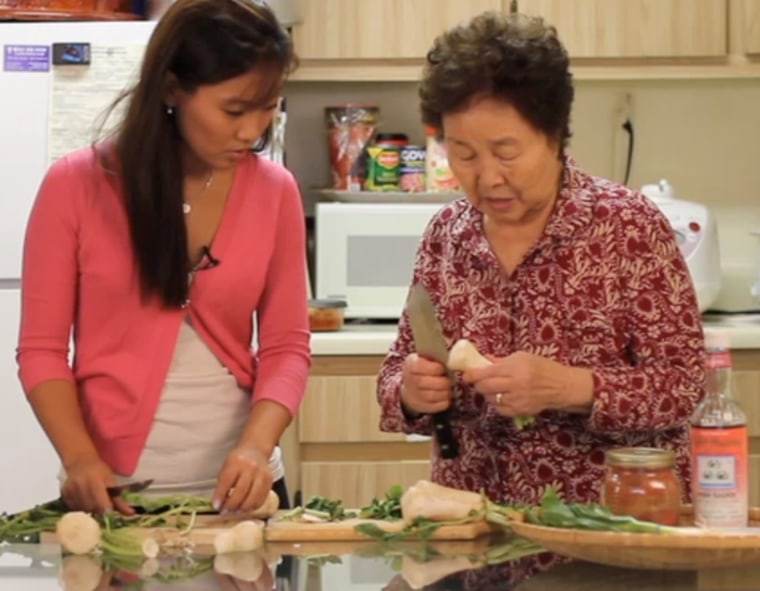 Some of Shin's favorite recipes from the series include Louisa Grier's Caribbean hot sauce, Nina Iskin's Russian beef goulash, and of course her own grandmother's kimchi and pork belly. The series also features, Greek, Indian, Puerto Rican and Italian cuisine.
Each episode is filmed in the grandmother's kitchen. "That way she's really comfortable and in her element, reaching for pots, pants, spices as she tells her story," Shin explained. Shin acts as host and assistant chef, even accompanying the grandmothers to their local markets of choice in search of specialty ingredients, like purple yams for a Filipino dish or extra-spicy peppers at the Caribbean market.
Shin described the show as her legacy passion project. She conceived of the idea as a graduate student at Columbia Journalism School. In 2012, she produced the pilot episode of her grandmother's kimchi recipe and uploaded it on YouTube. Shin left her job as video journalist for New York Magazine at the end of 2013 to work on the web series full-time. Last year, she turned to Kickstarter to bring her vision to life and successfully raised over $11,000, which helped produce the show from start to finish.
Shin hopes people will come for the recipes, and stay for the stories of her grandmother's generation.
"It's not just a cooking show," she said. "It's really about pairing a dish, a recipe with a story."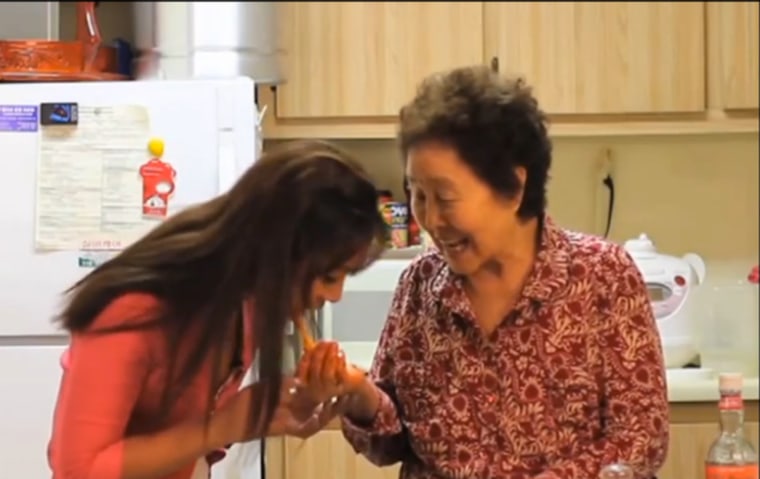 Follow @NBCAsianAmerica on Twitter and like NBC Asian America on Facebook.