LOS ANGELES — Even when John Chiang was in law school, his mother asked him if he would still consider going to medical school.
"My mom wanted four surgeons," Chiang, the oldest of four, told NBC News, laughing. "She's a worrywart, but she's fine with [my career] now."
That career is one of public office that began in 1997 when he was appointed to the California Board of Equalization, and then elected the following year to the same position. Chiang won re-election in 2002, and then went on to serve two terms as California state controller. In 2014, he was elected California state treasurer.
It's been a steady path through state government, and now the 55-year-old Democrat has his sights set on a new office: governor of California.
But before he can even make it to the November 2018 election, Chiang will have to get past California's "top two" primary system in June, in which the two candidates who receive the most votes — regardless of party affiliation — will go head-to-head in the general.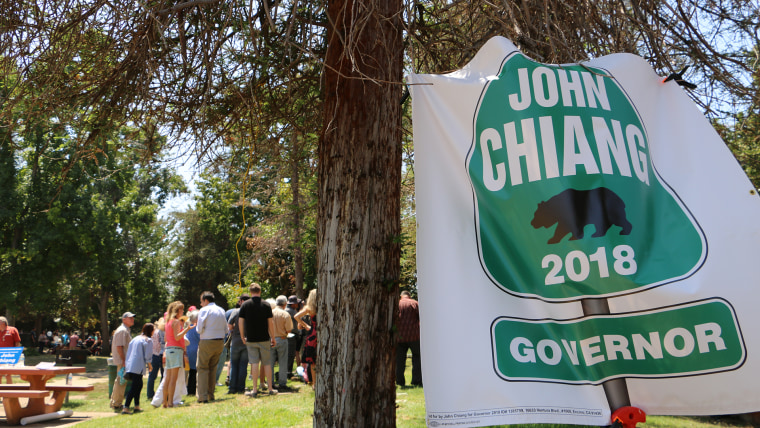 With the primary less than a year away, Chiang is facing an uphill battle that begins with name recognition. Although he's been an elected official in the state for two decades, local headlines about Chiang's gubernatorial campaign have often highlighted his status as a relatively unknown name. "You're probably saying his name wrong," the LA Times pointed out last month (it's "Chung," not "Chang").
Early polls have shown him coming in third behind fellow Democratic opponents Lt. Gov. Gavin Newsom and former Los Angeles Mayor Antonio Villaraigosa, and he's less vocal on a national level than his competitors about the current state of the country (both Newsom and Villaraigosa are frequent cable news guests).
But Chiang isn't fazed. "It's stylistic," he said. "Some people really focus on marketing. I focus on getting the job done right."
An 'inclusive' leadership style
Born in New York City to Taiwanese immigrants, Chiang grew up in Palos Heights, Illinois, where he says they faced discrimination as "the first Asian-American family on the block."
"You just see yourself as an any other American kid, right? Because it's the only country you know," Chiang said. "But when you're treated differently and when you're taunted because of the way you look…it's incredibly painful."
It's an experience that he says shaped him into who he is today. "My leadership style is one of inclusiveness. It's trying to make sure that those who are left out are in the process so that they understand that you get to be part of our society and that you're important."
If elected, Chiang would become California's first Asian-American governor — a milestone for a state with the country's largest population of Asian Americans. So far, contributions from Asian-American donors have helped boost his profile in a significant way: His fundraising puts him in second, behind Newsom, when it comes to campaign funds.
"The fact that Chiang is a viable candidate is due entirely to the fact that his fundraising has been so impressive. Without that kind of fundraising total, Chiang would not even be talked about as a contender because he doesn't have the name recognition," Karthick Ramakrishnan, an associate dean at the UC Riverside School of Public Policy and founder of AAPI Data, told NBC News.
Ramakrishnan notes that the political power of Asian Americans when it comes to campaign contributions has not gone unnoticed by candidates during the last election cycle, but relying too heavily on them for this race could be a double-edged sword. Affirmative action, Ramakrishnan said, could pose a challenging issue for Chiang to face, particularly among wealthier Chinese Americans who have been vocal in their opposition to affirmative action. Although data from the National Asian American Survey showed Asian Americans largely support affirmative action, dozens of Asian-American associations have continued to push the Justice Department to review the ways in which affirmative action hurts the community.

In California, affirmative action is banned among the state's public universities due to a proposition passed in 1996, but recent efforts by state legislators have called for the ban to be lifted. It's a move that some Chinese-American groups spoke out against, claiming affirmative action was unfair to the Asian-American students who worked hard and deserved fairness in the admissions process.
Chiang is willing to engage in the debate, but is also careful about how he phrases it too. "I support affirmative action, but we have to make it clear it's not about quotas. A lot of people misinterpret affirmative action as quotas… I want to make sure we expect that you can take race as a consideration — certainly not the only consideration and it shouldn't be the sole consideration," he said.
That kind of response isn't surprising to Ramakrishnan.
"I can see why Chiang wouldn't just give a 'yes' or 'no' answer because there's a high level of misinformation in the Asian-American community about what affirmative action is and what even a modified repeal of [Proposition] 209 would mean for their children," he said. "On the one hand, they can make you viable in ways you haven't been before, but if they care about an issue, even if they misperceive the issue, you'll have to deal with their opinions on that issue."
RELATED: Asian-American Advocates Celebrate, Bemoan Affirmative Action Decision
But if Chiang can energize Asian-American voters and turn around historically low midterm turnout rates, it could make a difference come June.
"It's possible that Asian Americans see this as a historic election, to be able to have someone as the governor of California that is Asian American, so maybe this will buck the trend of lower participation," Ramakrishnan said. "He does reflect the hopes and dreams of a lot of Asian Americans in California. A lot of Asian Americans feel like our moment has come and having someone who is a viable candidate is an important development."
At an Aug. 13 meet-and-greet in Westwood Park in West Los Angeles, 23-year-old Kevin Hayakawa, a UCLA graduate student, told NBC News that that was one of the reasons he was excited to see Chiang in the spotlight. Hayakawa had been studying at a Starbucks nearby when he saw Chiang's livestream of the meet-and-greet at the park. He said he "dropped everything" to come to the park to meet Chiang.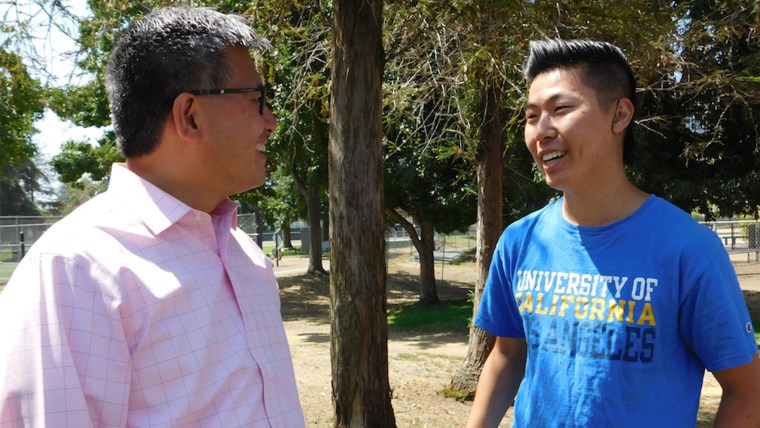 "It really means a lot to me because California is one of the most diverse states in the U.S. and if a candidate is qualified for the office and they're able to represent people who look like me, who are generally underrepresented, that's something I can get behind," Hayakawa said.
'An unlikely hero'
On paper, a glimpse at Chiang's resume might not produce many front page stories: a degree in finance from the University of South Florida; a law degree from Georgetown; past work experience that includes tax law specialist for the IRS and an attorney for the state controller's office.
But in 2008, Chiang's name was splashed across headlines when he defied then-Gov. Arnold Schwarzenegger's orders to reduce state workers' salaries after the state legislature couldn't agree on a budget. Chiang, who was state controller and was responsible for issuing paychecks, told the San Francisco Chronicle at the time that he would refuse to follow Schwarzenegger's plan.
"Frankly, [the governor] is just trying to make me do something that's improper and illegal," Chiang told the paper, adding in a statement that the order was "nothing more than a poorly devised strategy to put pressure on the Legislature to enact a budget."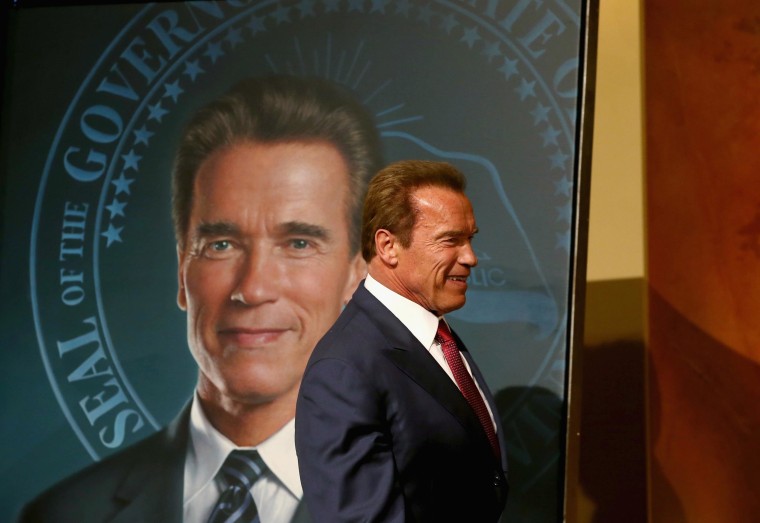 Schwarzenegger sued, and though the courts eventually ruled against the controller's office, Chiang quickly seen as "an unlikely hero." The standoffs between the two continued well into the end of Schwarzenegger's term as governor, with liberal blogger Brian Leubitz telling the LA Times in 2010 that Chiang was one of the "few people in California politics that progressives really love."
If that's a label that still rings true, then Chiang could build a support base that will see him as that same "hero" during a Trump presidency — something he's thoughtful about as he campaigns to lead the nation's most populous state.
RELATED: Gov. Jerry Brown to Trump: 'You Don't Want to Mess With California'
"We will resist on issues on health care, we will resist on issues of immigration," Chiang said of Trump's policies. "Where we find common agreement and it's in the best interest of California and America, then I'll work with him, but when I think he's going to take us backwards, then I'm going to challenge him to the fullest hilt."
What are voters looking for?
In order to get to the finish line, Chiang still has some work to do on the trail in order for voters to get to know where he stands. Whereas both Newsom and Villaraigosa have run for offices before that require publicly addressing a wide range of issues (Newsom's well-documented support for same-sex marriage, for example, goes back to 2004), Chiang is less "flashy," as some of his supporters will say, about his accomplishments.
"People will talk about housing, they'll talk about trying to reduce the wealth inequality," Chiang said. "I was the first statewide elected official to do free income taxes, so you know… how do you educate people on financial literacy? I created all these programs at the Board of Equalization to help people and it resonates with people once they know. But I didn't do this and splatter it [everywhere]."
"Some people really focus on marketing. I focus on getting the job done right."
Chiang's campaign site lists an extensive rundown of his accomplishments as controller and currently as treasurer that include restructuring the state's debt during the recession "to generate $2 billion for schools, infrastructure and public safety" and imposing sanctions on Wells Fargo following a scandal that revealed over 2 million fake bank accounts.
It's those things that some voters are gravitating toward. "With the Wells Fargo thing…that impressed me. I'm sick of big business," Safika Erselcuk, 49, of Mar Vista Del Ray told NBC News during the Aug. 13 meet-and-greet. "That's something Bernie Sanders was very strong on, just calling out these big businesses. I like politicians that do that."
Erselcuk adds that she's still weighing the candidates, but that listening to Chiang talk was convincing. "I think he's just doing his job and he's just being smart and he says things that I think if people listen to him, if he gets enough people listening to him, I think people will say, 'I like this guy. I like what he stands for. I like that he's going to get the job done,'" she said.
At the meet-and-greet, Chiang spoke to the crowd about education, the environment, and health care. He highlighted his commitment to "freeing up more money for our schools" and criticized the practice of raising University of California tuition fees as a solution to the state's budget problems.
Chiang also pointed out that he is the "only candidate who's served in all three state elected financial offices" — and he's got a handful of endorsements from colleagues throughout the state to back him up.
He's been endorsed by LA City Councilman Jose Huizar (who Villaraigosa supported to succeed his council seat), California Assembly Speaker Anthony Rendon, and — in his most high-profile endorsement to date — Congressman Ted Lieu, who's gained national attention in the recent months for his vocal opposition to the president.
At the meet-and-greet, which followed his endorsement announcement, Lieu called Chiang "one of the most effective elected officials I have ever met" and said he was confident Chiang could be the leader California needs to stand up against the Trump administration — something that Chiang has shown he has the experience to do because of his role in standing up to Schwarzenegger.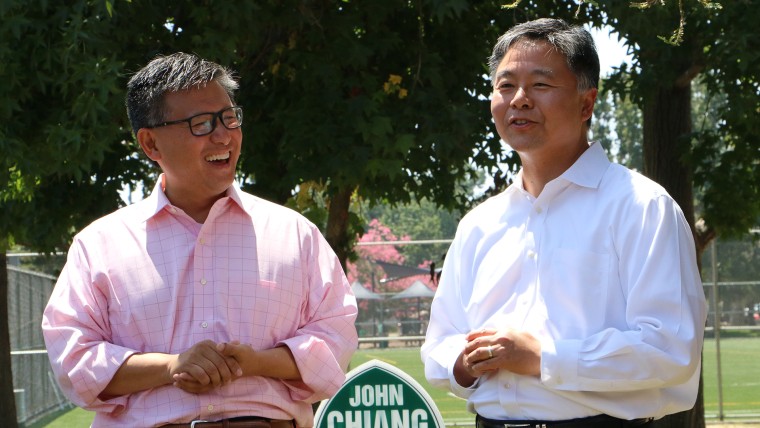 "California is leading the way and is also going to be one of the prime places where you're going to see resistance to the backwards policies of the Trump administration, and right now states are taking an active role in stopping the stupid stuff coming out of the federal government," Lieu told NBC News.
Ramakrishnan, the UC Riverside associate dean, says it's still early for many California voters to make definitive decisions regarding the primary, and it could all come down to the mood of the electorate come June.
"Newsom and Villaraigosa are very formidable. Newsom has charisma and, especially among progressives, he has a lot of enthusiasm and donations. Villaraigosa is a very skillful candidate. Before he was mayor, he was assembly speaker. He knows how to get deals done," he said. "Chiang will have his work cut out for him, but endorsers will also say Chiang will be the 'adult in the room' and that we need calm right now."
Follow NBC Asian America on Facebook, Twitter, Instagram and Tumblr.