A new population simulation by South Korea's National Assembly Research Service has observers worried about the country's long-term future.
According to the research service's projections, South Korea's population will become completely extinct by 2750 if the country's birth rate of 1.19 children per woman continues. The country currently has one of the lowest fertility rates in the world, leading only Hong Kong, Taiwan, Macau and Singapore.
The report is the latest attempt by South Korean officials to increase the birthrate among its citizenry. In 2010, the health ministry attempted to encourage employees within its own office to "get dedicated to childbirth and upbringing" by literally turning off the office lights early. Other local jurisdictions reportedly offer matchmaking services, cash, and other incentives to encourage more births.
The South Korean government's push for more births and bigger families in recent years is a relatively new development for the country with a current population of about 50 million. Immediately after the Korean War in the 1950s, the new country of South Korea was primarily rural with a agricultural economy. The country's population at the time was a reflection of this, with a total fertility rate of more than six children per woman.
Worried that the rate of population growth was unsustainable, in 1962 the government unveiled a multifaceted family planning campaign that stressed health care and birth control. Koreans, for the most part, embraced the concept of a "small and prosperous family."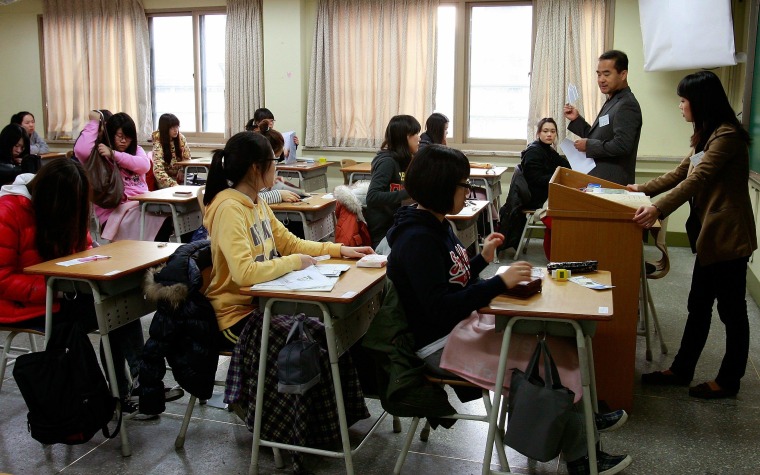 Since then, economic and social pressures -- including the push for higher levels of education and its associated costs -- have kept birth rates low. The Financial Times reported last year that many families feel that they have to choose between having more children or financing their current offspring's education.
Since the government's population projection's release there has been a spate of headlines all over the world warning of South Korean's demise. But experts say that predication does not present the full picture. Demographers did not seem to take into consideration factors like changes in immigration policies or political events like a hypothetical reunification of the two Koreas -- two issues that could have a significant impact on population. Among the skeptics is Columbia University professor Stephen Sestanovich, who noted in the Wall Street Journal that "Birth rates are notoriously responsive to such intangibles as the popular mood."
But South Korea isn't the first East Asian country to receive a scary prediction about its slow growth. In 2011, researchers at the Tohoku University Graduate School of Economics in Japan created a stir for predicting that Japan would become extinct in 1000 years. That study was also sharply criticized for its methodology.