Television isn't lacking in the crime and detective genre, but HBO's newest eight-part miniseries, "The Night Of," falls into its own self-made category — partly due to its weaving of criminal justice realism with personal family drama and partly because of its cultural relevance as a South Asian narrative.
Currently airing and based on the BBC series "Criminal Justice," "The Night Of" follows Nasir "Naz" Khan, a 23-year-old Pakistani-American college student who borrows his father's cab one night to attend a party in New York City. A woman climbs into the back of the cab — Naz can't figure out how to turn on the off-duty lights — and after engaging in an evening of alcohol, drugs, and sex, he wakes up to find the woman's bloodied body in bed, with no recollection of what transpired.
What follows Naz's arrest is what the producers say is a realistic, no-frills detailing of each step of the criminal case process, from apprehension, to arraignment, to trial. Written by crime novelist Richard Price, who also wrote for HBO's "The Wire," "The Night Of" isn't concerned with superhero-esque themes of justice and triumph.
"Just the premise of somebody who is picked up for a crime, is going through the legal process and who may be guilty, but may not be guilty, got to me," Steven Zaillian, who directed seven episodes and won an Academy Award for writing "Schindler's List," told NBC News. "In a way, showing what Naz goes through doesn't depend on whether he's innocent or not. It's going to happen to anybody who goes through the system."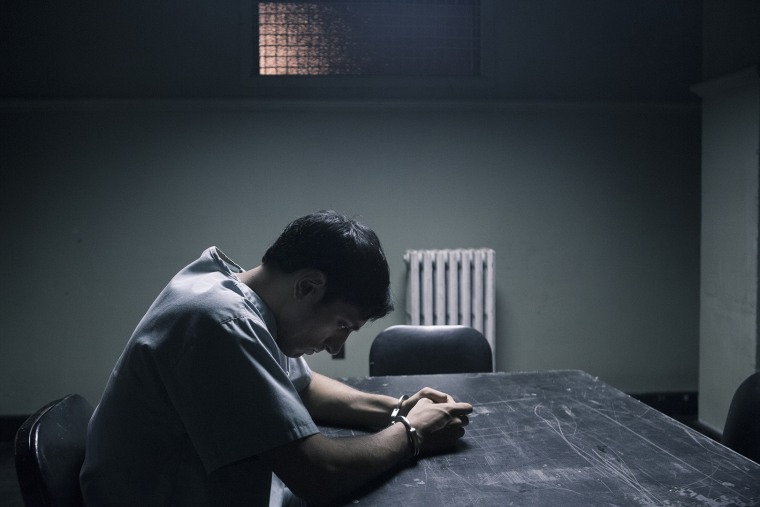 Because of the script's underlying "it can happen to anyone" message, Naz's heritage wasn't fully defined in the original script, Zaillian said. The inspiration to incorporate his cultural identity into the series came from examining the demographics of New York City cab drivers.
"The first thing Richard Price told me is 'he can't be white,'" Zaillian said. "You're not going to find many white sons of cab drivers in New York City. They're going to be South Asian, Middle Eastern, South African. That realistic approach allowed us to then start building on this other aspect of the show, which is the backlash an entire community faces."
"When you see great TV you see a bunch of white people, but it's never for you. It's not the card you're ever dealt. So it's a beautiful thing to come across something like this — something real."
While post-9/11 sentiment toward Muslim Americans can be witnessed even before Naz's arrest — a character passing by on the street tosses out seemingly Islamophobic names that Naz laughs at before heading inside — it is after his story is sensationalized in the news that Naz's alleged actions are deemed representative of all South Asians living in Queens.
"The African-American community has been victimized and criminalized for over hundreds of years in the U.S.," Riz Ahmed, who plays Naz, told NBC News. "And so in a way, there is a wider cultural current this show speaks to, which is the criminalization of a community."
"It's heartbreaking to watch, because Naz's family also becomes ostracized within their own neighborhood," Poorna Jagannathan, who plays Naz's mother, Safar Khan, added. "This family are outsiders to begin with as Muslims, and then you add murder charges, which makes their own friends isolate them."
"The Night Of" is a balance between the legal proceedings of Naz's murder trial and the consequences his family must deal with back home. And for Jagannathan, whose repertoire consists mostly of small doctor roles, it's an opportunity to create more three-dimensional, nuanced portrayals of South Asians on the screen.
"Being a South Asian actress, I could deliver that baby or cut your brains open — I could do that stuff really easily," Jagannathan said. "When you see great TV you see a bunch of white people, but it's never for you. It's not the card you're ever dealt. So it's a beautiful thing to come across something like this — something real."
Follow NBC Asian America on Facebook, Twitter, Instagram, and Tumblr.