Every morning at the crack of dawn, 75-year-old Susie Rose gets out of bed, makes herself a cup of ginger tea (a recipe from her grandparents when she was growing up in the Philippines) and heads to CrossFit Operation Underground Railroad (O.U.R.) in Draper, Utah, with her son Paul. The two begin the session with warm-ups first, then several reps of whatever the day's workout calls for: burpees, sit-ups, pushups.
"I like [CrossFit] because it makes me fit, and it's something that I can channel my energy into," Rose told NBC News.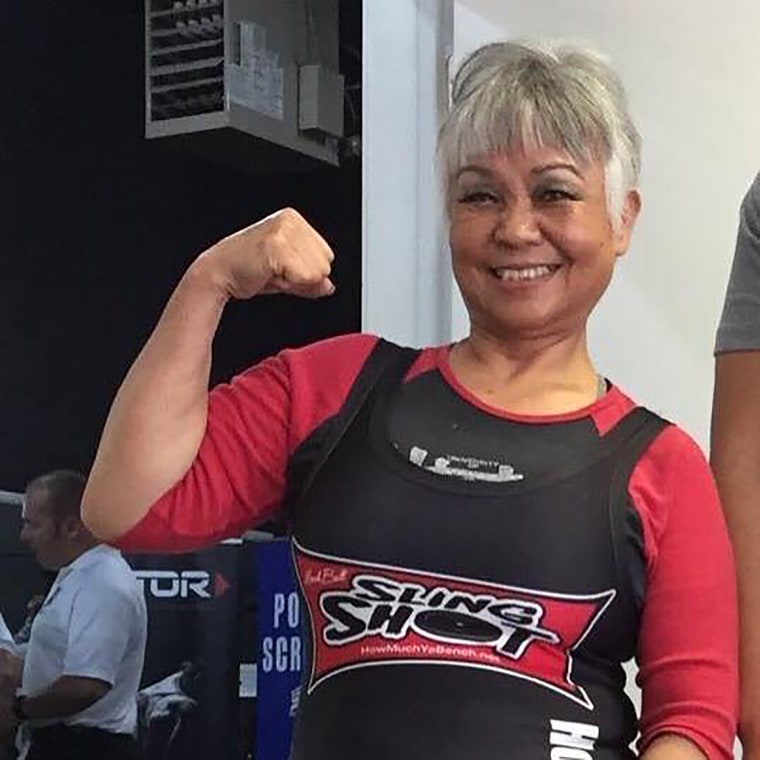 Last month, Rose set a new dead lift record at an American Powerlifting Federation competition in Utah by raising 209.4 pounds in the Women's 65-and-over age group, qualifying her to compete in the Amateur World Powerlifting Congress (AWPC) World Cup in August in Idaho. According to Amy Jackson, executive secretary at World Powerlifting Congress, Rose may be up against competitors from over 30 other countries. Jackson also told NBC News that the competition "gives lifters a chance to set and break world and national records."
Despite her success in competition, Rose said it took some time for her to actually begin CrossFit. Six years ago after her husband passed away from leukemia, her daughter, April Collins, started encouraging her to work out in an effort to keep her occupied.
"He was her everything," Collins told NBC News of her parents' relationship. "We were just trying to find ways to keep her busy so she wouldn't be sad."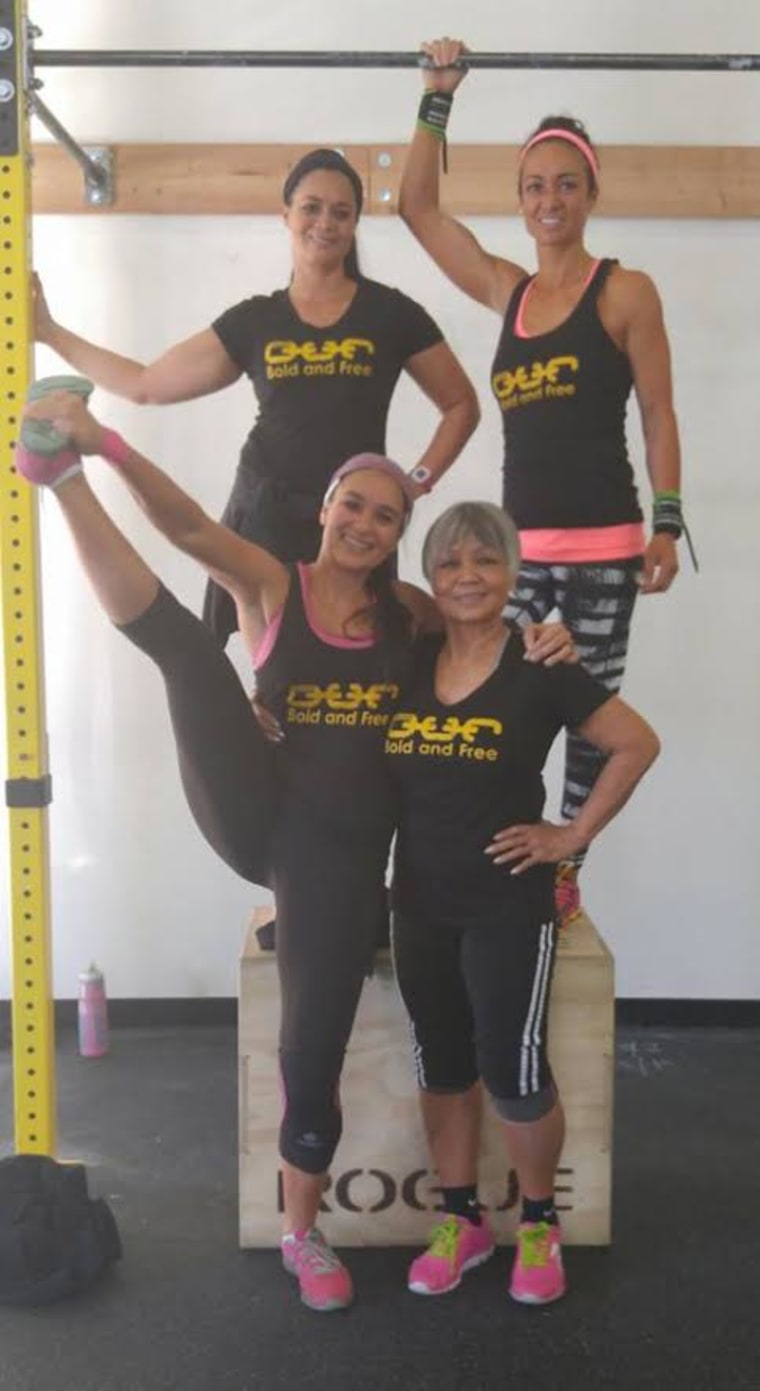 Among Rose's seven children, six of them do CrossFit, and all of them thought it would be a good idea for her to start training with them. After a personal invitation from the coach at the gym they were attending at the time, Rose started going to the gym with her kids in the morning and surprised herself when she realized that she loved every second of it.
"We have a CrossFit family," Collins said. "When we would get together for holidays, we do a holiday workout with burpees, running, sit-ups, weights and things like that."
Last fall, Rose started lifting heavier sets of weights: 200 pounds. Excited about her accomplishment, she and her daughters started posting videos of her lifting on social media and everyone who saw it started to note that she must have broken a record.
Deadlifting 200 pounds, Rose said, motivated her to keep working and trying harder.
When competition day came along, not only was she able to set a new deadlift record at 209.4 pounds, but she was able to break her own personal record. According to the APF Utah State Open results from June, Rose even surpassed the amount of weights that two women two times younger than her lifted.
"Everyone was screaming," Rose said, "I lifted mine and I was so excited. My family was all there and a lot of people were saying, 'Here comes this old lady.'"
At CrossFit O.U.R. in Draper, Utah, Rose said she doesn't receive that type of reaction. Instead, Rose acts as a mother and inspiration to her fellow gym members.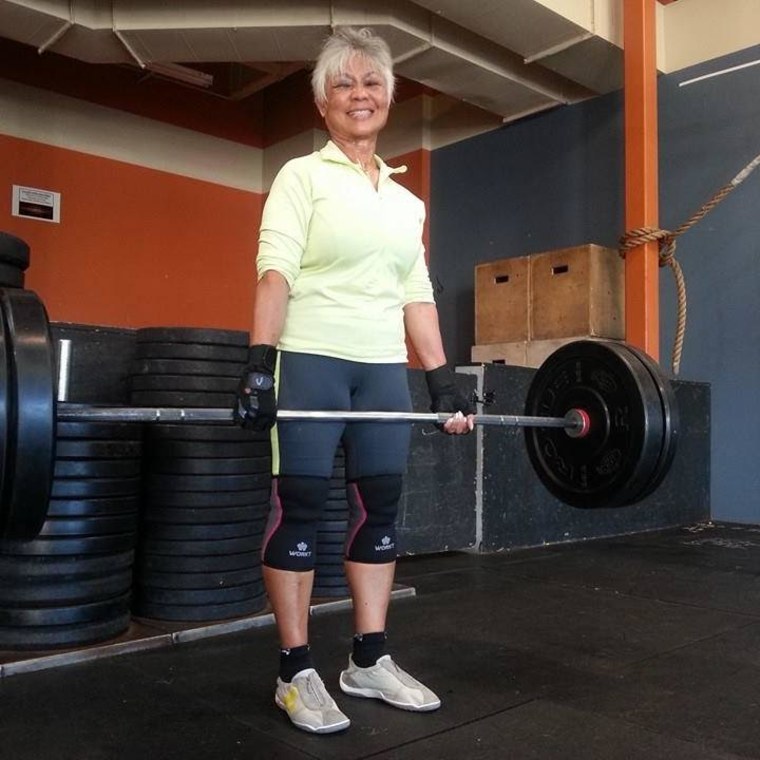 "Everyone knows my mom — when she's at the gym, she hugs everyone and talks to everyone," Rose's son, Earl, told NBC News.
Among her fellow gym members at CrossFit O.U.R., Rose holds the record at the gym for the longest holding plank at seven minutes.
Outside of the gym, Rose stays as active as she can, whether it's running every 5K she gets the chance to participate in, spending time with her 37 grandkids, or dancing with Kulturang Pilipino Ensemble, a Filipino dance troupe. Last summer, she hiked to the peak of Mount Olympus with friends.
"Not many people know people that age doing that," Rose's son, Paul, told NBC News. "She just wants to do everything else that everyone's doing. She's not limited to anything."
Follow NBC Asian America on Facebook, Twitter, Instagram and Tumblr.