More than three years into his role as Boston Mayor Marty Walsh's chief of staff, Dan Koh had no intention of leaving. But that changed when U.S. Rep. Niki Tsongas, a Massachusetts Democrat, announced her retirement in August.
The following month, 33-year-old Koh left the mayor's office with Walsh's full support, officially announcing his exploratory committee for Tsongas' open congressional seat in the state's 3rd District, in northern Massachusetts.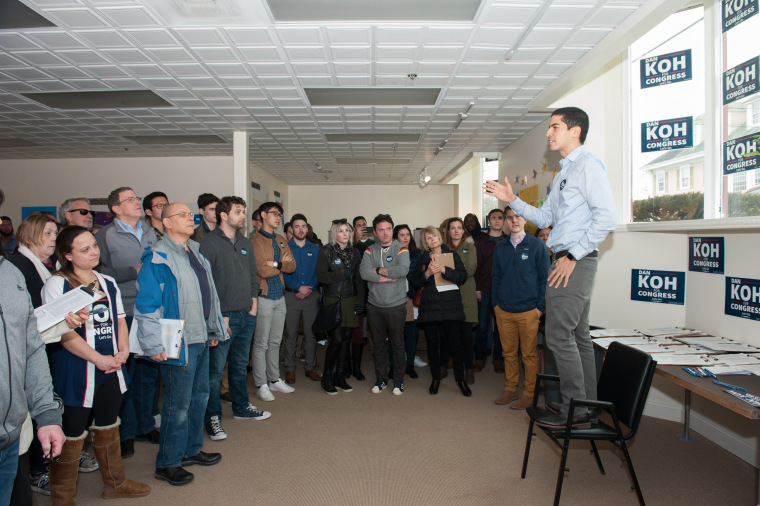 "I love this district, I'm from here, and I want to fight like hell for it because it's what gave my family everything," said Koh, who made his bid official in late October.
A descendant of Korean and Lebanese immigrants, Koh, a Democrat, brings his experience in municipal government and as a former chief of staff to Arianna Huffington, co-founder of the Huffington Post, to a crowded Sept. 4 primary. Thirteen Democratic candidates have registered and filed financial reports with the Federal Election Commission.
Those figures show that Koh ended March with around $2 million in cash on hand — the most out of all the candidates regardless of party.
Walsh, who has endorsed Koh, said one thing that makes him stand out among his competitors is his desire to serve the public.
"His number-one priority will be constituent services and delivering back for his district," Walsh told NBC News. "And I think that's one of the things I think he learned while working here in the mayor's office: it always comes back to the individual, it always comes back to the voter, or the resident."
Koh said he's drawn inspiration from the public service contributions of his father and uncle.
His dad, Howard, served as commissioner of the Massachusetts Department of Public Health and, later, assistant health secretary for the U.S. Department of Health and Human Services. His uncle, Harold, did stints as U.S. assistant secretary of state for democracy, human rights and labor and as a legal adviser to the U.S. Department of State.
"My family has always very much valued public service and really believed that government can and should be a force for good for people," said Koh, whose mother and father are both medical doctors.
A graduate of Harvard College and Harvard Business School, Koh earned his chops by interning over three summers with the late Massachusetts Sen. Ted Kennedy, he said. Through the business school, he also landed a one-year fellowship as an adviser to Boston's longest serving mayor, the late Thomas Menino.
It was Menino's chief of staff, Koh said, who put in a good word with Walsh, who was elected in November 2013 and was searching for his own chief of staff.
"I got lucky," Koh said.
In 2015, Koh helped roll out Boston's "CityScore," a data tool that calculates whether performance targets on everything from pothole repair to ambulance response times are being met. Those numbers are available to both city officials and the public.
"It's transparent and I believe it at least increases trust between constituent and government because we're not afraid to show where we're underperforming," Koh said. "And it allows us to understand where we need to improve."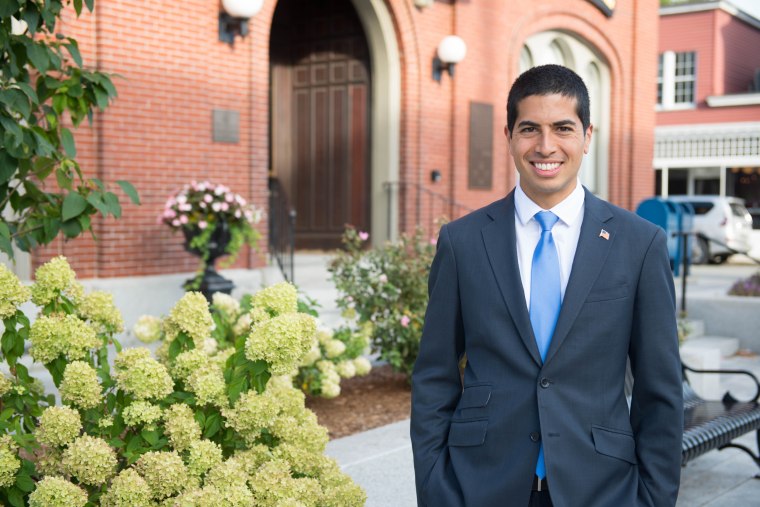 If elected to Congress, Koh said his priorities will be jobs and healthcare, two areas that he said concern his district the most.
He believes in enacting a $15 minimum wage, promoting small business entrepreneurship, and creating jobs by investing in infrastructure. On the healthcare front, Koh is fighting for universal healthcare coverage, protecting a woman's right to an abortion, and stabilizing the Affordable Care Act.
"We eventually need to go to a single-payer system that cuts out middlemen, gives bargaining power and allows every single person in this country to have access to quality affordable healthcare," he said.
Koh, who is married, said that while his family came from two different parts of the world over a century ago, they shared one thing in common — a belief in the American dream.
"Being a Lebanese Korean from this district really is a story that is only possible in the United States, and the unique nature of that makes me double down on how much I believe in this district in creating the American dream," Koh said.
Follow NBC Asian America on Facebook, Twitter, Instagram and Tumblr.