"The data on income and poverty show the dual-nature of how our community is doing," said University of California Riverside Public Policy Professor Karthick Ramakrishnan about the Income and Poverty fact sheet he co-authored for the Center for American Progress and AAPIData.
"On the one hand, you have high-skill immigrants and their children who are doing very well in terms of income. At the same time, we also have many others, particularly refugee populations and many Pacific Islander communities, that continue to struggle in terms of poverty."
A closer look at the numbers shows that although Asian Americans have the highest median household income ($72,000), that is because Asian Americans and Pacific Islanders also have larger households (3.02 and 3.63, respectively, as opposed to 2.58 national average and 2.46 among whites). The community is also highly concentrated in the four most expensive states—Hawaii, California, New York, New Jersey—(50% of Asian Americans and 58% of Pacific Islanders, as opposed to only 19% of whites).
Once adjusted for household size and geography, the poverty numbers shift considerably. 16.1% of Asian Americans live in poverty as opposed to 10.4% of whites. And the numbers are growing fast.
"Another important finding we have is that poverty rates among Asian-American seniors is much higher than the national average," said Ramakrishnan, "This is a significant problem for the Asian-American community that needs to be addressed, particularly since many of these Asian-American seniors also face language barriers."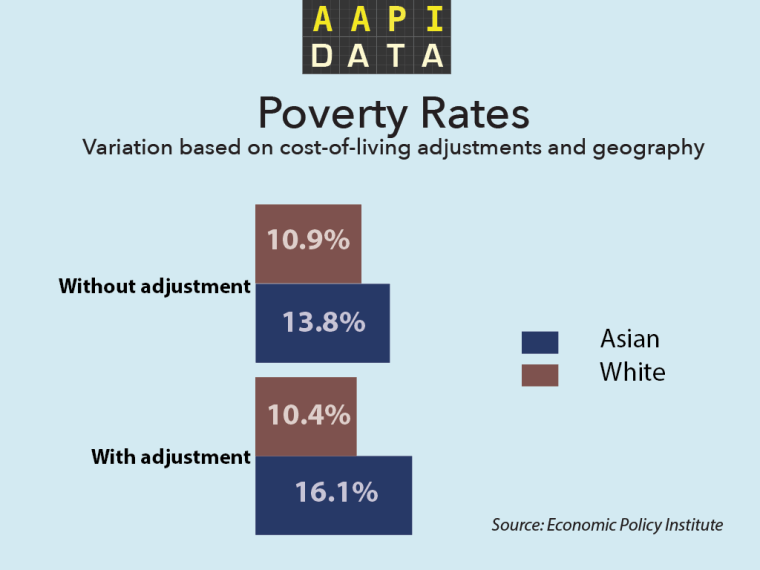 IN-DEPTH