The life of a television or movie star seems charmed to most; the glamour of red-carpet events, the glare of cameras demanding your attention, the glossy photos depicting the story of your life.
But Daniel Dae Kim - star of the iconic series "Lost," the primetime hit "Hawaii 5-0," and "Insurgent," the latest blockbuster in the "Divergent" series - is quick to lay bare the reality of his personal experience.
"I think it's important to also shine a light on the parts of my life that are not so glamorous," he said. "And if you follow me as a fan or if you're a friend, you should know this is part of my experience here and part of my career."
The less-than-glamorous moment Kim was referring to was a racist tweet he received after posting an old family photo on Instagram with a heartfelt tribute to his parents.
"I came across this photo of my family—that actually just happened to fall out of a book while I was cleaning my house—and it made me think of my parents and what their dreams were when they came to America," said Kim. "When they had their whole lives ahead of them, and I thought about what they sacrificed for me to be here in America today, and it just made me feel very grateful for what they did."
The subsequent tweet used a racial slur, and told Kim he didn't "belong down here in the USA." Kim decided to retweet it to his 164,000 followers.
"I'm not saying, 'Boo hoo, woe is me, I'm experiencing prejudice,'" he explained. "I'm merely saying that 'In my experience as an American, this is part of it.'"
The account holder later claimed her sister had hacked her account, apologized, and deactivated the account. But the incident, to Kim - whose parents emigrated from South Korea when he was one year old - stood as an example of the latent prejudice towards some immigrant communities that still peppers American society.
"It's a shame that immigrants today are denigrated and treated so poorly. When you look at what's written under the Statue of Liberty, it's the immigrant story. It's about 'bring me your tired, your poor, your huddled masses yearning to breathe free.' It's not about 'only bring me only your rich, your wealthy, your smart.'" he said. "These stories are what have made this country the greatest in the history of the world. And to me, my family story is just one thread in the fabric that makes up the culture of this country."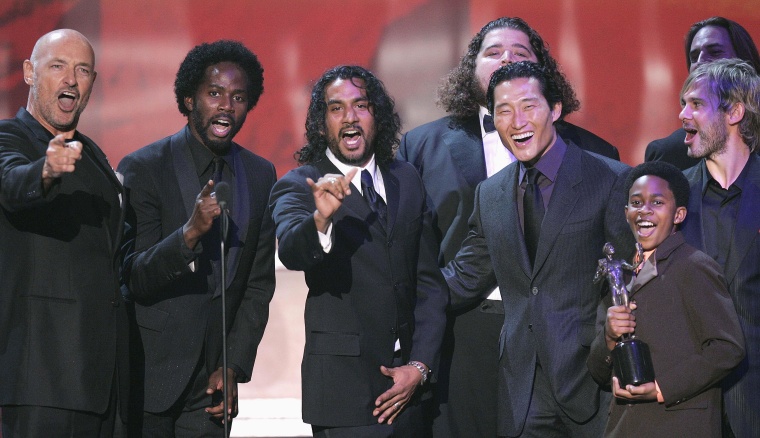 "Something opened up for me. Something changed in me."
Growing up in Pennsylvania, his father was a doctor, and his parents expected Daniel to follow a traditional professional path too - if not as a doctor, then maybe to become a lawyer or a banker. He came very close. In high school, he was class president; he played tennis, football, and soccer; and senior year, he was in the school play, "Harvey." In college, after finishing most of his required political science coursework early, he took an acting class as an elective.
"And once I took acting," said Kim, who says he always felt like an outsider in his youth, "something opened up for me. Something changed in me. So I took as many acting courses as I could, and I pursued an independent major in acting at a local neighboring college because my college didn't have an acting major. After that, when all of my friends were joining places like Goldman Sachs and Morgan Stanley, I bucked the trend and ended up going to New York to act."
The reaction from his family, struggling to reconcile their expectations with their son's chosen path, was not immediately positive.
"It was really difficult the first few years," said Kim. "My parents worried about me. I think at the heart of our conflict at the time was the fear that their son wouldn't be able to make a living at his chosen profession and wouldn't be able to do all the things a son is supposed to be able to do like get married, have kids, and support the parents when they get older—that vision that many Asian immigrant parents have for their children."
"It's one thing to talk about lack of diversity and lack of representation, but that doesn't matter if you're not good at what you're supposed to be doing."
His decision to return to school to pursue a master's degree convinced Kim's parents of his dedication to his craft. Plus, he laughs, they were comforted by the thought that, "if things don't work out with my career, I can always teach."
Kim's career today is the type every young actor aspires towards. His highly-acclaimed work spans film, stage, and television. His parents are now fully on board.
"My dad even likes to give me career advice," said Kim. "I'll let him know about some offers about films and TV shows that I get and he'll ask me questions like 'What's the money like?' and 'Who got this for you—was it your agent or manager and what are they getting out of this?'"
For the son who took the road less traveled, the only advice Kim says he'd pass on to others is to "be excellent" at whatever profession they choose.
"It's one thing to talk about lack of diversity and lack of representation," he said. "But that doesn't matter if you're not good at what you're supposed to be doing."
"We have a long way to go."
Kim occupies a rare place in mainstream media - the Asian-American male actor given the chance to expand beyond the stereotypical roles of nerd, foreigner, or sidekick.
As important as his heritage is to him, and as much as his identity still informs his experience, his career seems to have transcended the same racial and ethnic limitations that have kept more Asian Americans from "making it" in the business.
Kim, who has been calling for more diversity in Hollywood, is encouraged by the recent creation of diverse roles in shows like "Fresh off the Boat," "Selfie," "The Mindy Project," and "Hawaii 5-0," even if Oscar nominations this year showed that there is still a long way to go towards a truly inclusive industry.
"It's very difficult to be asking other people for opportunities. It is much more empowering to be creating opportunities."
The 46-year-old actor is now challenging more minorities to become invested in the creative process, from beginning to end - behind the camera, and in front of it.
"It's very difficult to be asking other people for opportunities," Kim said. "It is much more empowering to be creating opportunities, to be the one who is saying, 'Look, I'm going to take this from the ground up and create a story that is meaningful to me as an Asian American, and cast it with Asian Americans, and have Asian Americans writing it.'"
"And I don't mean to specify just Asian Americans," Kim continued. "I'm talking about diversity in general. The more that we can take control of the creative process, the less we will have to be begging the majority to give us roles, to give us work."
He's not just talking the talk, he's walking the walk. He recently directed his first episode of "Hawaii 5-0," and his own production company has a development deal with CBS to create original content.
After gaining millions of fans from his role as Jin on "Lost," Kim is headed into his fifth season as Chin Ho on "Hawaii 5-0." Although initially concerned about whether or not the reboot of "Hawaii 5-0" would be representative of Hawaii's ethnic makeup, Kim says he's impressed with the strides already made.
"One of the things I'm proudest of when it comes to 'Hawaii 5-0' is the fact that more than half of our regular cast is made up of minorities," said Kim. "And I'm not even talking about Asian Americans—although the fact that Masi [Oka], Grace [Park], and I are all on the same cast playing Asian Americans is fairly groundbreaking—but we have Jorge Garcia, we now have Chi McBride, and major recurring characters like Will Yun Lee, Mark Dacascos, Ian Anthony Dale, and Jason Scott Lee. We employ more Asian Americans than any show I think has ever been on TV. And I'd like someone to check the numbers on that. Every week we're hiring another Asian American."
Those strides are being made on the big screen as well. Kim is quick to praise Veronica Roth - author of the "Divergent" series that inspired his latest film, "Insurgent," premiering this week.
"Veronica Roth was that forward-thinking person," said Kim. "She was mindful of the ethnic makeup of her books and her story, which is why my character [Jack Kang] exists in the first place, so I give a lot of credit to Veronica for including an Asian American male in her world."
For Kim, the effort to diversify starts with the decision-makers being more mindful of their process.
"It takes a mindfulness because there are so many casting directors who say, 'Oh, I never really thought of that, but sure,' when someone who is Asian is brought up as a possible choice for a role," said Kim. "To me, that is a double-edged sword, because on the one hand, I'm glad they are open to the idea, on the other hand, why aren't they mindful of it from the start? Why do people need to be reminded? Why is a role that shows up in black and white, without any specific ethnicity, assumed to be white?"
"The progress that needs to be made is we need to now start having shows where Asian people are in the lead roles instead of the supporting roles," said Kim. "I really look forward to the day when no one even thinks about the racial diversity in a cast because it is so assumed that it could be anyone or anything. I long for the day when that wouldn't be a question anymore. So we have a long way to go if that's the goal."