A judge declined to issue a temporary restraining order against New York State on Friday to stop the enforcement of an Oct. 6 deadline that requires nail salons to purchase bonds to cover wages not paid to workers.
The Chinese Nail Salon Association of East America and the Korean American Nail Salon Association of New York, which jointly filed the request with Justice Roger D. McDonough of State Supreme Court in Albany, will also ask for a preliminary injunction against the state to prevent it from denying licenses to nail salons unable to secure wage bonds in time. A decision on the injunction may take several weeks.
"Ensuring that wage bonds are readily available and that small business owners are able to purchase them is key to protecting these thousands of workers, and to making sure their jobs remain and small businesses stay open," Michael Park, attorney for the associations, told NBC News in a statement.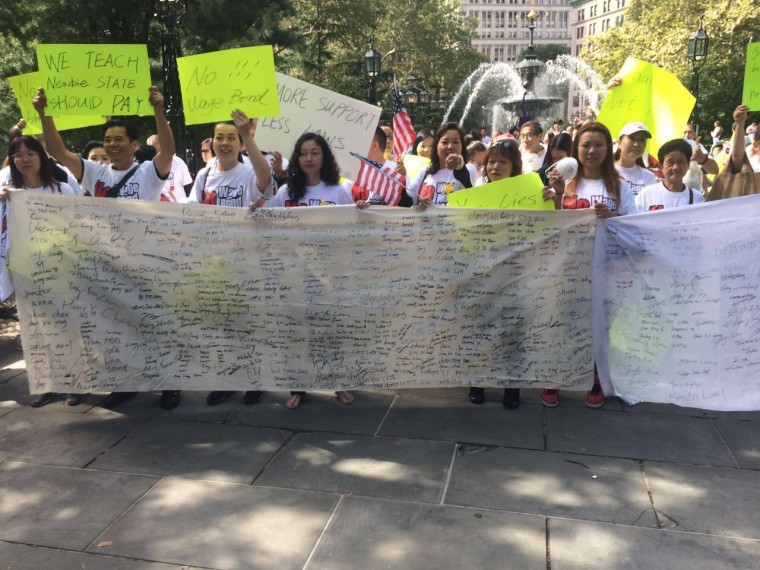 New York Gov. Andrew Cuomo announced on Aug. 10 that nail salons with two or more full-time employees must secure wage bonds before Oct. 6 or risk being fined or shut down. The mandate came a little less than a month after Cuomo signed legislation to combat worker abuse in the nail salon industry, which the New York Times exposed in a two-part series it published in May.
Frank Sobrino, a spokesman for New York Gov. Andrew Cuomo, has said the Oct. 6 deadline was flexible for nail salons having difficulty securing wage bonds, provided they have contacted the state and that officials are working to resolve their case.
"Employers complying with the state's wage laws have no reason to fear taking out a wage bond," Sobrino told NBC News in a statement Sunday.
According to court filings, the associations argued the state falsely certified that the bonds were "readily available" for purchase, and that the wage bond mandate discriminates against Asian Americans since it applies only to nail salons and not the "appearance enhancement industry" as a whole, which court papers said also includes businesses that offer other services like waxing and hair styling.
RELATED: New York Governor Cuomo Cracks Down on Nail Salons After Abuse Exposed
RELATED: Nail Salon Owners Complain of Tough Time Implementing Reforms
The court documents cited the Times' articles as saying 70 to 80 percent of nail salons in New York City are Korean owned. By contrast, only 14 percent of business owners in the appearance enhancement industry are Asian, the documents said. Throughout New York, there were more than 3,700 nail salons and 34,681 appearance enhancement businesses, the court papers noted.
The associations, which sued the state in September over the wage bond mandate, also submitted two affidavits from Asian-American nail salon owners to support the contention that the bonds were difficult to obtain. In both cases, the owners said their bond applications were denied because of low credit scores, according to the affidavits.
RELATED: New York Nail Salon Workers Protest Over New Law
But Amber Fehrenbacher, chief marketing officer of Brooklyn Ventures of Missouri, one of 27 bond agencies approved by the New York Department of Financial Services, has said that credit scores are only one part of the equation. A lack of financial credit history or records, even with high credit scores between 700 and 800, could make it more difficult for nail salon owners to receive bonds with low, more affordable rates, she said.
For its part, the state has refuted claims that legitimate and licensed businesses were being denied wage bonds. Since the requirement was announced in August, 98.5 percent of 1,166 bond applications processed as of Sept. 16 had already been approved, Sobrino said.
"The overwhelming majority of nail salon owners who have made a good-faith effort to secure a wage bond have been able to do so," he added. "We will work with any owner who, for whatever reason, is having difficulty acquiring a bond. Our goal is to ensure a fair day's pay for a fair day's work in an industry with a history of exploitation."