Feng-hsiung Hsu is most at ease when he's talking shop. Shop, for him, is all about computer processors and computer chips, and how he and his IBM team were able to design a machine that beat chess Grandmaster Garry Kasparov at his own game in 1997.
"We set out to do something, and we figured out what to do with it," Hsu, 55, told NBC News from Taiwan during a Skype interview late September. "The whole thing for me was just an engineering feat."
But for Kenneth Lee, a New York actor born in Singapore, the IBM engineer from Taiwan was more than just the architect of a revolutionary chess computer. Lee immersed himself into Hsu's life when he portrayed the engineer in British playwright Matt Charman's "The Machine," a play based on the rematch between Deep Blue and Kasparov that premiered at the Manchester International Festival and in New York last year.
Lee sees Hsu as a man whose own successes and failures in life shaped the soul of his machine.
"Just based on the script, he was a very passionate person," Lee said. "He would trail blaze, and he was certain about that. He was a person who had a lot to prove, and he was underestimated. For him, it wasn't so much about credit as it was about respect."
Until now, Hsu, who has worked in Beijing as a research manager for Microsoft since 2002, said he had never heard of Charman's "The Machine," let alone that Disney had acquired the script to adapt it into a motion picture. A Disney spokeswoman declined to discuss details of the project.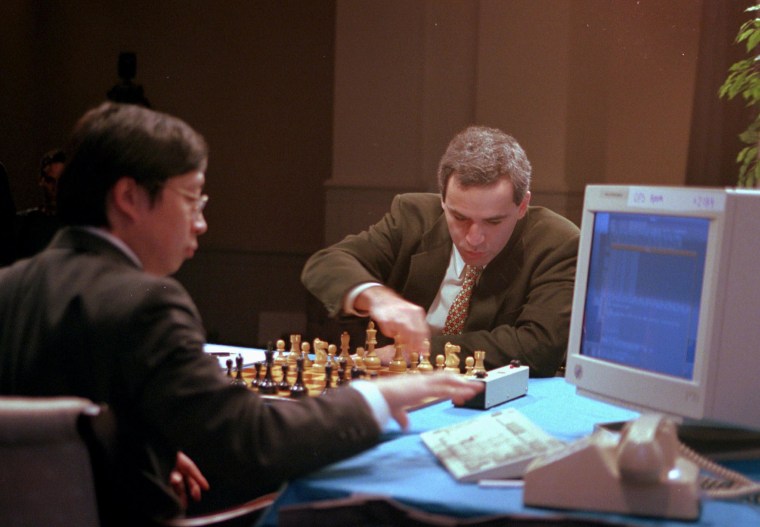 But if his depiction in the play is any indication, Hsu's character will likely enjoy a prominent role in the storyline, a tete-a-tete between two passionate men, both foreigners in America, who had much to prove to the world and themselves.
"He's a role model," Lee said of Hsu. "It's always good to have people in positions of success that younger Asian Americans can look up to and aspire to."
Things might have turned out differently for Hsu, Kasparov and the world had Hsu not discovered computer science as an engineering student at prestigious National Taiwan University, in Taipei, during the late 1970s. It was there that Hsu signed up for a microprocessor project during his sophomore year, an experience that in 1982 earned him a spot at Carnegie Mellon University, in Pittsburgh, Pennsylvania, where he began a Ph.D. in computer science.
"You don't want to show anything emotional to Kasparov, so that he has nothing to read."
In his book "Behind Deep Blue: Building the Computer that Defeated the World Chess Champion," which Lee studied to prepare for the "The Machine," Hsu recalls the competing egos among faculty and students at Carnegie Mellon. He became, he wrote, part of a ragtag group of unsupervised Ph.D. candidates vying against another elite crew of classmates to create the ultimate chess computer.
Those efforts eventually culminated with IBM hiring Hsu in 1989, when he and his team set out to create Deep Blue. In 1996, Deep Blue earned a chance to face off against Kasparov, in a match covered widely by the media. Hsu was sitting at the controls.
"At that point, you are the operator, so everything is beyond you," recalled Hsu. "You don't want to show anything emotional to Kasparov, so that he has nothing to read."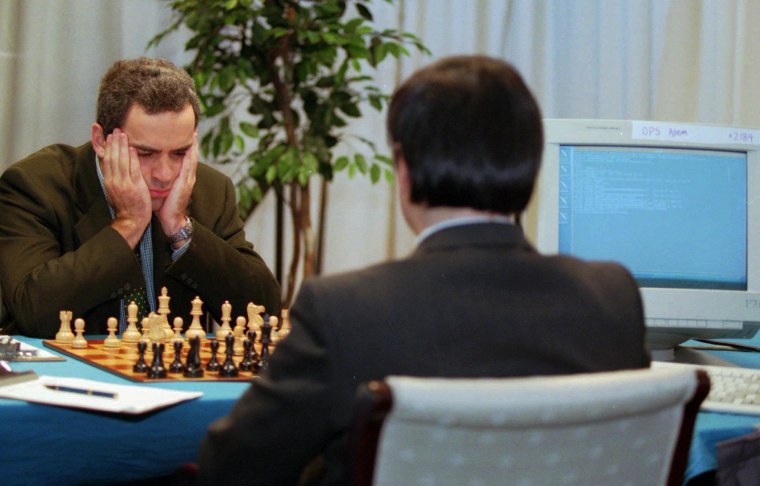 But Kasparov defeated Deep Blue 4 to 2, sending Hsu and his team back to retool their machine. One year later, Kasparov and Deep Blue met again; this time Deep Blue was rigged with a new chip that made it run faster than before.
"As an engineer, you try to do things differently," explained Hsu. "Whether you are successful depends on whether you are different."
The second time, that difference spelled success. Deep Blue defeated Kasparov 3½ to 2½ in the rematch, causing the Grandmaster to allege that some human force, and not Deep Blue, had tilted the outcome, an accusation depicted in Charman's play.
"If the story makes you feel good and makes you think, that's good."
To hear Hsu talk about Deep Blue today is to know he doesn't just see his creation, part of which is housed in Washington D.C.'s Smithsonian Institute, as a collection of microchips in a box. It is also a portal, he said, for us to understand just how great man can be.
"It is how man can open man himself," Hsu said. "And that's how we all become more successful."
Hsu, who left IBM in 1999, said he's "flattered" Charman wrote a play with him in it, and that Disney was working on a film about Deep Blue. (Charman declined two interview requests for this article.)
Lee, who knows all about the dearth of Asian characters on stage and on the big screen, said he is excited about the possibility that the film might introduce Hsu to the world.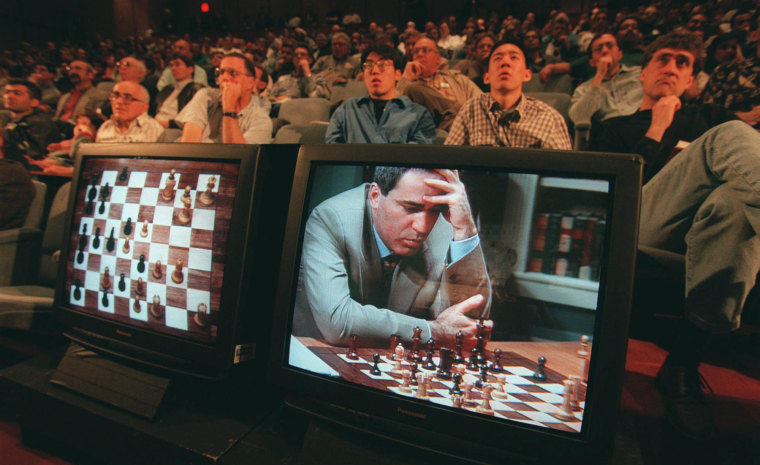 "If people walk out of the movie theater thinking, wow, how does technology play a role in society, then we would have succeeded," he said. "And if they thought, wow, how great is it that an Asian person was carrying half of the movie, that would be great too."
But Hsu said he doesn't spend much time thinking how his character in the play, or in the future film, might inspire future generations of Asian Americans, Taiwanese or Chinese.
"In the grand scheme of things, it's just a movie," Hsu said after a short sigh. "If the story makes you feel good and makes you think, that's good."