The New York City Board of Elections violated federal law when it removed more than 117,000 voters, including Asians and Latinos, from voter rolls because they hadn't cast ballots in past elections, the Department of Justice alleges in a recent motion.
The department announced Thursday it had filed the motion in Brooklyn federal court to intervene in a private lawsuit brought in November against the board over the voter purge — a move that was applauded by voter rights advocates.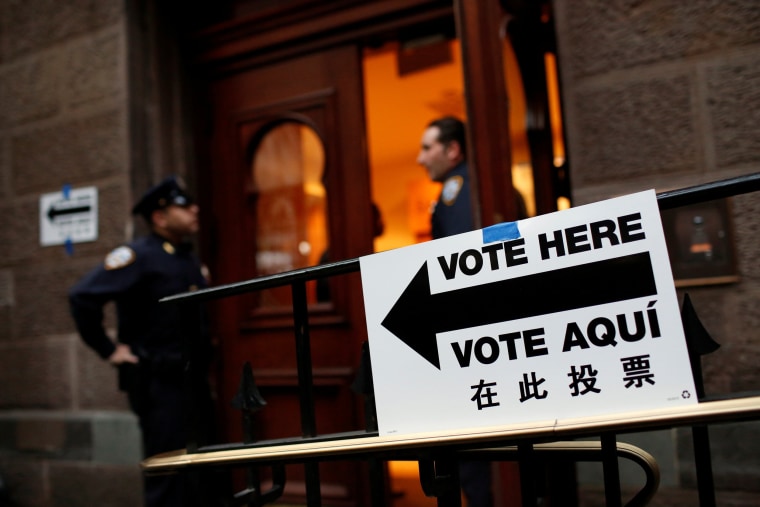 "It's definitely a positive development," Jerry Vattamala, director of the Asian American Legal Defense and Education Fund's democracy program, told NBC News Friday. "It brings much needed support and confirmation, in a way, from the government that we are on the right side and the claims we are bringing are important."
RELATED: Hispanics, Asian Americans Among Most Purged Voters in New York City: Analysis
The purge, which came to light in news reports in April after New York's presidential primary, was an attempt to "clean up" voter rolls in Brooklyn, the motion reads. Beginning in late 2013 or early 2014, officials sought to remove active-status voters who hadn't voted since 2008 and whose registration records had no activity since that year, court documents said.
"We will work tirelessly to ensure that, in the future, the New York City Board of Elections fulfills its statutory obligation to maintain the rolls properly, and provide appropriate notice to voters when it does so."
But New York state election law prohibits eliminating voters from registration rolls simply for not voting — unless they've been marked as "inactive" for two federal general elections, according to the court filing.
A voter is deemed inactive only after the board sends a confirmation notice. That goes out only after the board receives second-hand information, such as returned mail, that a voter's address has changed to outside the city or county of registration, court papers said.
The National Voter Registration Act of 1993, which the Justice Department accuses the board of violating, also says boards of election "may not remove voters solely by reason of a voter's failure to vote."
"The right of citizens to vote is a critical part of [the] democratic process," U.S. Attorney Robert L. Capers of the Eastern District of New York said in a statement. "We will work tirelessly to ensure that, in the future, the New York City Board of Elections fulfills its statutory obligation to maintain the rolls properly, and provide appropriate notice to voters when it does so."
RELATED: Second Official Suspended Amid Audit, Investigation Into New York Board of Elections
The Justice Department's motion alleges that since many of the voters flagged for removal by the board were in fact considered "active," they never received notices to confirm they still lived in the city or county where they were registered.
The board sent out "intent to cancel" notices to 122,000 voters after a May 2015 federal special election in Brooklyn, court papers said. Some 4,470 responded, and board staffers took them off the flagged voter list, the motion reads.
But the remaining 117,000 who did not respond were cancelled between June 18 and July 5, 2015, making them ineligible to vote, court papers said.
"The cancellation of these 117,000 voters caused Kings County (Brooklyn) to report an 8 percent decrease in total active registered voters between November 2015 and April 2016, the largest percentage decrease of any county in the state," the motion reads.
An analysis published in June by radio station WNYC showed that a disproportionate number of cancelled voters were Hispanic. Also high on the list were voters surnamed Wong and Chan, the report found, which are common Chinese last names.
New York's 7th Congressional District bore the brunt of the purge, according to WNYC. Asian Americans make up around 20 percent of the district and Hispanics 41 percent, according to the U.S. Census.
In its wake, two top Brooklyn elections officials were suspended without pay, and board executive director Michael Ryan publicly apologized for the mistake in May.
The cancellation of voters was one of a number of snafus in a chaotic April presidential primary, which prompted voter rights advocates to call for reforms in how the board oversees and administers elections.
In response to an NBC News request for comment, a city law department spokesman said Friday that "we are reviewing the issues raised in this litigation and will work with the Department of Justice toward a resolution."
Follow NBC Asian America on Facebook, Twitter, Instagram and Tumblr.