Following a successful crowdfunding campaign that helped launch her first New York Fashion Week collection of kimonos, Hiromi Asai has her eyes set on a new kimono challenge: menswear.
A champion for the disappearing art of the kimono, the New York-based fashion designer is committed to preserving and elevating the craft by re-introducing it to the international market through modern, fashion-forward designs. While her previous NYFW collection in 2016 featured a collection of traditional kimonos for women, Asai believes that menswear will allow her to highlight the quality and help preserve the style.
RELATED: Kickstarting a Runway Show: How Hiromi Asai Brought Kimonos to Fashion Week
"I want to show the kimono as fashion items beyond cultural and ethnic boundaries, but I think that if I stick to the form of authentic kimono, we will not be able to find a key to solve a number of issues in the kimono industry," Asai told NBC News.
Foregoing fashion weeks this year, Asai has instead shown her new collection at Pitti Uomo in Florence, Italy, one of the most important international events for men's fashion.
"I will focus on menswear because I think I can best express the beauty of kimono textiles though menswear, not women's," she said. "Menswear seems simple at a glance, but it's difficult to design for special styles, because the form is rather limited. I believe that we can provide unique styles for men to make the best use of kimono textiles."
Her collection, titled "Blue," is inspired by nature, and features Western-style garments made with traditional Japanese textiles. The kimono fabrics are made with silk, and developed in collaboration with artisans in Japan. The dyes are also done using traditional techniques, such as yuzen dyeing, which was introduced in the 8th century and involves drawing images directly onto fabric with rice paste before dyeing and washing the garment several times.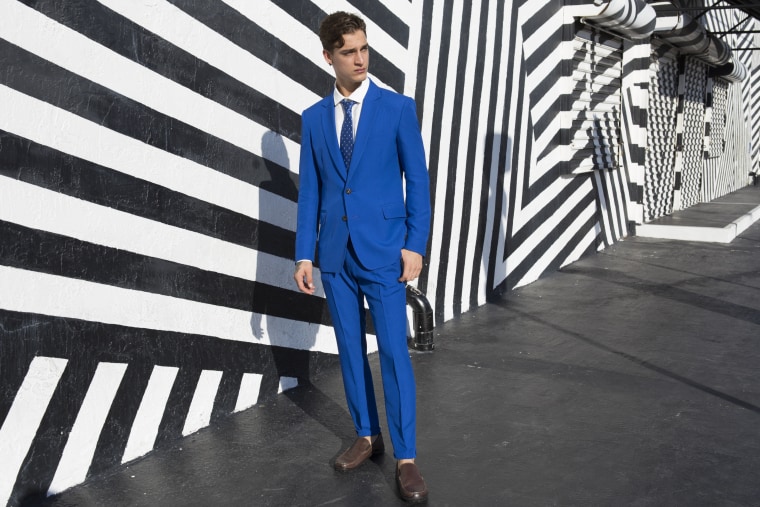 Another technique Asai used was bokashizome ombre dyeing, in which textiles are dyed using brushes. The marine silk suit in her collection was made using this method with a special dye Asai developed in collaboration with Japanese craftsmen. Other key pieces include a bomber jacket with the twin dragon motif, embroidered by a traditional lacing technique called nuitori.
"Similar to the kimono, which we hand from one generation to another, I would like our customers to wear our products for a long time," Asai said. "I am developing products that can last well with beauty. I believe that our products are not fast fashion, but rather, eco-friendly slow fashion."
Asai plans to develop her brand in the United States while establishing the manufacturing process in Japan in order to continue the growth of opportunities for kimono artisans. After receiving what she said were favorable responses from international buyers and press at Pitti Uomo, Asai returned to the United States this month to present her collection at her Manhattan showroom from Jan. 25 to Feb. 17, coinciding with New York Fashion Week.
"I hope to reverse the declining trend of the kimono industry in Japan and bring the kimono to its rightful forefront in fashion," Asai said.
Follow NBC Asian America on Facebook, Twitter, Instagram and Tumblr.