As New York Fashion Week kicks off this month, many designers are weighing their roles in society during political turmoil.
NBC Asian America spoke with five Asian and Asian-American designers and labels ahead of NYFW's kick off on Feb. 9 about their inspirations for their new fall and winter collections, and responsibilities in the current political climate.
Yuna Yang
Korean designer Yuna Yang's forthcoming collection is inspired by the concept of a single candle, and it's ability to overpower darkness, she said. A reflection of the designer's viewpoint of our current society, Yang offers a flicker of hope in what she views as a dark moment in the world.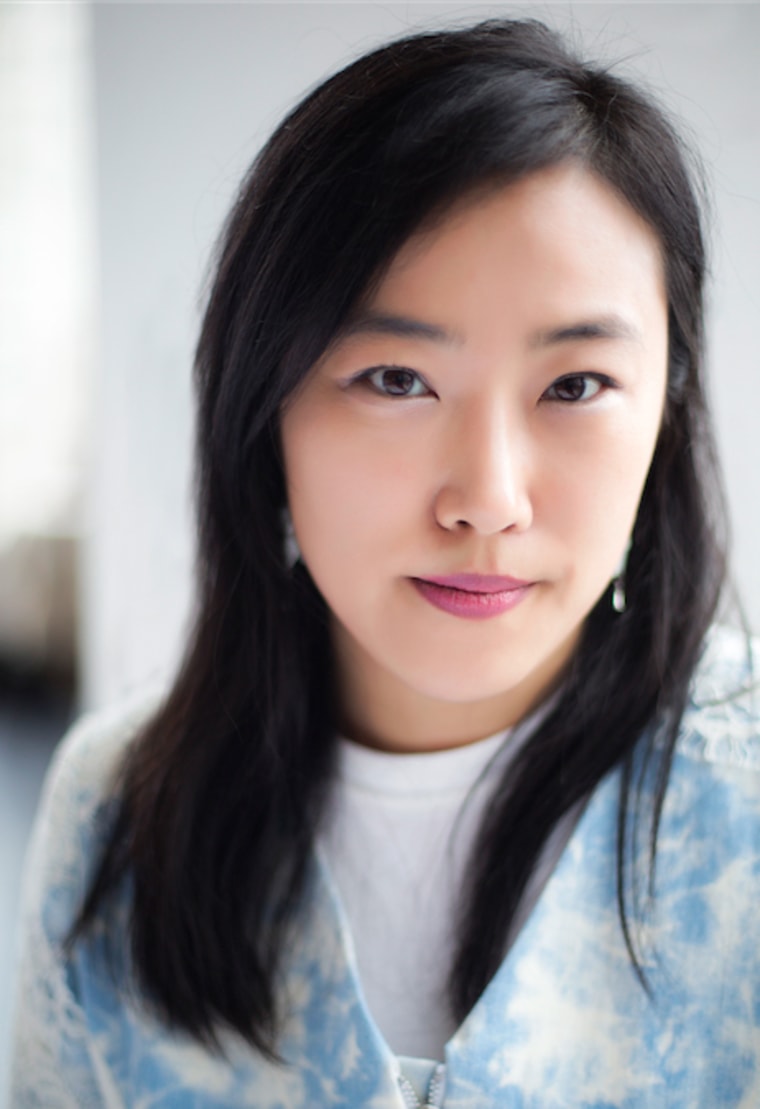 Making the connection between last year's turbulent political climate in South Korea — in which the country's legislature has voted to impeach President Park Geun-hye — and the election of President Donald Trump, Yang says she's found inspiration in the people who have marched in the streets making their voice heard.
"Hundreds of thousands of South Koreans marched in the streets, with each protester holding a candle as they called for [President Geun-hye's] resignation," Yang told NBC News. "Here in the United States, after the presidential election, we witnessed the largest organized protest — the Women's March. Many women are uniting, not only from different states, but from all around the world. This proves that even in the darkest social or political times, we believe in the power of one person holding a candle."
Through prints of dancing lights and measured shadows combined with black lace and light fabric, Yang's collection pays homage to those who hang on to hope despite shadowed times.
"These are clothes for the bold and brave woman who wants to express themselves, their femininity, and their belief that beauty and love overcomes the darkness," Yang said.
Yang will be presenting on Feb. 11.
Bibhu Mohapatra
Bibhu Mohapatra is a New York-based fashion and costume designer, originally from India, whose work has been worn by Michelle Obama.
His past collections have drawn inspiration from women trailblazers, featuring designs characterized by bold and daring femininity. He has previously chosen as muses the late Annemarie Schwarzenbach, a glamorous journalist and photographer known for her androgynous style, and Empress Dowager Cixi, a concubine turned regent who ruled China until 1908.
This season, Mohapatra's muse is Vanda, a dominatrix character from David Ives play, "Venus in Fur". "The collection celebrates women's empowerment, and reiterates that a woman's power is not defined by man," Mohapatra told NBC News.
In response to today's current political events, the designer said, "I have a global audience and my clients come from all over the world, including many Middle Eastern countries. My work has no creed or race, and I hope with my work I will have a voice loud enough to scale any wall."
Mohapatra will be showcasing on Feb. 15.
Dao-Yi Chow
Hailed by Vogue Magazine as the "princes of cool", Dao-Yi Chow and his co-founder Maxwell Osbourne are the pair behind the CFDA/Vogue Fashion Fund-winning label Public School. Known for its androgynous, streetwear-inspired style, Public School designs for both men and women.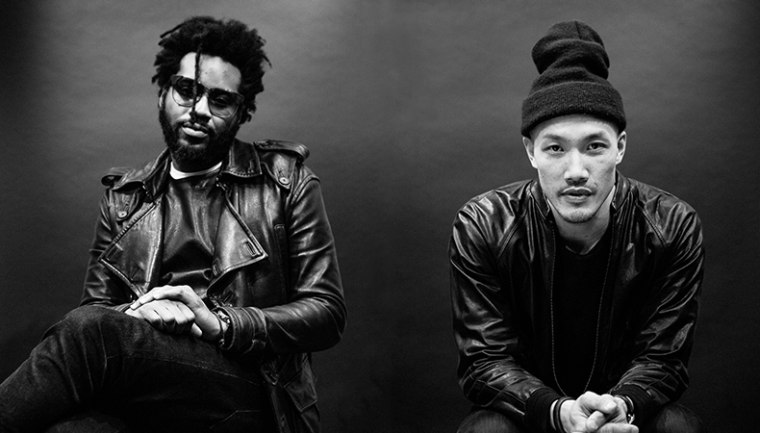 Chow, who grew up in a diverse neighborhood of Queens, uses his native New York City as his muse. The label reflects the city's DNA. From its international melting pot to its urban landscape, Public School is a product of the Big Apple — even the clothing production is made in New York.
Chow participated during the protests at John F. Kennedy International Airport on the weekend of Jan. 28 and 29, rallying against the Trump administration's travel ban from seven predominately Muslim countries on his social media outlets. "My Muslim brothers and sisters, NYC is out here and will continue to be out here in support," he wrote on Instagram. "New York is an immigrant town."
The duo previously took over the helms of DKNY as creative directors and stepped down at the end of 2016 to focus on their own label.
Public School is scheduled to present on Feb. 12.
Taoray Wang
Taoray Wang, a designer known for her power suits in her native China, made headlines recently for her recent dressing of Tiffany Trump, who wore one of Wang's dress on Election Night and donned one of her signature suits during the inauguration.
According to Wang, she is focused on her work as a designer and aims to serve her clients regardless of their political backgrounds or positions. "I am very proud and grateful for the opportunity to work with a client who is a young representation of my target customer and an example of hard work and dedication from the next generation," Wang told NBC News of Tiffany Trump. Wang has told WWD that she is not political, and has not kept up with the controversy around dressing the Trump family.
Wang's fall collection, entitled "Crossover", is inspired by a modern Chinese drama depicting Qing Dynasty characters crossing over to the modern world.
"It transcends time, gender, and geography. The collection marries a series of contrasts to form a new and unexpected take on female leaders of today," Wang said.
Her show will be on Feb. 11.
Laurence and Chico
Parsons alum Laurence Li and Chico Wang make up the duo behind Laurence and Chico, a playful fashion label that is equal parts glamour and humor. Wang serves as the brand's creative director, while Li is the illustrator and muse. The brand debuted in the Spring/Summer 2016 NYFW presentations, and will be presenting their new collection inspired by a cross-continent flight.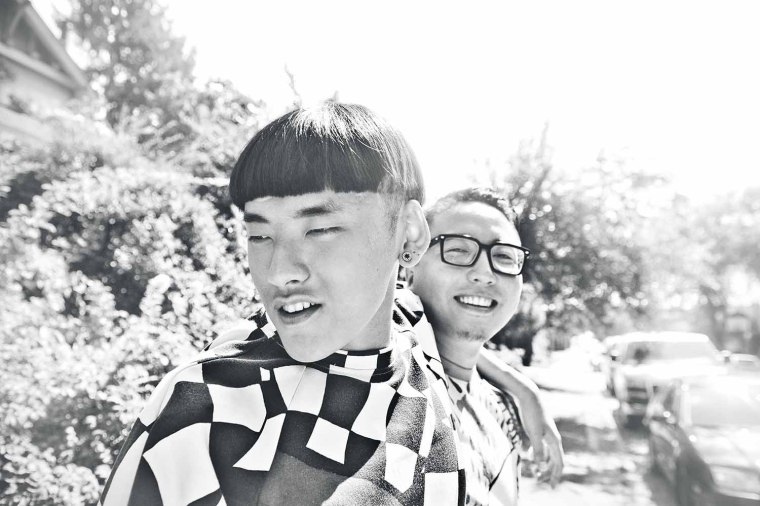 "The upcoming collection started from a flight between our hometown Vancouver and New York City. We wanted to capture what we felt like up in the air on the plane," a label spokesperson told NBC News. "The upcoming FW17 collection is inspired by whimsical dreams of air travel. You can expect to see colorful clouds and skies and creatures like fish-bird morphed animals, incarnated airplanes and many more."
In response to today's current socio-political climate, the label said the designers would like their work to serve as a sort of get-away destination. "Our collection is intended to take you up, up and away, and to be an escape from today's issues," a spokesperson said. "It is easy to turn on the news or read about current events and feel down about what is going on. We as designers hope to create things that uplift people, show them an imaginative world and take them to the clouds."
Laurence and Chico will be presenting on Feb. 11.
Follow NBC Asian America on Facebook, Twitter, Instagram and Tumblr.