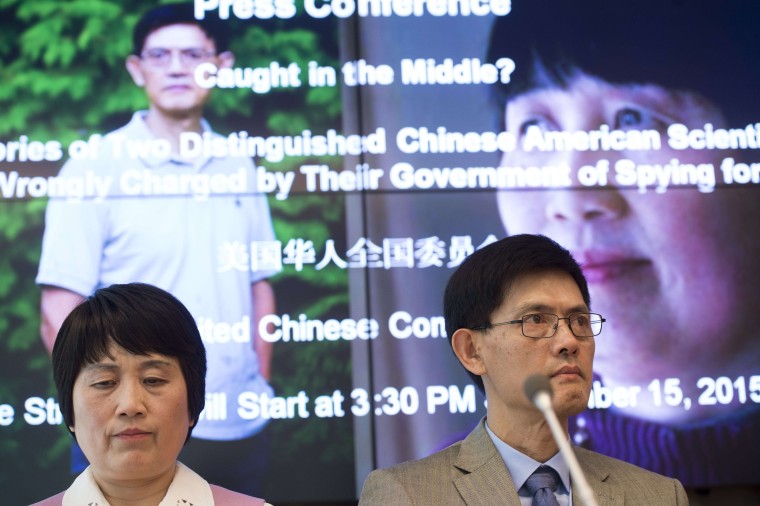 The federal spy cases against Chinese-American scientists Sherry Chen and Xiaoxing Xi may have been dropped, but the legal battles continue, the lawyer for the two scientists told NBC News.
As reported first by NBC News last Wednesday, Chen was put on notice by her employers at the National Weather Service. In a letter to Chen, Deputy Director Laura Furgione proposed to remove Chen from her position in order to "promote the efficiency of the service."
"The charges can be dropped, but this will never go away. This is the human cost."
In an email to NBC News, Chen's attorney Peter Zeidenberg called the letter "extremely disappointing," adding, "We will be contesting it vigorously."
Zeidenberg said that for the government to drop charges as an espionage matter, but then pursue termination as an employment matter was "not appropriate."
Chen, a hydrologist, was accused last October of using a stolen password to download information on the nation's dams and reservoirs from a secure database, which coincided with a meeting with a top Chinese official. She pleaded not guilty to multiple counts in February, and the charges were dropped in March. Chen received the letter from the National Weather Service about possible termination, dated Sept. 4, earlier this month.
RELATED: Was Race A Factor in Sherry Chen's Espionage Case?
In Xiaoxing Xi's case, Zeidenberg was less certain about what would unfold, and said he was waiting to see i Xi would get his job back in the physics department at Temple University.
"That is our hope," Zeidenberg said. He added that "no determination has been made" as far as any legal recourse against the government.
Xi had been accused of passing schematics of a pocket heater used in semiconductor research to China. He pleaded not guilty in June. Charges were dropped late last week following a review that showed documents were not what officials thought.
In a press conference Tuesday, Xi expressed his thanks to colleagues and students at Temple University for their support. "I don't think my wife has had a single night of good sleep since that day," he said.
Chen also spoke at Tuesday's press conference about the toll the charges have taken on her life. "I really, really enjoy the Christmas season, but not last year," she said. "The few times I ventured outside of my house to get some fresh air, I tried very hard not to look at those lights. Those decorations were not as beautiful as I remembered."