When faced with difficult situations, some follow the mantra of "just grin and bear it." Hannah Chung and her creative partner adopted a more literal interpretation of the saying for her new invention.
Developed by start-up Sproutel, Jerry the Bear teaches young children with type-1 diabetes how to cope with and manage the disease. Co-founders Hannah Chung and Aaron Horowitz created Jerry based on personal experiences. Horowitz, Sproutel CEO, had human growth hormone deficiency growing up, and had to use injections daily. He said that experience gave him a lot of empathy for the children that he's now helping.
Chung, the company's chief creative officer, said she had lost her grandparents from complications resulting from type-2 diabetes and when she was about 11 or 12, her father was diagnosed with the same disease. She watched not only how it affected him, but how it impacted the rest of her family.
"In order to make sure he wasn't feeling alone, all of our family members had to change our lifestyle and diet," she said. "I just learned how hard it is to adjust your lifestyle to this kind of condition."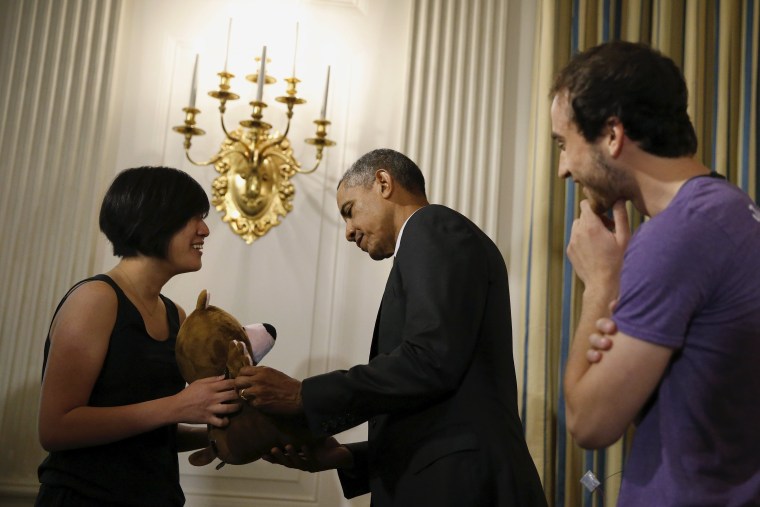 The pair met at Northwestern University's Design for America, which Chung co-founded - an effort to bring together students from various academic backgrounds and disciplines to work together to solve a social problem.
Through their research, they saw that children were playing doctor with their stuffed animals by giving the toy various treatments. So Chung and Horowitz thought that they could make an interactive and playful tool for kids to learn from.
Children can press Jerry's fingers to monitor his glucose levels on the screen on his stomach, feed Jerry with various food cards and give him the appropriate amount of insulin. The bear also comes with animated storybooks, giving kids tasks to complete to unlock new stories.
"Not in my wildest dreams did I think that was in the realm of possibility."
Approximately 500 families have brought a Jerry the Bear into their homes, according to Horowitz. He and Chung hope to eventually reach about 12,000 children with diabetes.
"When you talk to parents who currently own Jerry the Bear," Chung said, " [They say] Jerry has given them the language to talk about type-1 diabetes. Even siblings are really excited to learn about diabetes, and they really want to be active. They can have a conversation around the emotions around diabetes better."
The pair say hearing the impact of their work is what keeps the motivated.
"On our day to day, we're on our computers and we're doing all this stuff," Horowitz said. "It just takes those interactions with your users to take us back to reality and the 'why.' We're really, really lucky to have users who bring us back down."
Families dealing with type-1 diabetes firsthand aren't the only ones embracing the bear. In August, Sproutel was invited to the first White House Demo Day, an event recognizing underrepresented minorities in entrepreneurship. Chung and Horowitz met President Obama and introduced him to Jerry. The pair were even able to program the bear with a special "Happy Birthday" message for the President.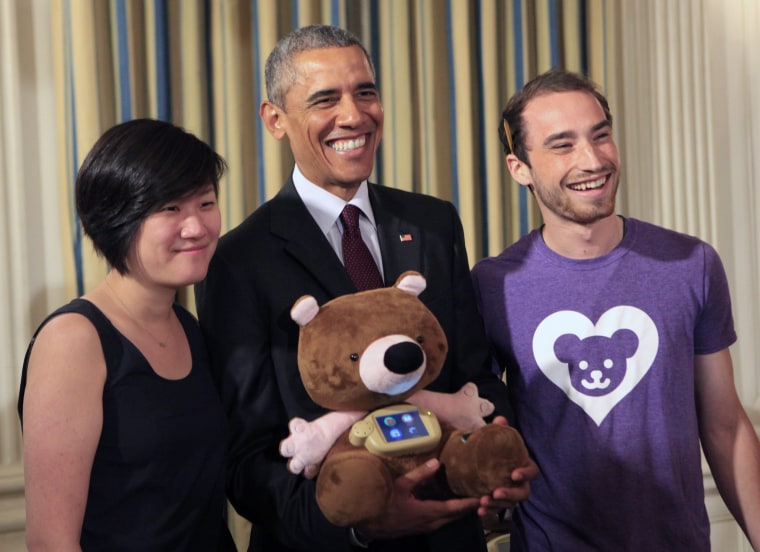 "It might not hit me that it happened until I explain to my grand-kids one day," Horowitz said. "Not in my wildest dreams did I think that was in the realm of possibility."
Chung has also taken Jerry the Bear to meetings and conventions around the country, including winning a pitch competition at Fortune's Most Powerful Women Summit. Chung, and the bear, were able to meet Warren Buffet there as a result.
With all the success around Jerry the Bear, come Sept. 22, Sproutel will launch another bear that focuses on general health -- not just diabetes. There will be add-ons that allow for more customization, like catering to different food allergies or asthma.
As Sproutel expands, Chung says she hopes to see Jerry "adopted by all kids and show they're getting healthy and well by playing with him."
Horowitz says they aim to reach children during a, "special time when they're still forming behaviors and we have a special opportunity to make a positive change that will last throughout their lives."
"Our ultimate goal," he said. "is to become the Disney of healthcare."