Mouse ears have generally been considered appropriate attire for Disney World. But apparently not Gurdit Singh's turban, unshorn hair and beard—until a breakthrough occurred at the end of June.
As a Disney World in-house mail carrier, 57-year-old Singh had been barred for seven years by his Disney employers from a wider delivery route in the theme park. He was limited to just one route that essentially kept him hidden from view, unlike his colleagues who were rotated across routes every three weeks. Singh came to see it as "a daily humiliation because of his religious beliefs."
His Disney bosses cited their "Look Policy." Singh abided, until last year when he sought the help of the Sikh Coalition. Along with the American Civil Liberties Union, the coalition sent a demand letter to Disney last May, asking that Disney, "de-segregate Mr. Singh" to give him the same employment opportunities as his peers, "provide religious accommodation" for his Sikh articles of faith, and "revise Disney's personnel policies," to provide that same accommodation for all employees and ban future segregation based on race/ethnicity, national origin, or religion.
On June 22, Disney responded with a letter saying the company was committed to diversity and prohibits discrimination based upon religion.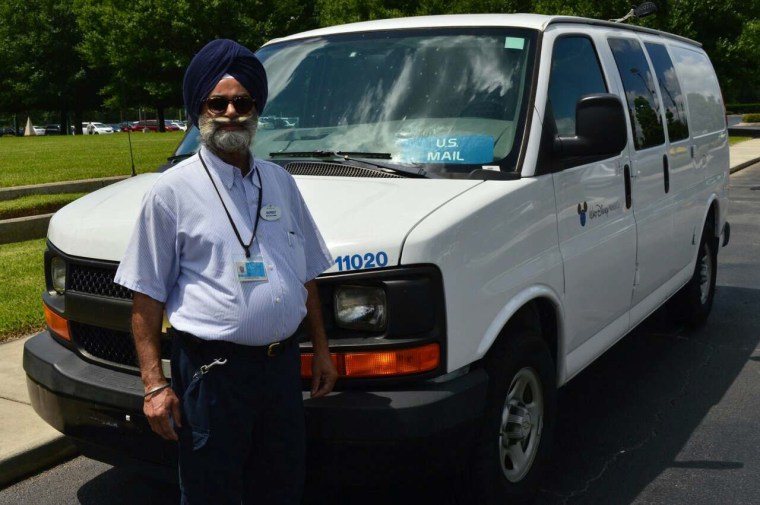 "We have approved Mr. Singh's request to work all distribution routes in the regular rotation and in the same way as all other Distribution Services Assistants while wearing his turban and neatly-gathered and tied beard," wrote Disney Principal Counsel Armando Rodriguez-Feo.
By the end of June, Singh was delivering mail on a rotating basis through all seven routes at Disney World's facilities.
"My turban and beard serve as a constant reminder of my commitment to my faith," Singh said in a statement to NBC News. "In Sikhism, these articles remind everybody that we're all equal. That's not just a Sikh value, that's an American value. While it's a value that Disney had rejected by segregating me for the past seven years, I'm incredibly thankful that Disney has decided to change course. My hope is that this policy change opens up the door for more Sikhs and other religious minorities to practice their faith freely here at Disney."