Coming off of a summer filled with record box office numbers and praise for Asian-centered Hollywood projects, the Disney Channel's groundbreaking live-action series "Andi Mack" has returned for its third season in a year when representation for Asian Americans on screen have hit a high.
"I feel like people like to say, 'People like to see themselves represented on TV.' That's what you hear all the time in this industry," said Peyton Elizabeth Lee, 14, who plays the title character. "But I didn't understand how much I sort of wanted that until you see movies like 'Crazy Rich Asians' or 'To All the Boys I've Loved Before.'"
In its first two seasons, "Andi Mack" — which centers on a multiracial Asian-American middle-schooler — has tackled everything from shifting family dynamics to learning disabilities to tween-aged anxiety. By the end of season two, it was consistently the highest-rated live-action cable show among viewers ages 6 to 11 and has won several awards, including a GLAAD Award for "Outstanding Kids and Family Programming" for a storyline that had middle-school aged character Cyrus (played by Joshua Rush) coming out.
While much of the attention around "Asian August" has been paid to "Crazy Rich Asians" and the John Cho thriller "Searching," programs with diverse casts that target younger viewers have also been getting a boost: from "Andi Mack" to Disney's latest "Freaky Friday" re-telling to the upcoming Nickelodeon "Blue's Clues" reboot that will be hosted by Filipino-American Broadway actor Joshua Dela Cruz.
For actress Lauren Tom, who plays Andi's grandmother Celia, the momentum felt today is different than what she's experienced in the past. Tom co-starred in 1993's "The Joy Luck Club," the last major studio film to feature a cast predominantly of Asian descent and an Asian-American story before "Crazy Rich Asians."
"I'm excited for the generation now because I really feel like they're going to be jettisoned, and they'll have the opportunity that would have been wonderful for us to have," Tom, 57, said. "But having said that, I'm the age I am, and I'm still working. So it's only going to help people of all ages."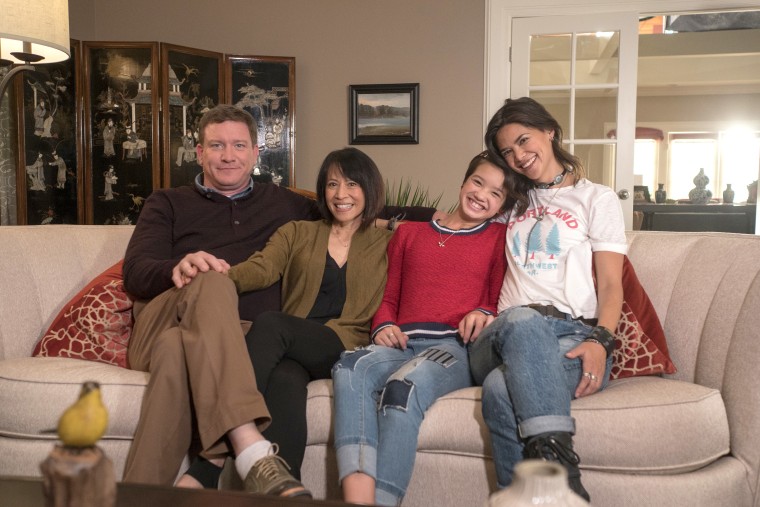 "Basically, it's given us this extra energy to go in and tell even more stories focused in that direction," show writer Elena Song added. "I love it. Every time I pitch I'm like, 'And the character could be a young John Cho.'"
For episodes that center on specific cultural traditions, writers have mined the cast for their own memories of, say, Lunar New Year for a season two episode or the Mid-Autumn Moon Festival for a season three story. Authenticity is key, said show creator and executive producer Terri Minsky.
"I just want the show to have meaning, especially to the Asian community because it wasn't designed that way," Minsky, who initially created the character Andi with no specific racial background, said.
After a nationwide search, Lee — who is of Chinese descent — landed the part, prompting showrunners to cast her family accordingly.
"I think there is such a danger of not saying what you mean when you're not part of the culture you're talking about," Minsky said.
Minsky, who also created Disney Channel hit "Lizzie McGuire," said that while uncomfortable, those conversations are crucial, as are storylines that accurately reflect the reality of younger viewers — and the ones who will eventually be at the helm of television and film.
"It's like the LGBTQ storyline. I just can't wait for that to not be a storyline," Minsky said. "I just want that to be a fact of life — gay kids and we don't have to announce it. And the generation that's coming up, that's how it will be because they are sick of it."
"They're sick of waiting to see themselves on TV, and they're going to make the TV, and they're going to see themselves," she added. "I just can't wait for that. That's what I want."
Follow NBC Asian America on Facebook, Twitter, Instagram and Tumblr.