When "Crazy Ex-Girlfriend" returns from hiatus on Monday night, it does so with a Golden Globe and Critics' Choice Award for its star and co-executive producer Rachel Bloom.
But since the musical comedy's premiere in October, it has also established itself as a breakthrough television show for Asian Americans, thanks to the casting of Filipino-American actor Vincent Rodriguez III as Bloom's character's object of desire.
"Times are changing and it's catching on that the roles on TV and film need to reflect its diverse viewers."
As Josh Chan, Rodriguez plays the heartthrob whom Harvard-educated Rebecca Bunch, played by Bloom, leaves her high paying New York legal job to follow to California — West Covina to be exact, one of Southern California's prominent Filipino enclaves.
The role of Josh Chan has been significant for representation in network television because the role of "love interest" has rarely been written for Asian-American males.
The interracial love story written in "Crazy Ex-Girlfriend" has also included episodes that have been noted for its groundbreaking showcase of Filipino family life and for increasing Filipino representation on television (Tony Award-winning actress Lea Salonga will appear in the series' first season finale).
Born in San Francisco and raised in Daly City, a Filipino enclave located in Northern California, Rodriguez told NBC News he immediately recognized the character of Josh because it was similar to so many of the people he grew up and went to school with.
He just didn't see those people on TV.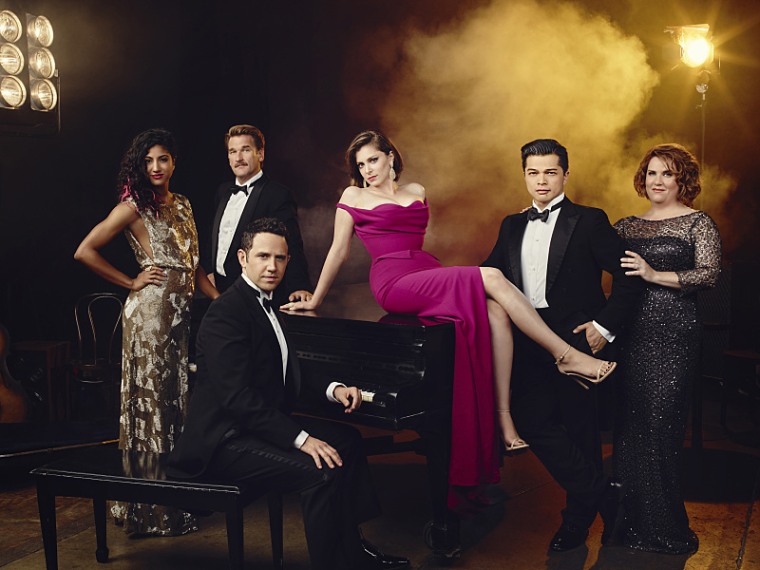 Vincent, I'm also a Filipino American born in San Francisco, and when I think of Filipino images on TV, there are some, but not many. What did you think of the absence of Filipinos in TV and movies when you were considering career choices?
I grew up accepting that my nationality was not depicted on TV or film. To be honest it was something I didn't acknowledge as a kid. But once I realized my love for acting and the possibility of pursuing a career in it, I quickly noticed the absence of Asians in general and thought, "Well, I'm gonna try to change that."
RELATED: 2015 Was More Than Just a Banner Year for Asian Americans on Television
What really woke me up to the possibility becoming a reality was seeing who I thought was the first Filipino actor on TV in a starring role and that was Paolo Montalban as Prince Christopher in Disney's "Cinderella" [the 1997 television film of the Rodgers & Hammerstein's musical, starring Brandy]. I immediately thought, "Hey, I'm Filipino too. And I could play that part." I felt very encouraged shortly after when I auditioned for the role at an all-girls school nearby and got the part.
After a performance, I met the man who would later be my acting coach who helped me get into my acting conservatory. It was apparent to me that there were many others who were in support of me becoming an actor and making a name for myself. I am forever grateful to those teachers and mentors who instead of saying, "Why you?" said, "Why not you?"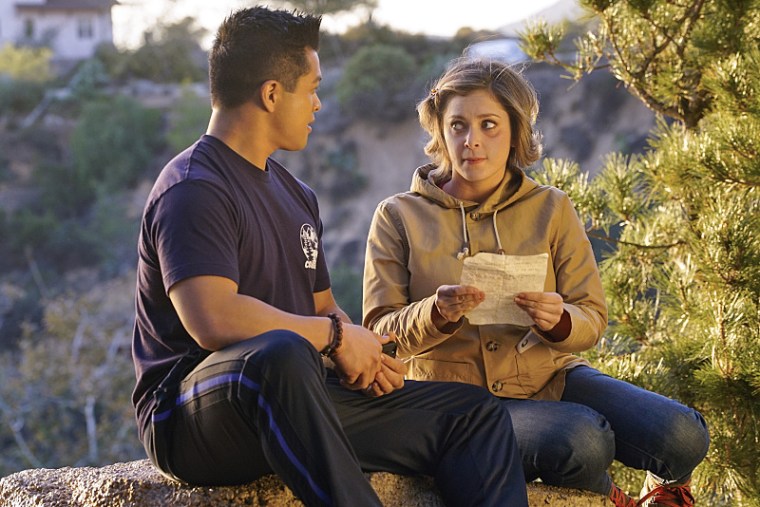 In "Crazy Ex-Girlfriend," you play Josh Chan, a Filipino American. Was there any confusion about that at first? Your own background is also mixed. How strong was the Filipino influence in your family?
I think there was confusion from our audiences' end since it was something we didn't put in the writing in the first few episodes. But I was always playing a Filipino character with a Filipino surname, Chan. [The character's surname was originally "Chang," but it was later changed.]
My background is also mixed: Filipino, Latino, and Chinese. Both my parents were born in the Philippines. My dad is full Filipino, but my mom looks a little mixed and her mom's name is Estelita Coquico. I was raised in a dominantly Filipino family. I didn't know I was "mixed" until I got older and started asking questions about my grandparents, the origins of our middle and last names. We were kind of textbook Pinoys. A lot of the Filipino stereotypes that were joked about by me and my friends rang very true with my family. I never thought I was anything other than full-on Filipino growing up.
In my mind, as an observer of these things for many years, I don't recall ever seeing a joke about dinuguan [Filipino pork blood stew] made on mainstream TV. In that sense, this is a real breakthrough for Filipinos. How does that make you feel as a Filipino-American actor? Is there a sense that this is different or special? Amy Hill as the mom was also on "All American Girl."
It makes me feel pretty great that I get to be a part of this breakthrough in television history. The fact that it has now been presented to the general public on network television, is huge. Filipino food is not common when compared to your local Chinese food options. It's cool that now America has this exposure to our native foods and family dynamic.
"All American Girl" was a huge stepping stone back then so I think it's a about time that shows like ours bring light to my character's Filipino background. It's a special time for the Asian community on television. And with the strong presence of shows like "Fresh Off the Boat," "Master of None," and "Dr. Ken," I see television more willing to cast Asians in non-traditional roles, and write more roles specifically for actors of Asian descent.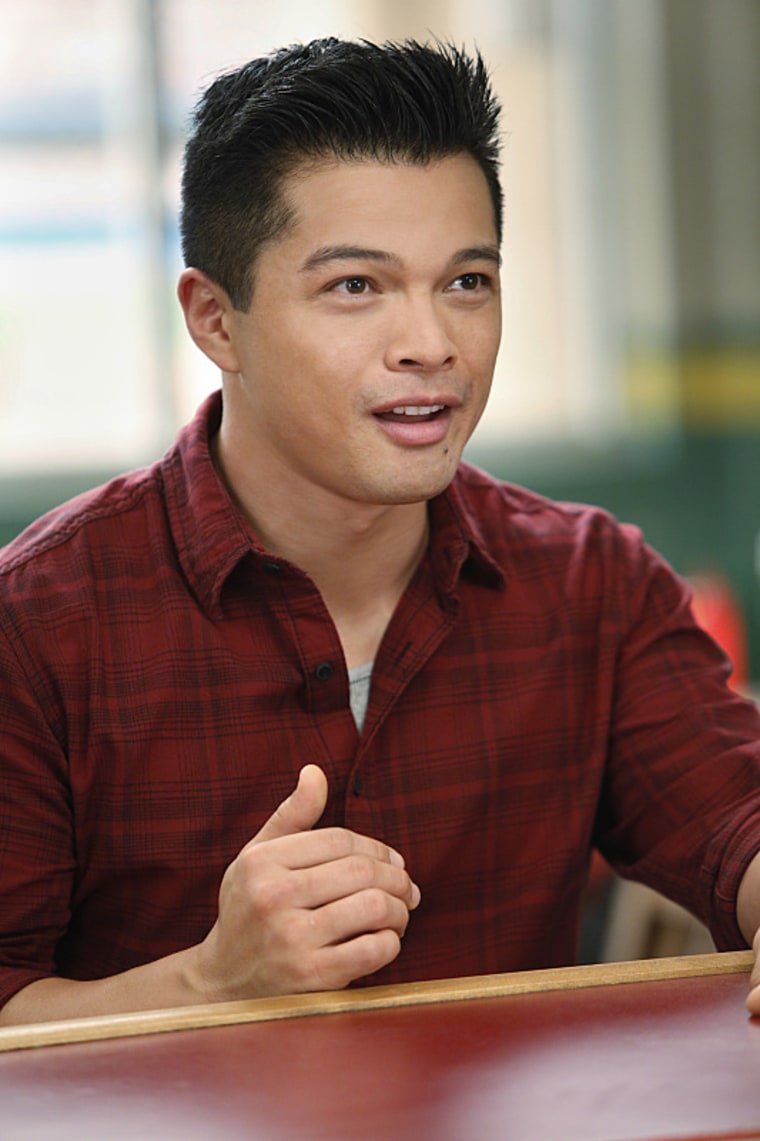 To make changes in the business, it starts at the top — in this case, Rachel Bloom, the executive producer. Why did she happen to address the "unconditional love of Filipinos" as a narrative source? Do you help out with authenticity like how Filipinos like group photos, go to mass, play basketball with their priests?
"Once I realized my love for acting...I quickly noticed the absence of Asians in general and thought, 'Well, I'm gonna try to change that.'"
Why did she address it? 'Cause it's true! We do like group photos and go to mass.
There are a lot of characteristics of the Filipino culture and Rachel did a great job acknowledging some of them in the show. Especially with the help of [Filipino American] Rene Gube, who not only plays Father Brah [in the show], but is also one of our many very talented writers who actually wrote the Thanksgiving episode that presented the network television debut of a Filipino family. Rene helps make sure our Filipino references are on point, even down to the appearance of dinuguan when we filmed it in our Thanksgiving episode.
Aline [Brosh McKenna] and Rachel are great executive producers and fully support the authenticity of our characters and their backgrounds. That level of integrity makes me even prouder to be a part of this show.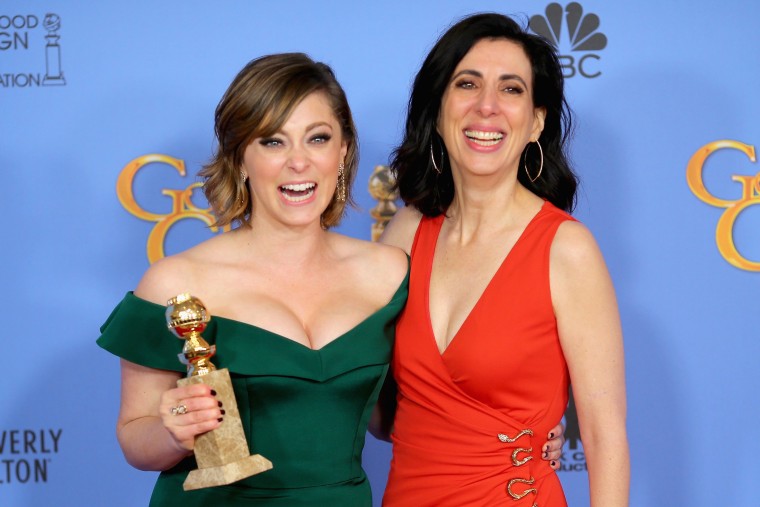 What is Rachel like to work for? How is it like to play her love interest? It's a rarity for a Filipino or Asian-American male to be a love interest. Are many producers giving you as an actor a chance for that sort of role because of "Crazy Ex-Girlfriend"? Are producers more open to portrayals of this kind of interracial love?
Rachel is awesome to work for. I sometimes catch myself just starring at her in awe of all she does and how professional, funny, and charismatic she is. It makes it so easy to play her love interest. Josh appreciates Rebecca for all the great things she is, as I appreciate and love Rachel for all she is. She makes it really easy to come to work and play in front of a camera.
I haven't met too many producers since "Crazy Ex-Girlfriend" began airing, but the few auditions I've received for TV and film lead me to believe that more casting directors are willing to see me for the love interest and starring roles. Times are changing and it's catching on that the roles on TV and film need to reflect its diverse viewers.
I think producers are definitely more open to this "interracial love." But love is love. It's a bummer interracial love is still such a big deal. To me, it's quite normal. I grew up seeing couples that were interracial. Who cares if it's a black guy and white girl, or an Asian guy and white girl, etc.? Odds are, every combo exists out there somewhere so why not put it on the screen? Shouldn't art imitate life?
I think the lack of interracial couples on TV is a less accurate depiction of real life. But like I said before, I feel a huge shift occurring in the entertainment industry that will alter what we consider "normal."
Does this represent a generational change in sitcom development, where younger executives are sensitive and will get these stories out? Now that we have the basic story out about Filipinos, can we just have more Filipinos play roles that could go to any other ethnicity? Or is diversity still a greater problem than we think in show business?
I think this is definitely a new beginning in sitcom development. I think we will start seeing more nontraditional casting and more ethnically diverse storylines.
There is no doubt that diversity is a problem in show business and that this fight has been going on for a long time. I was dealing with it in New York City the last 12 years for stage jobs. There simply aren't that many roles for Asians. I can't speak for the stage, but for TV and film, I think it's a problem that we are so much closer to solving now, given the current hit shows on television. The evolution has surged and now is the time to grow and expand.
This interview has been edited for length and clarity.
Follow NBC Asian America on Facebook, Twitter, and Tumblr.
Correction: An earlier version of this story stated that Amy Hill is Filipino American. She is Japanese American.