When "Mighty Morphin' Power Rangers" first premiered on TV in 1993, audiences in the U.S. were introduced to five "teenagers with attitude" who spent their days in high school, hanging out at a juice bar, and secretly transforming into spandex-wearing superheroes to save the world.
But what has continued to stand out the most about the franchise for many is not the plethora of monsters introduced each episode or the decades-long story arc of Tommy Oliver that began with the Green Ranger or even the billions of dollars worth of merchandising: it was the diversity of the core cast and introduction to children at the time of some of TV's first diverse superheroes.
"As a kid, I remember growing up with almost no superheroes who looked like me on television. Trini's Yellow Ranger was literally the first," Reappropriate blogger Jenn Fang told NBC News. "It wasn't until I saw Trini in the first episode of the Power Rangers that I realized what I had been missing. Not until that moment did I even question the message reinforced by all the stories that were available to me: that little Asian girls belonged in the background; that little Asian girls didn't have magic powers; that little Asian girls didn't get to stand up for ourselves and fight back against our enemies; that little Asian girls didn't get to be the hero. Trini changed all that for me."
RELATED: Editorial: The 'Asian Superhero' Is Not An Oxymoron
Twenty-four years later, that diversity is still a central part of "Power Rangers." Since the cast of the 2017 reboot was announced, there's been buzz about the diversity its stars bring – diversity, "Power Rangers" star Ludi Lin, said he's been anxious to see.
"Because I speak fluent Mandarin and Cantonese, I want the opportunity to be able to portray some of those characters and to broaden the horizon for audiences all across the world," Lin told NBC News, "and just paint three-dimensional Asian people – paint them in a three-dimensional way that can feel like they can be attractive and they can be masculine, right? They can be sexy, and they can be cool."
For his storyline as Zack, the Black Ranger, Lin put his bilingual skills to work, incorporating Mandarin into scenes with his character's mother, who is bedridden and requires Zack's care.
It's those moments that set the 2017 Power Rangers apart: whereas audiences in 1993 didn't have the opportunity to dive much into Zack's or the others' families or histories, the personal aspects of who those characters are become essential to the identities of the five teens in the new film. Billy, the Blue Ranger (played by RJ Cyler of "Me and Earl and the Dying Girl"), reveals in the beginning of the film he's on the autism spectrum. Halfway through the film, in a scene where the Rangers bond over their new roles, Trini, the Yellow Ranger (played by singer Becky G), is revealed to be questioning her sexual orientation – a moment that director Dean Israelite told The Hollywood Reporter was "pivotal" to Trini's character.
"She hasn't fully figured it out yet," Israelite said. "I think what's great about that scene and what that scene propels for the rest of the movie is, 'That's OK.' The movie is saying, 'That's OK,' and all of the kids have to own who they are and find their tribe."
RELATED: Original 'Power Ranger' Talks Coming Out, Hollywood Homophobia
And while the seed of that message of acceptance was planted from the beginning of "Power Rangers" in the U.S., the topics of race and identity weren't necessarily fully explored.
"[Superhero] stories have always resonated with all types of people."
For blogger and podcaster William Bruce West, the introduction of TJ Johnson (portrayed by Selwyn Ward), the franchise's first African American Red Ranger in 1997's "Power Rangers Turbo," was groundbreaking. "In other kids' properties, the Black guy was always the wise-cracking comic relief or the 'muscle,' but here was a capable leader who was inspirational to kids everywhere," West told NBC News. "I was probably older than the target audience at the time, but even I was inspired by the move. There just weren't a lot of properties out there with Black leaders, be they for kids or adults, so it was certainly noticed."
But, West added, "We have to talk about what 'diversity' means in the world of Power Rangers. Due to the age group that the show targets, it doesn't really get into topics like racism or discrimination, so it doesn't allow for the characters' race or ethnicity to factor into anything. At the end of the day, it might serve to teach kids that 'We're all the same,' but a child who'd never encountered an African American before wouldn't necessarily come away from the show with a better understanding of the culture."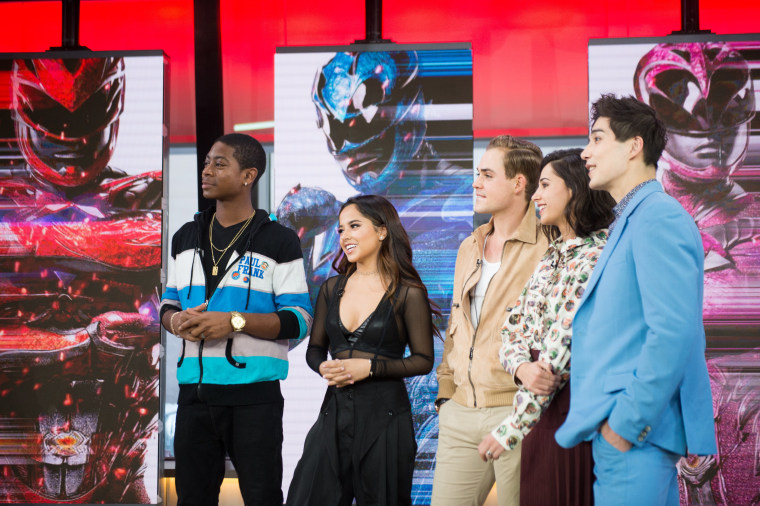 RELATED: If You Can't Beat Them, Laugh at Them: How Asian America Responded to Hollywood in 2016
Though it may seem overdue for a 24-year-old series, at a time when diversity is an increasingly important part of the discussion around superhero stories, the new "Power Rangers" film takes those small steps to begin the conversation. And given the popularity of diverse stories told in the genre recently – including Netflix's "Luke Cage," Gene Luen Yang's "Super-Man" series that introduces Kenan Kong as the protagonist, and the return of Ms. Marvel as Muslim teen Kamala Khan – it's more noticeable these days to exclude identity in stories where it informs the characters and their development (see: Netflix's "Iron Fist" and the upcoming film "Ghost in the Shell").
"[Superhero] stories have always resonated with all types of people, but the demographic of the people who created those stories were overwhelmingly white and male and straight. And they're going to write from their context, and in their world, they're writing for people like them. So when they think of the average superhero/comic book fan, they're thinking of other straight white males. But the fact remains that the people who've consumed comic books for decades have always been a wide swath of Americans," Keith Chow, editor-in-chief of The Nerds of Color, told NBC News, referencing online communities such as Black Girl Nerds.
He added, "There's a perception that comics are for straight white men because straight white men created comics. This idea that 'SJW' – social justice warriors – or this 'PC culture'…that's nonsense. That denies our humanity and says we're not real people and we haven't been around for years consuming this stuff."
Follow NBC Asian America on Facebook, Twitter, Instagram and Tumblr.