Fox Searchlight recently acquired the rights to "Meet the Patels," an independent documentary by brother-sister team Ravi and Geeta Patel, with plans to remake the film as a scripted comedy.
The deal was announced in October.
The documentary, which was released nationwide in theaters in September and won the Audience Award at the 2014 Los Angeles Film Festival, explores the concept of arranged marriages through the eyes of first-generation Indian-American actor and filmmaker Ravi Patel, who most recently appeared in Aziz Ansari's Netflix series, "Master of None." A mashup of home videos and animation frame the story about Patel's quest to find a wife.
In an email interview with NBC News, Patel shares details about his plans for the "Meet The Patels" remake.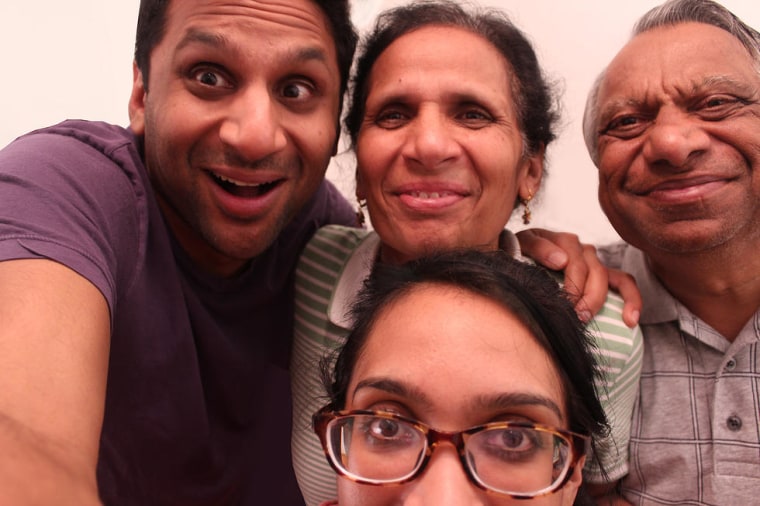 What made you decide to do a remake?
Fox Searchlight approached us and, frankly, they've always been our dream studio. It was a no-brainer! Such an artist-friendly studio, and thus far the general process has been all about them essentially saying, "What can we do to support your vision?" It's amazing. I hope we don't mess it up!
Who will star in the remake?
I will be the lead. Mom and Dad will be Mom and Dad. Everyone else will be cast. We have a bunch of friends and favorite actors in mind, but who knows at this point.
How will the remake differ from the documentary?
We are honestly just getting started on the writing process, so we are still figuring a lot of this out. Overall, we want to explore the same ideas and themes, but we want to do it in a new way. We have no desire to make a direct remake because I already love the documentary and don't know how to make [it] better. So, we want to do something complementary. Like the original, we want it to be fun, full of love, and experiment with all sorts of entertaining stylistic techniques. Most importantly, we know we want to cast Mom and Dad to play themselves! I can't wait to try all this out.
This interview has been edited for length and clarity.
Follow NBC Asian America on Facebook, Twitter, and Tumblr.
RELATED: