The story of a Mongolian woman who escaped domestic violence by joining an American circus and then returned to Mongolia to save others is the focus of a new documentary film debuting this spring.
The world premiere of "The Circus Saved My Life," which follows gymnast Chimgee Haltarhuu, is scheduled for April 15 at the 36th annual Minneapolis St. Paul International Film Festival. Shot by filmmaker Stewart Lippe, who performed as a clown with Haltarhuu, the film wasn't the one Lippe set out to make when he brought a camera to Mongolia.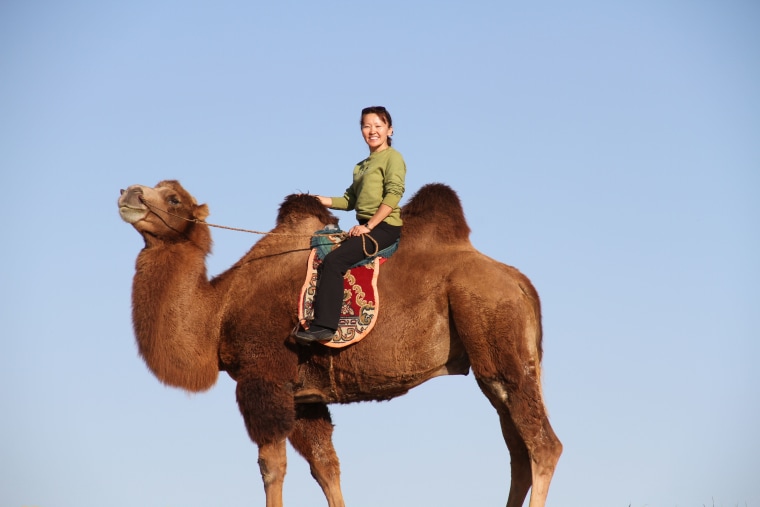 "I took a camera along to shoot the landscape, people, and the small show. As the days passed I began to understand the purpose of the 'circus,' which was to gather an audience, present a show, and then disseminate information which would raise awareness about domestic violence," Lippe told NBC News.
Growing up, Haltarhuu watched her father abuse her mother, according to the website of her nonprofit, Mission Manduhai. A talented gymnast, Haltarhuu was selected to attend the Mongolian Circus School, which gave her the opportunity to join the Mongolian State Circus and perform across Mongolia, Russia, and Europe.
When she also experienced domestic violence during her first marriage, she escaped by joining the Ringling Brothers Circus and going to the United States, she said. Years later, she began returning to Mongolia to help others in abusive circumstances.
"As a victim myself, I know that this problem is rooted deeply in the Mongolian culture," Haltarhuu told NBC News. "By using the circus as a way to bring the remote nomadic herders together, I am trying to change this culture by reaching especially the younger generation; for them to hear that abuse is not right, and that it is in fact illegal."
Since 2010, Mission Manduhai has brought circus performers to remote areas of Mongolia to entertain families while also educating them about laws against domestic violence, women's rights, and what to do if one is in an abusive relationship.
The organization estimates that one in three women in Mongolia experience domestic violence, and it partners with Mongolia's National Center Against Violence to direct callers to counselling, shelters, and legal assistance.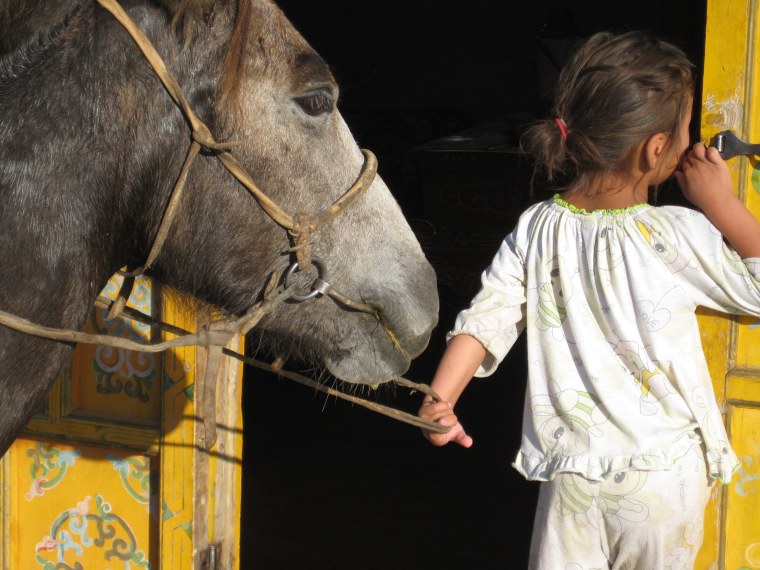 Although Haltarhuu was initially reluctant to relate her own personal experiences for fear of alienating her family or in-laws, she realized while making this film that she had to tell her story openly in order to personally challenge the culture of domestic violence in Mongolia.
"That was the point where her personal experiences became political," Lippe said. "And after her confession, she was freed to proceed with her 'mission' with integrity and moral authority. There was danger in this effort, as traditions do not change quietly or quickly."
Follow NBC Asian America on Facebook, Twitter, Instagram and Tumblr.