Detroit-based Asian-American artist Dominic Pangborn has been at the top of his game these past few years. A thriving studio in the heart of Detroit; a book on his art, Evolutionist; an hour-long documentary on his life by KBS Korean Broadcasting Station; new Pangborn Design Collection stores in metro Detroit; and a retrospective exhibition of his art, "Evolution of Art & Design Through Revolution," at the Ella Sharp Museum in Jackson, Michigan.
He is known for his paintings and sculptures, graphic design, fashion design (his signature ties are ubiquitous in the Detroit business community), as well as his contributions in the business, nonprofit, and arts communities. His work, in fact, is so wide-ranging and ever-changing, he's been labeled by the arts community simply as an "evolutionist."
NBC News caught up with Pangborn while he was opening a new Design Collection store in downtown Ann Arbor, Michigan.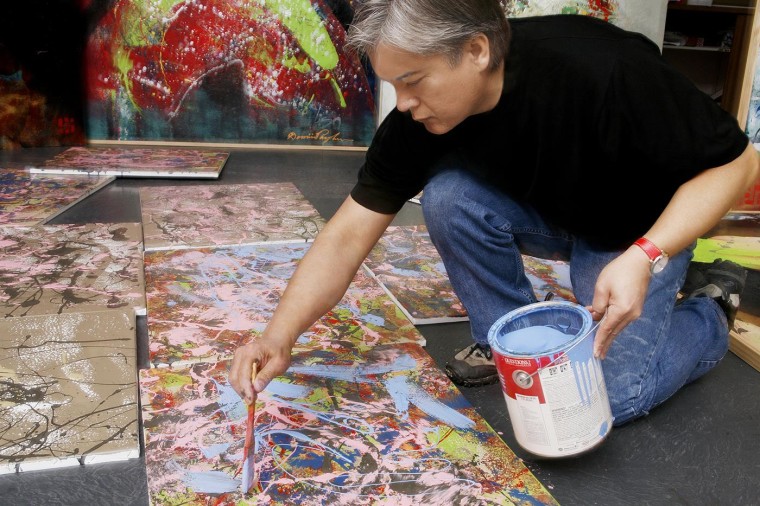 You are now a well-established part of the Michigan arts community, but how did you end up in Jackson, Michigan?
I was born in Korea in 1952. It was July, one year exactly before the end of Korean War. My father was an American GI and my mother was a Korean farmer. I was one of those children born of mixed race at a place where it took nearly 50 years before anti-discrimination laws were written.
My mother, a strong woman, took upon herself to carry on by raising me in the village proudly.
A lot of vocal name calling was thrown at me growing up, with quite a few physical bouts as well. When I reached the age of 10, my mother asked me if I would like to go to America, thinking I'd be away from racial bigotry and all. I agreed, and upon arriving in the US, I was told I'd be living with an American family. I was given a new identity, Dominic Joseph Pangborn.
My new set of parents were Spencer and Mary Pangborn. They lived in Jackson, Michigan. Having 11 biological children of their own, they had decided to adopt me.
"I discovered that art didn't require English, and Heaven's gate opened."
How does your early history affect your path as an artist?
It was here in an over-crowded small home that I took to art as my means to find tranquility. Self taught, I learned to paint everything at the age of 12. It wasn't until my sophomore year that I took an art class at Lumen Christi High School. I excelled with many accolades and awards.
My father recommended I attend an art school and Chicago Academy of Art was chosen.
I moved to Chicago in 1971. While attending school, I took a job as an apprentice at a small design studio for three dollars an hour. My part time job of 73 hours per week paid off a year later when I was promoted to the position of Chief Designer. I finished school in 1975 and soon got married to Delia Lipa, soon to be our 39th anniversary.
My childhood had a great impact on my career. To be born at a place and a family with nothing taught me to create, invent, and make things. Having the mind to think allowed me to make that initial foundation, the idea.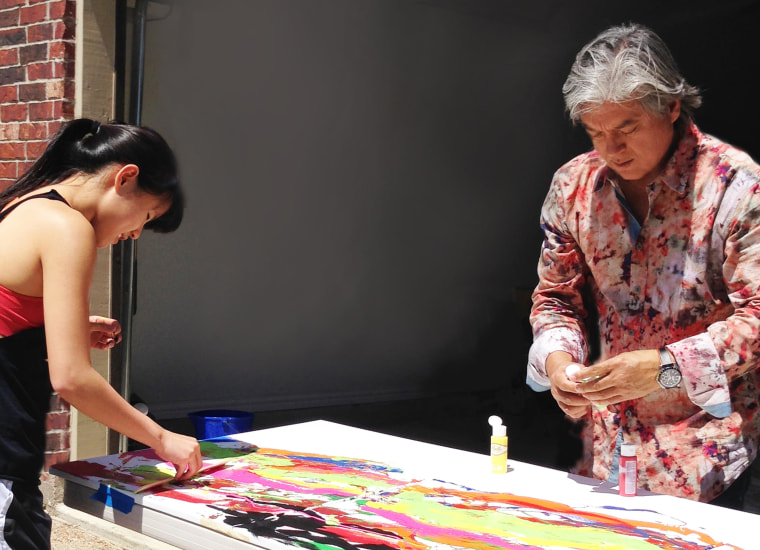 How did you become an artist? What are some of your influences?
I became an artist, not because of my passion but as survival. I couldn't grasp the English language, in shame and embarrassment. Then I discovered that art didn't require English, and Heaven's gate opened. It took only two weeks in school to discover my passion in art. It might have always been there, but I just realized.
My biggest influence was Joseph Mallard William Turner, a British artist who is now considered the father of modern art. My all-time biggest influence is Leonardo da Vinci, a true one and only Renaissance man.
"To me, success comes from within. Asian, Black, Latino or mix of any others, it all starts with you."
Your art is so wide ranging that your style is known as "Evolutionist." What do you make of that?
Looking at DaVinci, if I could just do 10% of what he's done, that would be fulfilling. I want to do it all. I will challenge myself in all things, all media, technique, style, invent, create. There was no single "ism," could be nothing but "Evolutionism."
As a Greek philosopher once said, "No man ever jumps into the same river twice." I live and create like that. No two pieces of art can be the same.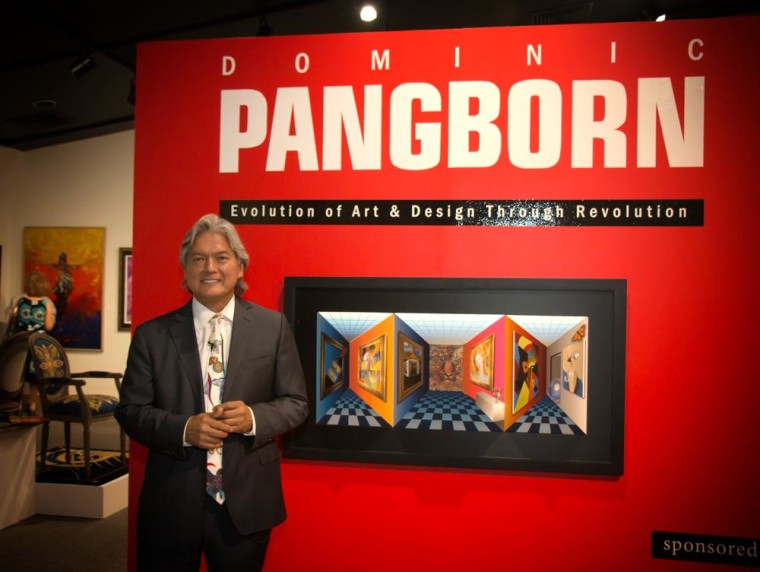 This summer, the Ella Sharp Museum in Jackson, Michigan, hosted a retrospective of your work. What was that like and how does your story fit into the story of Detroit and Asian America?
It's been an honor having received many awards and recognitions, but my greatest joy and achievements are "paying forward" and giving back to the community. I've immersed myself in everything from business, community, politics, and down into individuals.
Detroit has given me more than I've given to Detroit. I love Detroit. It has history, good and bad. I was recognized as the "big fish in a small pond." This opened many doors. As an Asian American, I felt there were some doors that can't or say won't open, but more were open too. I stood alone in a good way, unique, talented, and much more.
"Life isn't equal as we are told to be."
What are you up to now and what is next?
I currently mentor youth. I am particularly proud of my current prodigy who is in high school. At 17, I had published her book and given her her first art exhibition, selling 75 percent of her works. She's being considered for her first museum exhibition in 2015 and to be the keynote speaker for an "empowering women" conference. Our stories have similarities—born in Beijing and adopted by an American family, growing up as one of the few Asians in the community, seeking her identity, she turned to art. I'm extremely proud of her achievements at such an early age. She's an artist, Jein Shae White.
To me, success comes from within. Asian, Black, Latino or mix of any others, it all starts with you. Respect and love yourself, then do the same to others and they will likely do the same to you. Few exceptions will always be. Learn to deal with it. Life isn't equal as we are told to be. Today, I'm more proud of my heritage, but I see myself not as Asian American but as American.
I'd like to continue to do more exhibitions in museums, write some books, lecture, and continue my mentoring. I love all I do, but sharing is the greatest joy.
-Interview was edited for clarity and length.