Gone are the days when a journey to Chinatown was the only way to find authentic Chinese food. Today, stores across America are taking traditional Asian dishes and re-imagining them with more upscale presentation. Asian street food has officially gone high-end.
Before it was the hipster summer beverage of choice, bubble tea surfaced in Taiwan in the late 1980s as a cheap and refreshing street stall drink. San Francisco's Boba Guys turned their tea "artisanal," and are now to bubble tea what Blue Bottle became to coffee.
Originally limited to a pop-up shop, now with two storefronts and counting in San Francisco, Boba Guys say they are changing the way bubble tea is culturally perceived.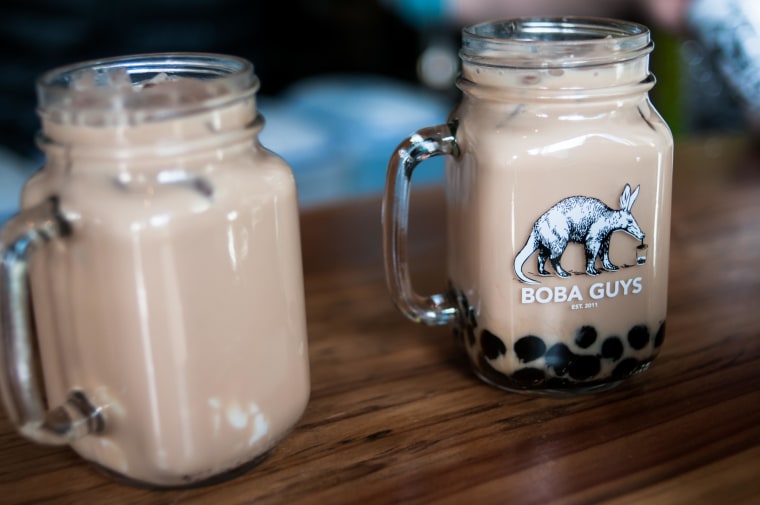 "If you're trying to change culture, you're going to face polarizing thoughts," Chau said. "They say this is not real bubble tea. This is hipster boba."
The brand's Instagram account is flooded with pictures of bubble tea in mason jars and "bobaristas" working behind the counters with high-end espresso machines, glass pitchers and flasks. A photo shows the co-founders in lab coats, like two food scientists. They cater weddings, deliver to local start-ups, offer tea tastings and sell house blended loose-leaf tea. The most expensive item on the menu - the "golden honey black" - runs $5.50 and is steeped from tea that costs $180 per pound.
"They say this is not real bubble tea. This is hipster boba."
Chau and Chen first met working in San Francisco. Instead of the usual lunch spots, they scoured their office's surroundings for their go-to bubble tea joint. But when the one store they found closed, they panicked and took their caffeine fix into their own test kitchen.
"It kept coming back to food and culture," said Chau about the initial concept. "I really wanted to do something that was bigger than the product itself."
Hours of YouTube videos and recipe testing later, they debuted their boba drinks at a temporary, pop-up shop. What sets them apart, say founders Andrew Chau and Bin Chen, is their mandate for high quality, detail and passion for their products.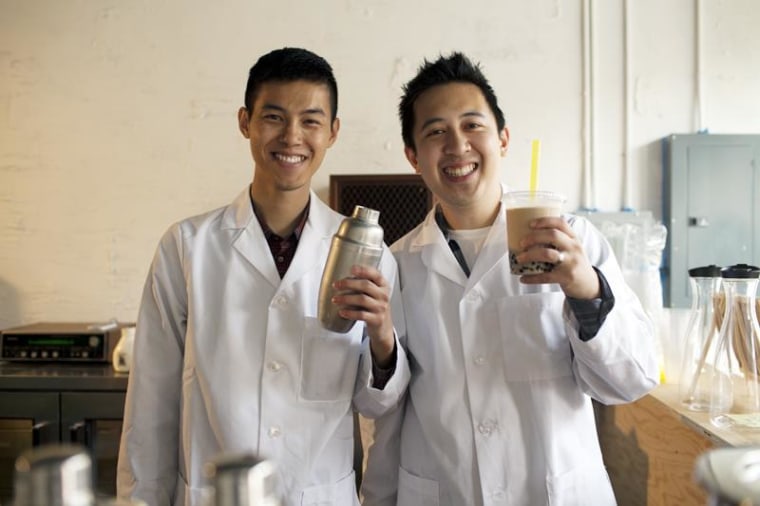 Boba Guys use organic milk, make their own syrup and source tea directly from Asia; Chen himself regularly visits their tea farmer. To perfect their menu, they used spreadsheets with decision trees, churning out more than 300 permutations of ingredient combinations before choosing the best brews.
Hipster or not, the design and aesthetics of Boba Guys intentionally nulls any prejudice of what an Asian tea shop should look like. Their stores are best described as minimalist -- open concept, all-white with the exception of their logo, a bubble tea sipping anteater.
"Quality by definition is you can't skimp on anything," said Chau. "If you're a high end food, you can't have high end food and cheap packaging."
In May, Boba Guys were fully funded on Kickstarter to start "Boba Guys Lab", a research space inside their Union Square, San Francisco store where they'll concoct new flavors and host community events.
Bubble Tea isn't the only Asian street food having a moment on the culinary scene.
"It got to the point where it's now or never."
At first glance, Mimi Cheng's, a dumpling bar in New York's East Village looks like a cupcake shop. The scalloped edged pastel blue and yellow striped awning invites customers into the bright and clean space through its French doors. On each side of the entrance sits a wooden bench and potted plant, often kept company by customers, bicycles and baby strollers. Inside, an orchid graces the communal picnic table while succulent plants drape the bar along the wall.
There is no sign. There is no billboard. Only a modest sized "Mimi Cheng's Dumplings" in gold font decals on the windows.
What you see is new, fresh, and modern. But don't be mistaken – Mimi Cheng's sells traditional Chinese dumplings, from an old family recipe at that.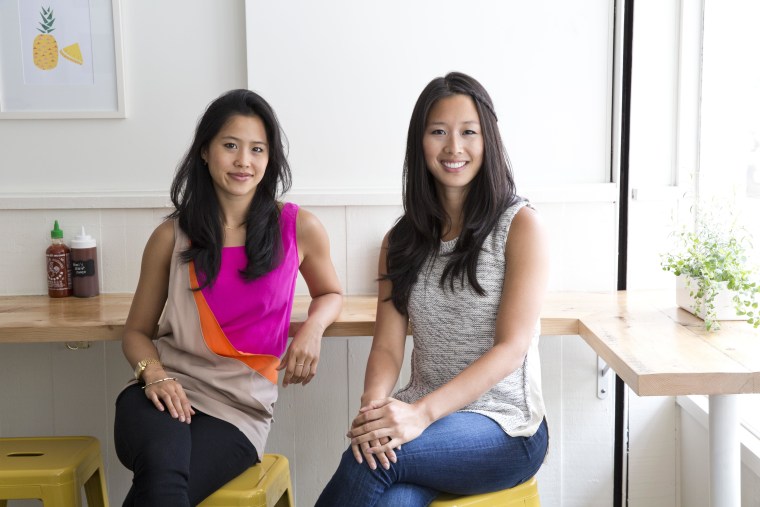 Sister entrepreneurs Hannah and Marian Cheng grew up on their mom's dumplings. Even in college, they had an endless supply of frozen dumplings meticulously packed by their mom. But when they moved to New York City, they found a lack of good quality Chinese food, especially their beloved dumplings, and decided to do it themselves.
"The gap in that scene is so viable and we were kicking it back and forth for a few years," said Hannah. "It got to the point where it's now or never. Otherwise you can only think of an idea for so long."
"We're happy and proud to share this family recipe while trying to change people's misconceptions about Chinese food"
In July, Mimi Cheng's opened its doors. The shop is named after their mother, Mimi, whose contribution during a brainstorming session -- "Excellent Dumpling House" -- was quickly vetoed.
With no restaurant background, finding fresh and sustainable top-notch ingredients meant a lot of research and sampling. Mimi Cheng's uses grass fed and organic meats, pasture raised pork from upstate New York, 100% free range chicken from Pennsylvania and organic vegetables – just like their mom did. Dumplings are available in-store, for delivery, or even online, and are priced at $8 for six, or 10 for eight.
Hannah mentions the lack of Chinese restaurants in New York that offers home cooking, a void Mimi Cheng's hopes to fill. "We're happy and proud to share this family recipe while trying to change people's misconceptions about Chinese food," said Hannah. "Hopefully we can get there."