In the early 1970s, Rolling Stone writer and editor Ben Fong-Torres got a reporting assignment most journalists would clamor for: interview Bob Dylan while on tour with the Band.
Fong-Torres had always been an admirer of the legendary musician's work and how he revolutionized pop music. As Dylan was finally ready to talk to Fong-Torres, Dylan made one request that threw the journalist off his game.
"He looked at my cassette recorder and said, 'No recorder,'" Fong-Torres, 72, told NBC News years later. "At the time in his career, a lot of people were pirating and bootlegging his music, so he was being very secretive and guarded about recordings of him. So suddenly I had to scrap plans to record him and just start writing, scribbling really."
"It all worked out, "Fong-Torres added. "[Later] I saw Dylan while I was covering Crosby, Stills, Nash and Young in Minneapolis. He pulled me aside and said, 'Hey, did you have the recorder on?' [I was like,] 'No, you didn't let me!'"
"It was luck that I was going through the college years and in that learning phase in my life when the world began to shift and change dramatically in an entertaining and interesting way."
The Bob Dylan interview is just one of the many stories that the San Francisco Bay Area-based journalist wrote for Rolling Stone, the venerable music and culture magazine, which will turn 50 years old this November. During his time at the magazine from the late '60s to the early '80s, Fong-Torres interviewed a virtual who's who of music, including Stevie Wonder, the Grateful Dead, Jefferson Airplane, Diana Ross, Neil Diamond, Paul McCartney, Bonnie Raitt, Carly Simon, the Jackson 5, Linda Ronstadt, Elton John, the Rolling Stones, Santana, and Natalie Cole.
For Fong-Torres, the son of Chinese immigrants who ran a restaurant in Oakland's Chinatown during the 1940s, the path to Rolling Stone could be traced to his passion for the radio as a youngster.
"It wasn't just an escape from the menial life of doing chores and then later on doing homework and other work involved with our restaurants," he said. "To me, it was entertaining. When [R&B and rock 'n' roll] popped up into the Top 40, I was into that. I caught onto it, dug the disk jockeys, began fantasizing that I could be one of those guys someday in the future."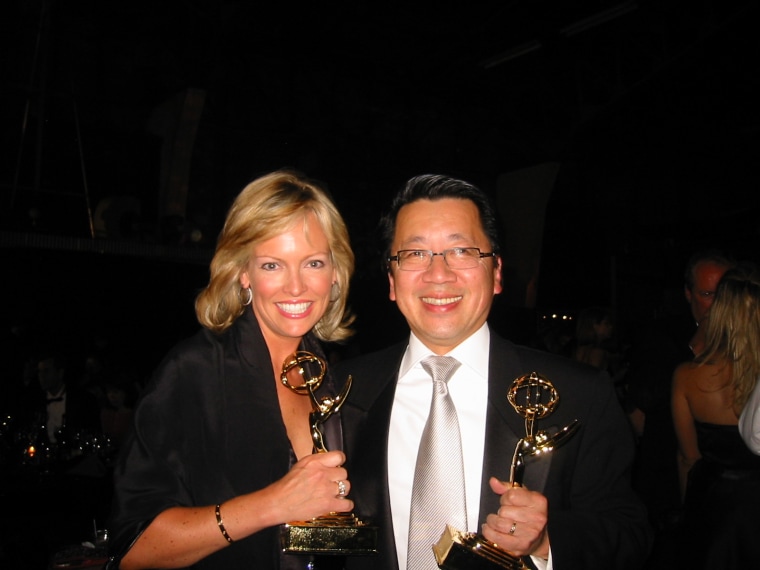 His interest in radio also led to journalism, which he later did at the San Francisco State University as the editor of the student paper, The Daily Gater. Afterward, Fong-Torres worked as a DJ at a radio station in 1967, the year of the "Summer of Love." He was also editing and writing for East-West, a bilingual Chinese-English newspaper in San Francisco.
"I wrote a little bit about music just because I was interested in it," he said. "But also a lot of stuff about the Chinatown community and Chinese matters."
It was around this time that Fong-Torres heard about an up-and-coming San Francisco music publication called Rolling Stone, founded in 1967 by a young man named Jann Wenner.
"It was covering the hip countercultural scene, which was pretty much what my roommates and I were involved in in the post-college years around '67," he said. "We would grab copies and pass it around and enjoy it."
When a friend tipped off Fong-Torres that music impresario Dick Clark was making a hippie film at a local park, he pitched the idea to Rolling Stone. That led to his first piece for the magazine.
"Just getting that little item in there meant I could now call them again and they would know who I was," Fong-Torres said. "Then they began to suggest a couple of stories, short profiles, and then longer pieces covering the music scene in San Francisco."
Fong-Torres went from being a freelance writer to news editor at Rolling Stone in 1969. Over the next decade, he wrote numerous lengthy profiles indicative of the unfettered access he had to the stars.
"It was the beginning of this kind of rock journalism that probably doesn't exist anymore," Fong-Torres said. "The artists and their managers and record labels and publicists were all for whatever you wanted to do. 'Wow, you're Rolling Stone!' It was carte blanche. 'You can go on tour with us, you can fly with the artists, you can hang with them afterwards, you can attend the parties, you can have your interview for a decent amount of time.' It was just total cooperation."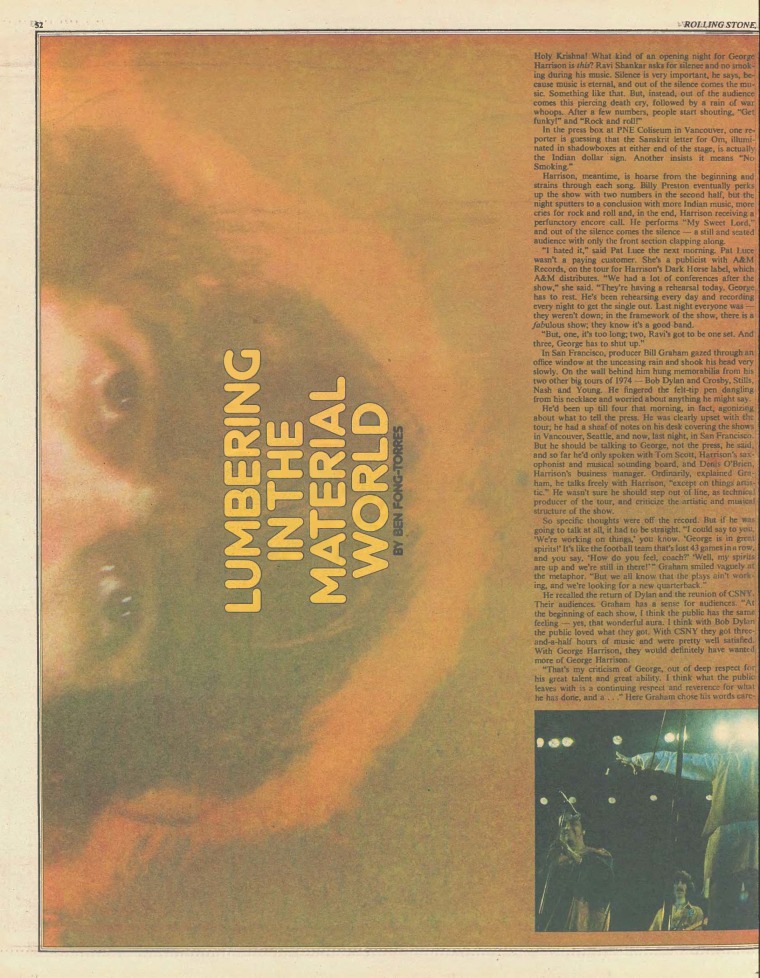 One of the stories that Fong-Torres did was an interview with former Beatle George Harrison, who was in the midst of a difficult solo tour in 1974. Eight years earlier, Fong-Torres had seen the Beatles perform their last paid public concert at San Francisco's Candlestick Park.
"I liked George a lot and was sorry that he had himself in a set of circumstances that made for a very difficult beginning of the tour," Fong-Torres said. "I had an interview with him backstage. [I was asking him] 'Why aren't you doing this? Why don't you do more Beatles songs?' He deflected all of it with spirit and great humor. At one point he broke into a Monty Python song ["The Lumberjack Song"], and he started singing that to me. It was just incredible."
At a time when the magazine focused on the big celebrities of the day, Fong-Torres did a candid interview with R&B great Ray Charles in which he talked about his drug issues.
"He knew that he had been ignored and passed by the rock scene," Fong-Torres said of Charles. "When we met, I think he was proud of himself and kind of angry that he had not had that recognition recently — that he was able to offer a more candid tough interview than he might otherwise had given. For whatever reason, he had held back his drug problems...And now facing Rolling Stone and me, he decided to let it all out."
One of the biggest news stories that Fong-Torres covered was the death of the Doors' Jim Morrison in 1971, For Morrison's obituary, Fong-Torres flew to Los Angeles to investigate and report on what happened to the charismatic singer, whom Fong-Torres had spoken to just months before.
"I knew what he had looked like and sounded like, what we talked about," he said. "So that helped in terms of my discussions with his friends and fellow musicians, management people, and whoever else I could think of to call."
Rolling Stone moved its operations from San Francisco to New York City in 1977; Fong Torres remained in the Bay Area and continued to work for the magazine until 1981.
"I no longer had the influence that I had enjoyed before," he said. "I was getting a little older, I was in my 30s. I thought maybe it was time to explore life outside of this incredible oasis that was Rolling Stone and to see if I had any validity in the mainstream or close to mainstream business of journalism and magazines."
After Rolling Stone, Fong-Torres wrote for other publications as well as several music books and a 1994 memoir, "The Rice Room." Currently he writes a radio column for the San Francisco Chronicle. His profile heightened when actor Terry Chen depicted him in the 2000 Cameron Crowe movie "Almost Famous."
"In a sense they got it right, but it's a movie," Fong-Torres said. "I was a character in Cameron Crowe's structure. I did give him his first assignments at Rolling Stone, edited him, and helped get him to his first cover story about a year after he got there. When I saw the movie, as I have told a number of people, the most accurate thing about it was how loud my shirts were."
"To me, it was entertaining. When [R&B and rock 'n' roll] popped up into the Top 40, I was into that. I caught onto it, dug the disk jockeys, began fantasizing that I could be one of those guys someday in the future."
"I admired his writing and interviewing," Crowe told NBC News. As a young reporter, Crowe had worked with Fong-Torres at Rolling Stone during the '70s.
"Ben was an early star at the magazine," he added. "I had pretty much memorized his interviews with artists like Marvin Gaye, and David Crosby. He was a mentor and a nurturer, not just with me but with many others."
Looking back at his role in Rolling Stone's 50-year history, Fong-Torres, who is the subject of an upcoming documentary, attributed much of his success to being in San Francisco at a time of major political and cultural changes.
"It was luck that I was going through the college years and in that learning phase in my life when the world began to shift and change dramatically in an entertaining and interesting way," Fong-Torres said. "And that I had the interest to try to chronicle some of that. I'm very aware that to be in San Francisco, across the bay from my hometown Oakland, was a fortuitous thing for me. So I think a lot of luck played into it."
Follow NBC Asian America on Facebook, Twitter, Instagram and Tumblr.