Eddie Huang, whose memoir "Fresh Off The Boat" inspired the groundbreaking namesake sitcom, wants to move beyond the basic concept of Asian media representation.
Following the show's cancellation, Huang — who served as narrator in the show's earliest episodes but left due to creative differences — told NBC News that he's ready to see more depth from Hollywood in terms of Asian American stories.
"People in Hollywood, nowadays, they all celebrate reflections and representation. I'm looking past that," he said. "I've been past reflection of representation for the last 20 years. I can see myself in a mirror, thank you very much."
Huang is directing the upcoming movie "Boogie" about a Chinese American basketball phenom who attempts to navigate his immigrant family's expectations along with his own hoop dreams. He said that he's excited about the film as it further explores elements of the Asian American experience he feels didn't make it into the sitcom, which ended its historic six-season run on Friday. He's also enthusiastic about other Asian artists who are expanding depictions of the community. Huang cites "The Farewell" director Lulu Wang as someone who is helping to push the movement for Asian American representation forward.
"'The Farewell' is really, really good. I love that it's all in Chinese, basically. The grandma steals the show, it's shot in China," he said. "I think Lulu's really incredible. She's a person in Asian America that I'm like, 'Word. I really respect and like your work. I've never met her. I don't know her. I just like that movie."
Huang also upheld Justin Chon, who directed "Gook" and "Ms. Purple," as another example of someone who challenges the long-existing images of Asian Americans.
"He really just goes for it [and is] super, super well-intentioned." he said. "You have to respect someone that just goes for it … like, yo, I f--k with you."
The restaurateur has been outspoken about his opposition to the creative choices taken in "Fresh Off The Boat," the first Asian American sitcom on network television in more than 20 years. Huang, whose book delves into heavy topics, including painful anecdotes about domestic abuse, said that the show "totally stripped the pain and struggle of being an immigrant in this country and being a minority."
"They used yellow faces to tell, you know, white narratives solve family problems on a couch at 22 minutes. It's just not realistic," he said.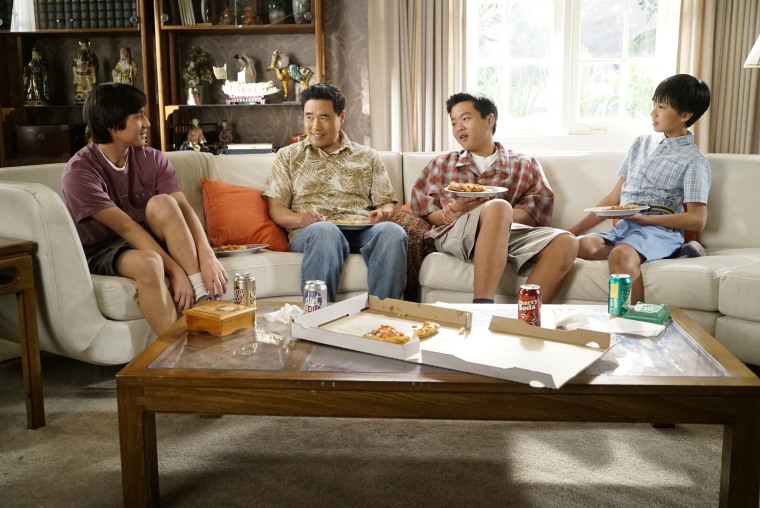 ABC did not respond to NBC News' request for comment.
While Huang believes that the series hasn't "said anything since the first episode," he still thinks the sitcom was significant in that "kids got to see Asians on television."
"I run into a lot of kids that are like, 'Yo, that was the first time I saw Asians on T.V.,'" the restaurateur said. "So that was very powerful just to see a reflection.'"
He also noted that it launched the career of Constance Wu, who played matriarch Jessica in the series. Since the show aired, Wu has played the leading role in pioneering Asian American film "Crazy Rich Asians," critically acclaimed drama "Hustlers." She's also hit the road for Hillary Clinton's campaign and spoken out about a number of issues including the fetishization of Asian women
"She became a star and was able to use that platform and speak," he said.