The search for a Supreme Court justice to replace Justice Antonin Scalia is a historic one. Not because it involves filling a vacancy after the death of a sitting justice — that has happened many times before, including most recently in 2005 with the death of Chief Justice Rehnquist; nor is it historic because it involves Senate confirmation in the final year of a president's term — we last saw that with Justice Anthony Kennedy in 1988. The high level of partisan posturing and vitriol is not historic, either — those were on vivid display in 2005 during the confirmation battle over Samuel Alito.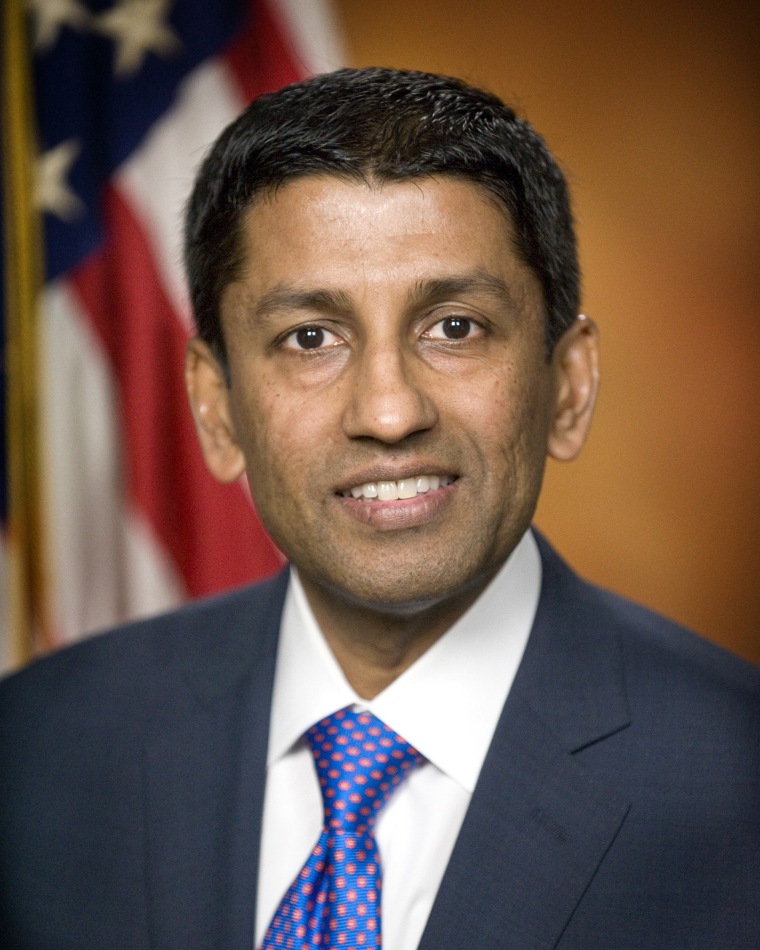 What is momentous, and largely unremarked by most media commentary, is this: for the first time in our nation's history, an Asian immigrant is being widely discussed as a top contender for the job. Most judicial experts laud Judge Sri Srinivasan for his legal acumen, for his work in both the Bush and Obama administrations, and for the deep level of admiration he has garnered in both public and private sector jobs. He is also seen as a relative "safe choice" for President Obama because he was vetted by the Senate in 2013 and received a unanimous confirmation, 97-0, including from Sanders, Cruz, and Rubio.
The fact that Srinivasan is seen as a safe choice is all the more remarkable, given the precarious position of Asian immigrants in the eyes of the law for much of American history. Less than a century ago, Srinivasan's family would not have been eligible to even immigrate to the United States, as Congress passed a law in 1917 creating an "Asiatic Barred Zone" that excluded immigrants from most Asian countries, including India.
Even if Srinivasan and his family had immigrated prior to 1917, as thousands of Indians had done, he would not have been able to naturalize as a U.S. citizen. The United States had outlawed the naturalization of Asian immigrants ever since the Naturalization Act of 1790. In fact, an Indian immigrant and a U.S. veteran of World War I, Bhagat Singh Thind, challenged his exclusion from naturalization all the way to the Supreme Court in 1923, which upheld the racial ban.
RELATED: Editorial: President Obama, Nominate the First Asian-American Supreme Court Justice
Finally, if Srinivasan's family had moved to any of 15 states in the United States, such as California, Oregon, Florida, or Minnesota, they would have been prevented from owning land under these states' alien land laws, which the U.S. Supreme Court ruled as constitutional until Fujii v. California in 1952.
"...the legal and political history of Asian Americans is not just one of exclusion, but also one of inspiration and the expansion of rights."
So, in many ways, the very fact that judges with immigrant backgrounds like Srinivasan are considered top candidates for the Supreme Court is historic and exciting. The same would apply for other naturalized Asian Americans Jacqueline Nguyen and Denny Chin, who were also confirmed to federal appeals courts with very strong backing from the U.S. Senate.
These potential nominees are historic, not only because they might be the first Asian American to serve on the highest court in the land, but because they might serve on a court that, until relatively recently, would have excluded them from citizenship, ownership of private property, and even the right to practice their professions.
Of course, the legal and political history of Asian Americans is not just one of exclusion, but also one of inspiration and the expansion of rights. Wong Kim Ark, for example, challenged his exclusion from the United States under the Chinese Exclusion Act because he was born in the United States, and his legal victory in the Supreme Court has established the bedrock principle of birthright citizenship. In a similar vein, Dalip Singh Saund mobilized to get Congress to lift its ban on Indian naturalization in 1946 and, soon after he became a citizen, got elected as a local judge and subsequently became the first Asian American elected to Congress.
If President Obama does indeed nominate an Asian immigrant to the Supreme Court, it would be a crowning achievement that recognizes the full potential of Asian Americans in the eyes of the law.
Karthick Ramakrishnan is professor of public policy at the University of California, Riverside and director of AAPI Data. He is the author, most recently, of "The New Immigration Federalism."
Follow NBC Asian America on Facebook, Twitter, Instagram, and Tumblr