A new documentary film, "They Called Me Osama," released earlier this month seeks to educate people about the Sikh religion and the experiences of Sikhs in America, including bullying in schools, racism, and hate violence. The film was made by Maneetpaul Singh Chawla with funding from the University of Connecticut's IDEA grant program.
"This film was made for people who have never heard of a Sikh before," Chawla told NBC News. "Speaking from first-hand experience, it is clear that the majority of the public does not know what the Sikh religion is or why we look the way we do. I hope my film will help spread awareness and answer some of the basic questions people have when they first see a Sikh."
The film features British YouTuber Jagraj Singh conducting street interviews to see what people know about the Sikh religion and Trinity University assistant professor of religion Simran Jeet Singh speaking about the history and beliefs of Sikhism.
RELATED: Social Media Campaign Shows Sikh-American Life in Pictures
Although the religion is the world's fifth largest and Sikhs have lived in America for over 125 years, bullying, and hate violence have increased in recent years, according to advocates. Because of the turbans and beards required by their faith, Sikhs are often mistaken for terrorists.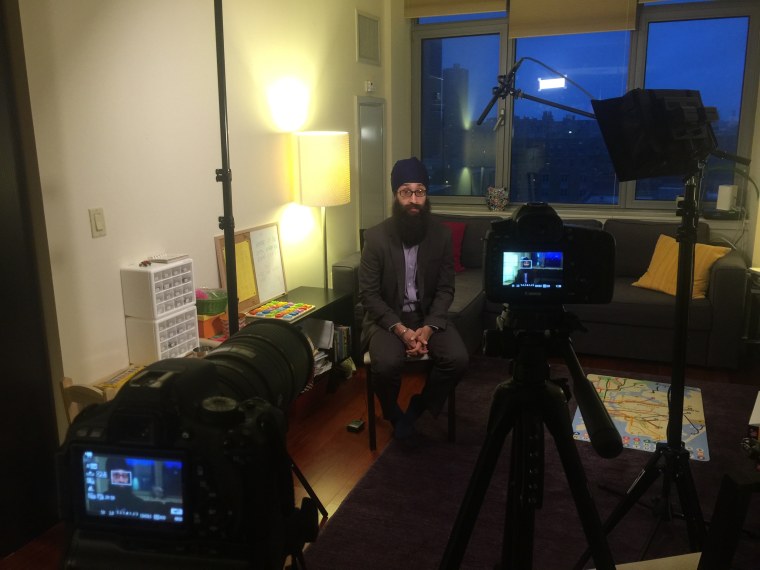 In the film, Columbia University professor Pabhjrot Singh talks about his experience being attacked three years ago while being called "Osama" and "terrorist," Ohio State University student Balpreet Singh talks about her experiences being targeted on Reddit for having facial hair, and Georgia high school student Japjee Singh talks about his experiences being bullied in middle school.
"So far, the film has exceeded my expectations in terms of its response," Chawla said. "In the first 48 hours of release, it had over 5,000 views, and hundreds of shares on social media. More importantly, it has received an amazing response in terms of education and teaching people what Sikhi is."
Follow NBC Asian America on Facebook, Twitter, Instagram, and Tumblr.