Saoimanu Sope is the youngest of eleven siblings. She's also the first person in her family to attend college.
"I take advantage of any and every opportunity that will contribute to my success as a student," said Sope, "and even further, as a role model for my Pacific-Islander community."
Sope was given the chance to pursue higher education through a scholarship from the Asian & Pacific Islander American Scholarship Fund, and was recently recognized with other APIASF scholars at the Fund's ninth annual benefit in New York City.
Co-hosted by Hawaii 5-0 star, Brian Yang, and MSNBC and NBC News news anchor, Richard Lui, the event celebrated the current class of scholars, but focused on the problems that persist when it comes to access to higher education.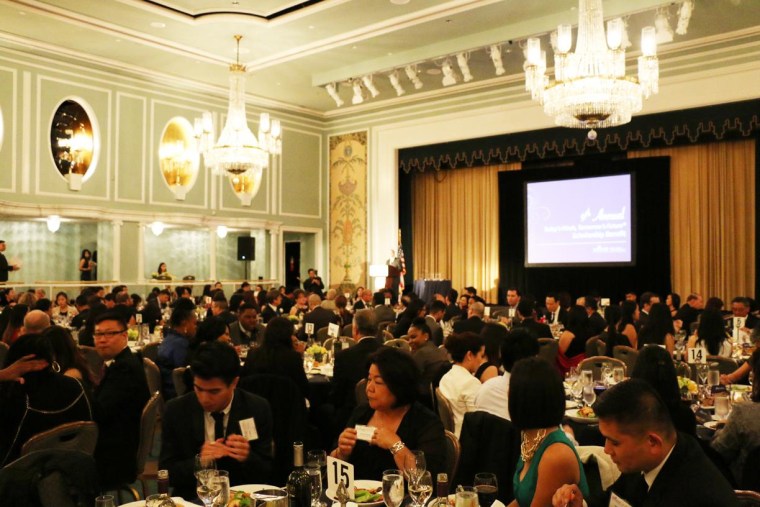 "Asian Americans are the fastest growing community in the United States today, yet people don't understand the issues going on in our community," said Neil Horikoshi, President & Executive Director of APIASF. "We are here to tell that story."
According to the National Coalition for Asian Pacific American Community Development (National CAPACD), 12 percent of the general U.S. population live at or below poverty. But in Asian America, that number increases to 13 percent, and among Pacific Islanders, to 18 percent. Ethnic breakdowns reveal even higher levels of poverty, including 29 percent within the Cambodian population, and 38 percent among America's Hmong and Marshallese communities.
"We want to make sure [our students] are no longer overlooked in society."
Experts say the "model minority myth" -- the general impression that Asian Americans, as a whole, tend to succeed academically -- combined with aggregated data, grouping dozens of diverse ethnic groups into one, can mask the marginalized and low-income populations within the community.
Although there are currently 153 eligible higher education institutions -- known as Asian American and Native American Pacific Islander-Serving Institutions (AANAPISIs) -- enrolling over 40 percent of the nation's Asian American/Pacific Islander (AAPI) undergraduates, the U.S. Department of Education did not officially recognize these critical sites of intervention as minority-serving institutions (MSIs) until 2011.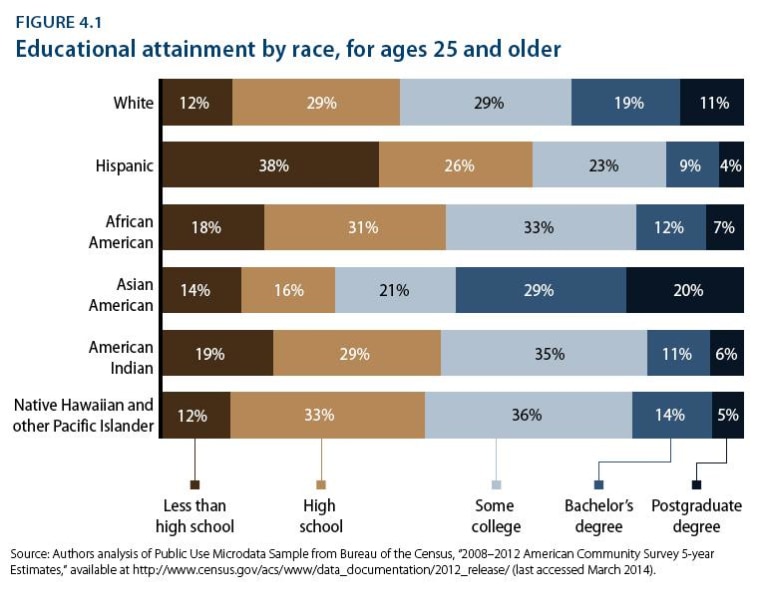 While the Census Bureau reports 29 percent of the Asian-American community has a Bachelor's degree, (compared to 19 percent of Whites), that percentage hides the smaller communities that lag well behind national numbers.
The Center for American Progress found that, "fewer than 15 percent of Cambodians, Hmong and Laotians have a bachelor's degree or higher." Nearly half of all AAPI students attend community college, not four-year institutions. Another recent report found the bachelor's degree rate within Native Hawaiians and Pacific Islanders sits at just 18 percent, identical to the Black community in America.
"We want to make sure [our students] are no longer overlooked in society," said Horikoshi.
But getting access to institutions of higher learning is the first step. Those that make it over the acceptance hurdle often go on to face socioeconomic challenges. In a 2013 APIASF survey, 50 percent reported experiencing educational difficulty due to finances or cultural isolation.
"It's not helpful for me to not see people who look like me."
"Coming from low-income families, we don't really relate to a lot of students on campus because we weren't raised with the same privilege," said Nolan Talavou, APIASF Scholar and New York University student. He says being one of the only Pacific Islanders on campus was "disheartening."
"It's not helpful for me to not see people who look like me," said Talavou.
Talavou was not alone in his experience. In the current 2014-2015 class of APIASF scholars, 63 percent live at or below the poverty line, and 62 percent were first-generation college students.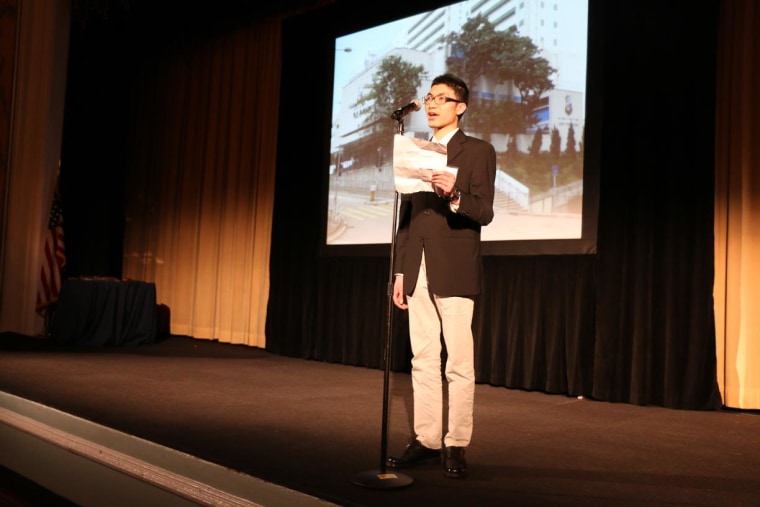 Scholar Louise To had a similar story to share. Her early days at a private liberal arts college left her feeling isolated. She took time off for personal reasons, and then transferred to the University of Hawai'i at Manoa to complete her degree.
"The model minority [myth] delegitimizes your experience as an immigrant or children of immigrants," said To. "It's so frustrating because you have to work twice as hard and then all your hard work is kicked off to the side like, 'Oh, you're Asian! It's built into your blood.'"
While programs like APIASF can help to catapult otherwise marginalized members of Asian America onto campuses across the country, organizers say the need far outweighs their resources at the moment.
Since 2003, the fund has distributed nearly $90 million in scholarships. But last year, they were only able to fund 7 percent of applicants -- 453 recipients.
"We still have a lot of work to do," said Horikoshi. "Together, we can help these underserved AAPI students access higher education, many as the first in their families to do so, and equip them to persist and succeed in college and beyond."