It's a common Broadway theme: An immigrant lands on the shores of America in the early 1900s, hoping to strike it rich and make a new life in the big city — with some song, dance, and romance along the way. But in "The Four Immigrants," a new musical coming to the San Francisco Bay Area's TheatreWorks troupe based on a 1931 graphic novel, the newcomers are from Japan and the big city is San Francisco.
The musical is a stage adaptation of a comic book by Henry Kiyama. Originally self-published in 1931 and considered one of the first graphic novels, "The Four Immigrants Manga" tells through 52 comic strips the stories of Henry, Frank, Charlie, and Fred, four men from Japan who arrive in San Francisco via Angel Island in 1904.
"I think this story of going someplace and finding your home is universal. I hope that message resonates with everybody because we're on this planet and trying to figure out what our place on this earth is."
Playwright and composer Min Kahng, who adapted the work and has written seven other musicals, stumbled upon an English translation of Kiyama's book at a used book store three years ago.
"When I pulled the book off the shelf and began leafing through the pages, I was astonished to discover that these cartoons were drawn by a first-generation Japanese artist who lived in the San Francisco Bay Area at the turn of the 20th century," Kahng told NBC News. "These Japanese characters were drawn in simple caricature fashion; they were missing the slanted eyes that would have been the norm in those days."
Fascinated by the work, the 34-year-old Kahng began writing the musical during a 2014 writers' retreat sponsored by TheatreWorks, which is now producing the show.
The theater company is based in Redwood City, in the San Francisco Bay Area, where the population is 14.8 percent Asian, according to the U.S. Census. "The Four Immigrants" will feature an all-Asian-American cast of four men and four women, according to Robert Kelley, the company's artistic director.
"We want to represent our world on stage, with its different worlds and cultures," Kelley told NBC News.
Kahng was excited to create a musical based on the little-known Issei, the first generation of Japanese to immigrate to America between 1900 and 1920, doing extensive research about cartoon's history, Japanese-American history, and theater and musical styles of the era.
In one especially memorable research session, Kahng led a discussion with second-generation Japanese-American senior citizens about "The Four Immigrants Manga."
"These seniors didn't get much oral history from their parents," he said. "These discussions drove home two things for me: how singular Kiyama's work is, and that hidden behind these cartoon drawings were the stories and lives of real people."
He also worked closely with Frederik Schodt, the Oakland-based interpreter who translated Kiyama's original work, which was originally bilingual, containing panels in both Japanese and English. Through Schodt, Kahng received the blessings of Kiyama's descendants, he said.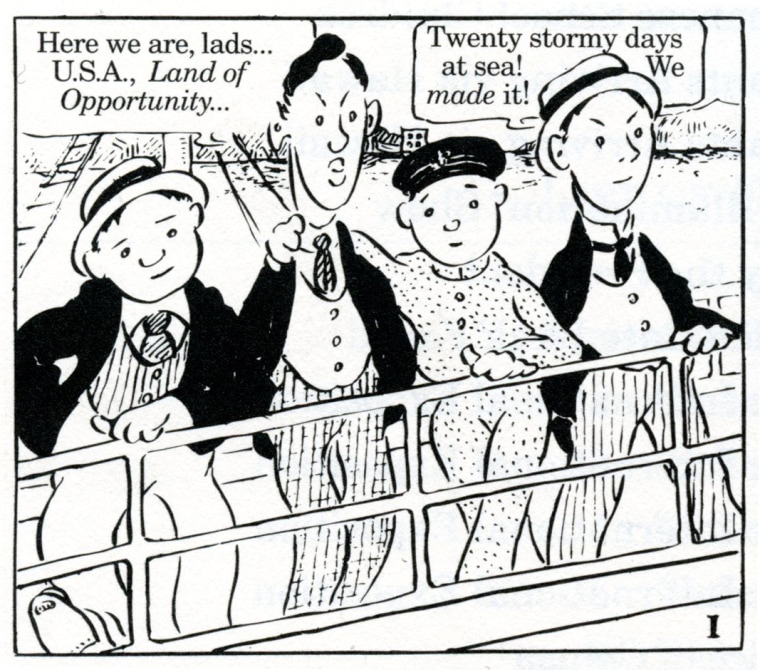 But there were also challenges to interpreting the vaudeville style of the early 20th century.
"I tried to keep the piece feeling like the period that it takes place in without bringing some of the racism that came along with it in that day," Kahng said. In the original comics, Chinese and black characters are portrayed in stereotypical fashion. Especially problematic for Kahng's work was a Chinese character in the adaptation that swindles one of the characters out of money.
"We had a lot of conversations about how to do this, especially if this character were to be the only Chinese representation in the show," Kahng said. "For us, the solution was to have another Chinese character who wasn't portrayed negatively."
As a composer, Kahng also struggled with how to incorporate Asian tonalities without perpetuating some of the stereotypical themes of vaudeville musicals. "I found myself needing to maneuver in such a way that those tonalities wouldn't be the butt of the joke," he said.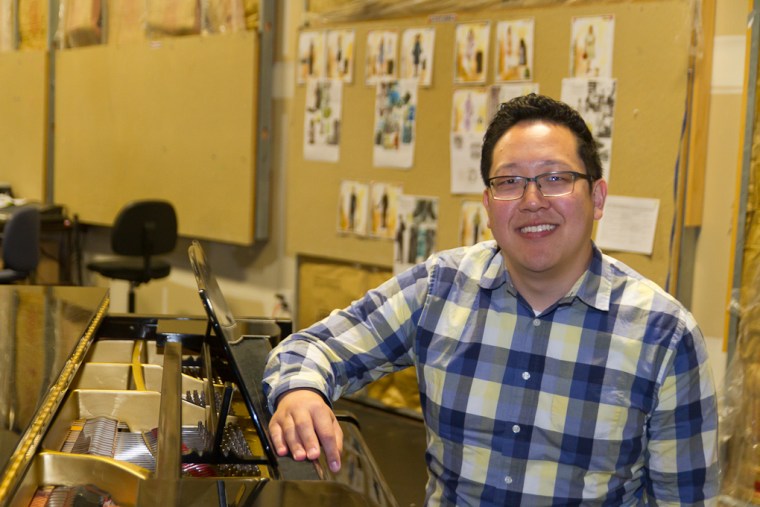 One way he did that was by riffing on the Japanese folk tune "Furusato," which means "home." It's a fitting tune, since the characters grapple with what it means to be Japanese in America. "What is furusato after they've lived here for 20 years?" the playwright said.
The theme of homeland and immigration is especially prescient in the current political environment. After the musical was previewed last summer, Kahng received a lot of feedback from people of immigrant backgrounds of all cultures, not just Asian Americans.
"I think this story of going someplace and finding your home is universal," said Kahng. "I hope that message resonates with everybody because we're on this planet and trying to figure out what our place on this earth is."
Follow NBC Asian America on Facebook, Twitter, Instagram and Tumblr.