A Malaysian man is suing a group that rented him a recreational lake in Kansas, alleging that they told his employer that the lake was used to hold an ISIS meeting and that guests possessed an American flag "desecrated by ISIS insignia."
The September meeting, it turns out, was actually a celebration to mark the end of Ramadan, a Muslim holiday, while the American flag with ISIS symbols was a Malaysian flag, according to the lawsuit filed on Friday in Kansas federal court by the American Civil Liberties Union (ACLU). Malaysia's flag is similar to the U.S. flag, featuring 14 alternating red-and-white stripes, with an upper-left blue quarter that has a crescent and 14-point star.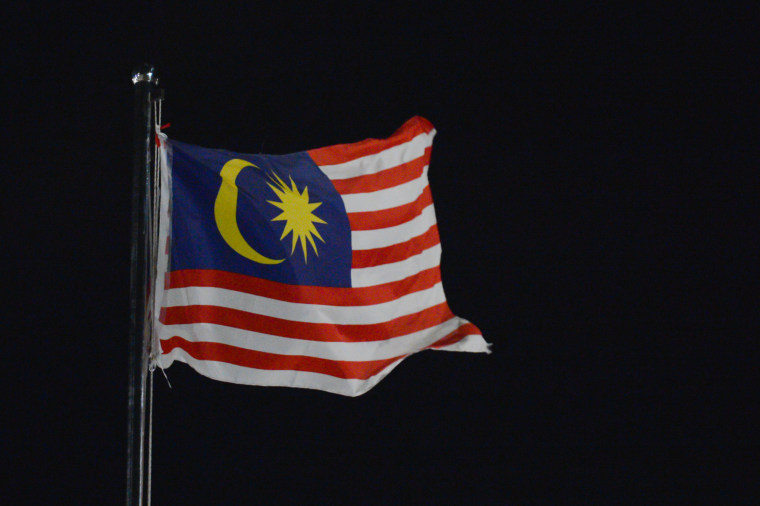 Munir Zanial, a senior stress engineer at Spirit AeroSystems and a practicing Muslim, alleges that the Spirit/Boeing Employees' Association, a nonprofit that offers recreational activities to some current and former employees of Boeing and Spirit, engaged in "an act of egregious racial profiling and blatant religious discrimination" by having the FBI investigate him and by restricting his membership rights because an employee "had deemed him 'suspicious,'" the lawsuit states.
"To label someone a terrorist due to their appearance and their celebration of their heritage is shameful, but to continue to use that mislabel as grounds for blatant discrimination — even after it had been discredited by the FBI — is downright reprehensible," Micah Kubic, executive director of the ACLU of Kansas, said in a statement.
A woman who picked up the phone Tuesday morning at the Spirit/Boeing Employees' Association declined to comment.
Zanial, who became a dues-paying association member in 2016, rented space at the lake in Wichita, Kansas, on Sept. 2, 2017, to host a party marking the end of Ramadan, the complaint asserts. Around 45 people attended, the majority of them of Malaysian Indian ancestry. Several women, including Zanial's wife, wore hijabs, the Muslim head covering, according to the lawsuit.
One guest also brought a Malaysian flag to the party since it took place shortly after the 60th anniversary of Malaysian Independence Day, the lawsuit said. Zanial and his guests took turns taking pictures with the flag.
Court documents assert that Zanial on one occasion saw a lake ranger speaking with guests while they were in a boat. The ranger allegedly filed a complaint with the association that Zanial and his guests had an ISIS flag, and the association in turn made a report with the Spirit security team, according to the lawsuit.
Spirit also allegedly filed a complaint with the FBI, the suit contends.
A little more than a month later, an FBI special agent informed Zanial of the investigation, explaining that an association groundskeeper had seen "a 'group dressed in Muslim garb' and 'an American flag desecrated with ISIS symbols,'" the lawsuit alleges.
The agent, however, determined that the flag was Malaysian and said he intended to recommend that the investigation be closed, the complaint said.
A spokesperson for the FBI field office in Kansas City declined to comment, citing the pending litigation.
The association, meanwhile, was working with a private investigator who had been sharing information with the FBI, including social media posts purportedly belonging to Zanial and license plate numbers of his guests, the complaint alleges.
The FBI subsequently closed its investigation, according to Zanial's suit.
Following the Sept. 2 party, Zanial continued to pay association dues, visiting the lake property to fish on several occasions, according to the complaint.
The lawsuit alleges it wasn't until Jan. 10 when Zanial tried to rent an enclosed pavilion that he was told his membership had been restricted because of "an incident that occurred during his September 2nd party" — specifically the one "involving a guest holding a flag.
Zanial's suit claims he continues to experience stress and anxiety related to the FBI investigation and fears the investigation could impact his lawful permanent resident status.
It asks for unspecified punitive and compensatory damages, reasonable attorneys' fees, and a permanent injunction ordering the association to give Zanial a chance to publicly clear his name of false statements made about him.
Follow NBC Asian America on Facebook, Twitter, Instagram and Tumblr.