I was a contender for the Pulitzer Prize for Drama this year.
Before you congratulate me, I must clarify "contender" and "nominee" are different things. Anyone can mail in an application and say, "I'm a Pulitzer Prize contender." A "nominee" means that the Pulitzer committee actually selected your work as distinguished from the others.
It's only$50 for any playwright to apply/get rejected for this 100 -year-old award.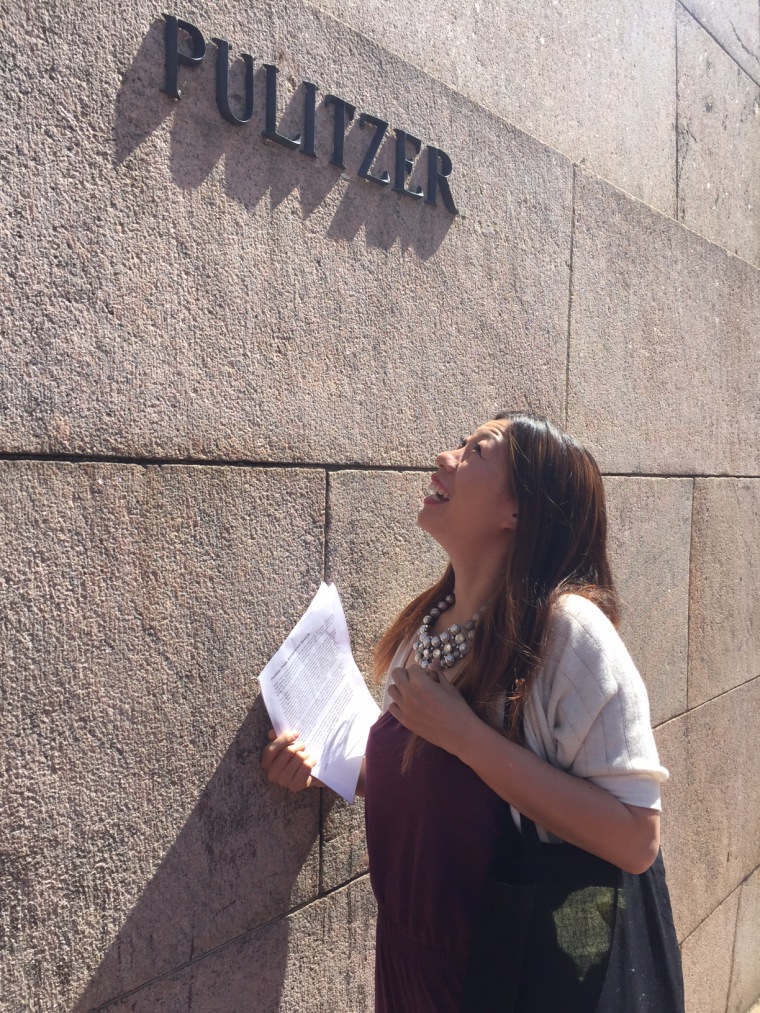 I submitted my one-woman theater show "The Wong Street Journal" under the urging of Brian Feldman, my good friend and conceptual performance artist (who also plunked down $50 to submit his conceptual performance "Dishwasher"). While my show has toured cities across the U.S., it's myopic compared to everything on Broadway also "contending" for the Pulitzer.
My mother, who has no idea what "Hamilton" is, has been obsessed with me winning this award since November, when I shared with her my Pulitzer Prize "inside joke." To her, having a Pulitzer Prize winner in our family was not a joke. She's prayed to the gods at the altar in my grandmother's house. She tossed Taoist divination sticks and asked the gods for a win (the prediction, by the way, was favorable). She bounced about the house beaming and saying, "I can tell my friends I have a Pulitzer Prize-winning daughter."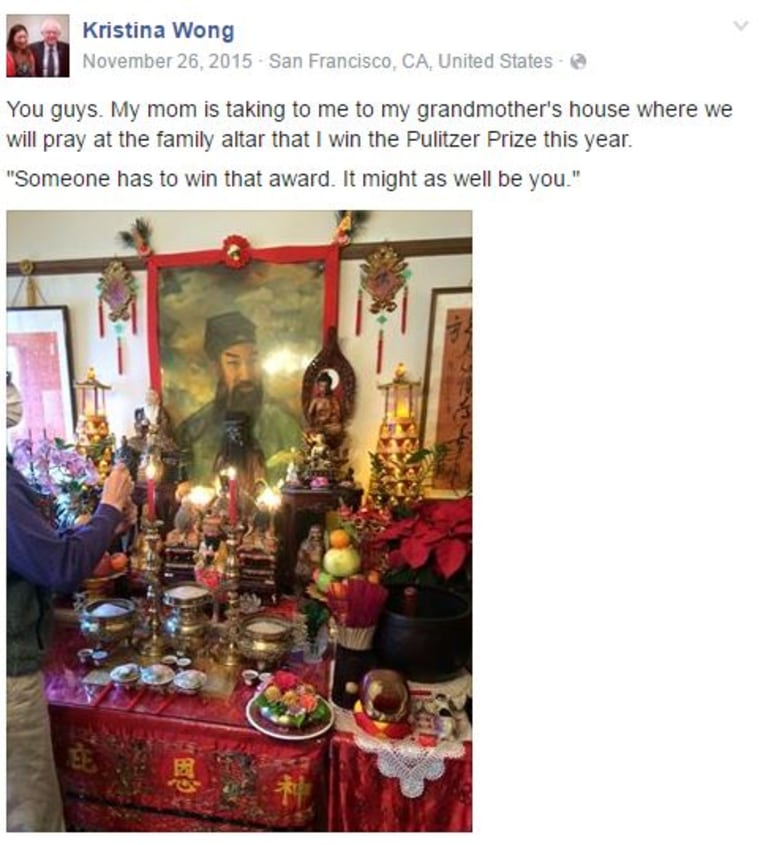 Suddenly, my attempt to critique my inevitable failure by jokingly applying for a Pulitzer had reincarnated a monster from high school: my overbearing mother and her impossibly high standards of achievement. Her imagination ran wild with the hopes that I could finally meet the "respectable standards" of American success that I have not met in my career now.
"As Asian-American women, we do not take up enough space in history or culture. And the opportunities for awards for when we do make waves in mainstream culture are far and few between."
I've done a lot of things in my career that I'm proud of, but none are as quantifiable or distinguished (or universally impressive) as a Pulitzer.
I was filled with a familiar anxiety that I was going to fail her. Thanksgiving ended with me screaming in tears, "Stop pressuring me to win the Pulitzer! Everyone knows it's going to 'Hamilton' on Broadway!"
"Just try!" she responded. "They have to give that award to someone. Might as well be you."
There was no changing her mind. All I could do was carry this inside joke full force and announce loudly on social media: "I am a Pulitzer Prize contender. Pray that I beat 'Hamilton'!"
I attended the Pulitzer Prize announcement press conference in Manhattan on Monday. I have a good feeling that I am the only applicant who came as a member of the press. I wrote three speeches for the occasion in the event of three outcomes: an acceptance speech, a concession speech, and a speech had I been selected as one of the two nominees (I was not one of the two nominees — that would be Brandon Jacobs Jenkins for "Gloria" or Stephen Karam for "The Humans.")
Unfortunately, I did not claim the upset win over the record-breaking musical "Hamilton," so the speech I delivered outside the Pulitzer building was a concession speech (which is archived here in this pixelated video).
The short attention span of Facebook didn't catch the discrepancies of this joke. I am still receiving congratulations on my "Pulitzer nomination." My Facebook feed is still lighting up with well wishes from friends (who somehow don't know what "Hamilton" is either, but do know what a Pulitzer is). People continue to congratulate me and tell me that I've inspired them.
In the Pulitzer's 100-year history, no Asian-American woman playwright has won for Drama. David Henry Hwang has received two nominations. Rajiv Joseph received a nomination for "Bengal Tiger in the Baghdad Zoo" in 2010. There has been only one Asian-American winner for Drama in its 100-year history ("Disgraced" by Ayad Akhtar in 2013).
As Asian-American women, we do not take up enough space in history or culture. And the opportunities for awards for when we do make waves in mainstream culture are far and few between.
So we must keep writing our lives into existence. Awards or not.
There was one significant victory for Asian Americans this year at the Pulitzers: Viet Thanh Nguyen for his novel "The Sympathizer" for Fiction. Viet is a Vietnamese-born USC professor (and also my Facebook friend!) but unfortunately for my mother, Viet is not her son.
There was this consolation prize, though, in the form of an email from my mother after the ceremony: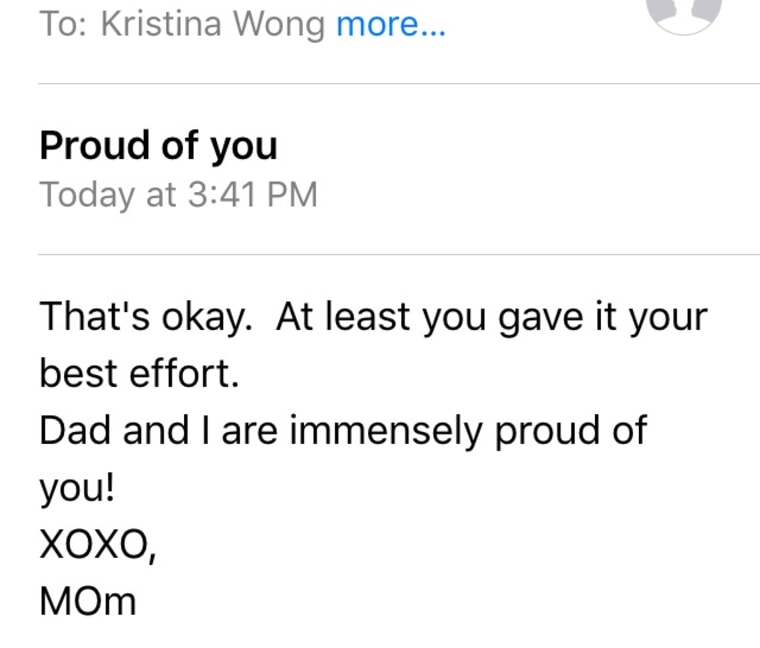 Yes, I had misled the internet as to the merits of my art but it is nice to think that the people in my life think highly enough of me and my work that it was not an inside joke. And awards or not, that's the kind of support that keeps me going.
Kristina Wong is a writer, performance artist, and comedian. Her nationally-toured show "Wong Flew Over the Cuckoo's Nest" dived into the issue of depression and suicide among Asian-American women, and she is currently on tour with her solo show "The Wong Street Journal."
Follow NBC Asian America on Facebook, Twitter, Instagram, and Tumblr.