This fall, I went on a reporting trip to Macao, the first and last European colony in Asia, with a group of Chinese-American reporters. First colonized in 1557, the former Portuguese colony was returned to China in 1999 and is currently in a 50-year transition period, slowly adjusting to the change in power.
The trip was a combination of cultural sight-seeing, luxury hotel and resort visits, and amazing, amazing food. We visited the ancient A-Ma temple from which Macao got its name, where fishermen prayed before going out to sea. We climbed the steps up to the burnt out Ruins of St. Paul's Catholic Church, only a stone façade, but one which incorporates Chinese iconography and writing alongside European saints.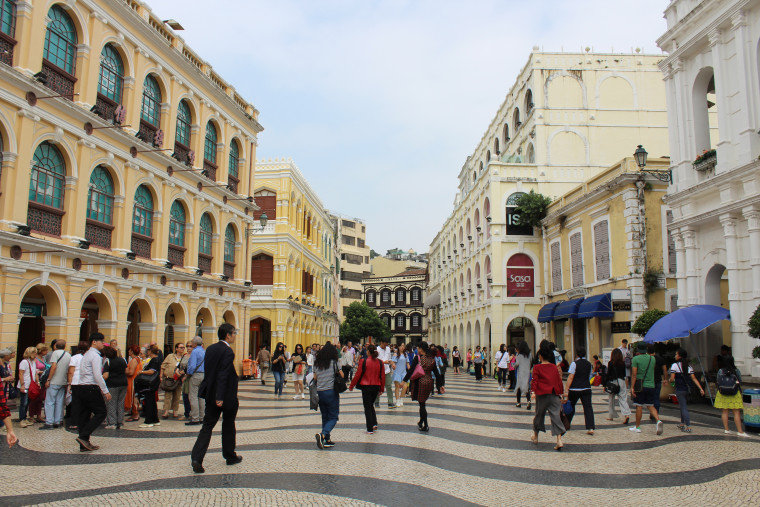 Nestled next to St. Paul's is the Na Tcha Temple, a small Chinese folk religion temple dedicated to a Taoist deity. We ate a seafood dinner at the top of Macao Tower, where the world's highest commercial bungie jump is also located. We walked across tiled Portuguese-style plazas now filled with stores selling high-end designer brands. We ate the best Cantonese food, Portuguese food, Macanese food — a sort of fusion food that developed organically in the kitchens of multiracial Macanese families, contemporary interpretations of traditional dim sum, and amazing street food of all types. We explored the old garment district, visited street markets, and walked along the seafront. Such an intriguing mix of old and new, East and West, and so many languages! It seemed that almost everyone we met speaks English, Cantonese, Mandarin, and Portuguese.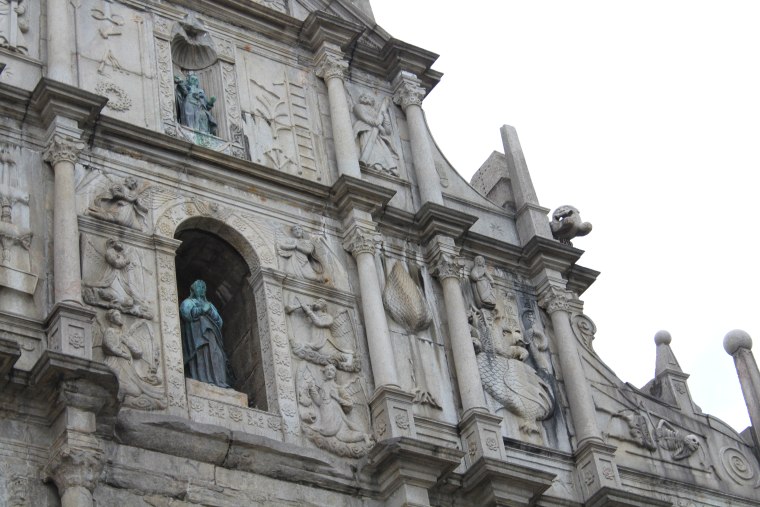 Although Macao is sometimes referred to as the Las Vegas of Asia because of its many casinos, the thing that strikes me is the way that the many cultures there seem to not merely coexist, but to be active and equal players, interacting with each other, learning from each other, moving ahead together.
I do not know a lot about Macao's colonial history, and I am sure that it was not as rosy and easy as the museum exhibits make it out to be, but it is still interesting to see how in the end cultures can come together and move forward creatively, without one needing to dominate the other.
Is there a lesson here for us?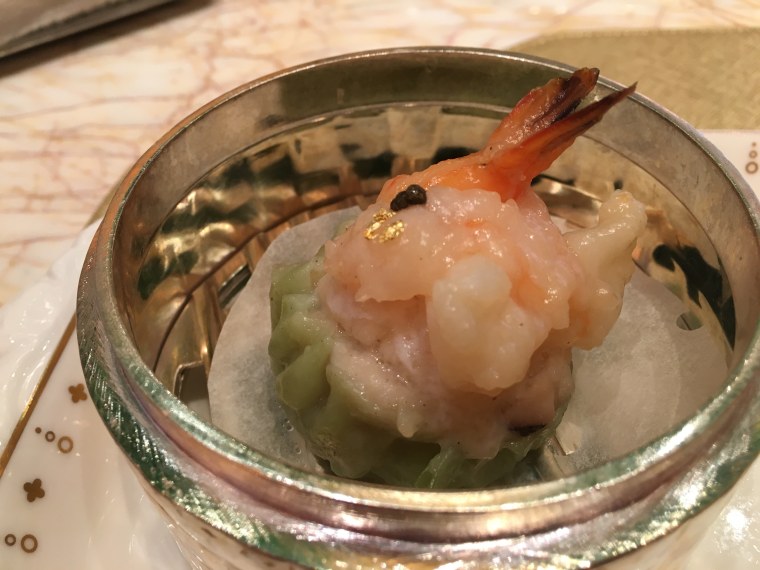 I know some people who think that "pasta" must be so much better than "noodles" or "mian" simply because the word is Italian, or who are impressed by a British accent but repulsed by an Indian one. I think of the suave young Asian Americans who laugh at their parents who must have Chinese food while on vacation in Europe. However, in Macao, I meet people who know how to pair Cantonese seafood with the right white wine because they have equal access to both traditions without a lot of status fanfare.
"However, in Macao, I meet people who know how to pair Cantonese seafood with the right white wine because they have equal access to both traditions without a lot of status fanfare."
On my way home, with a six-hour layover in San Francisco, I stopped in at the Chinese Historical Society Association to see the new Chinese Exclusion Act exhibit opening and share an inspiring dinner with friends who seem to have figured out how to blend Chinese, American, and Asian-American cultures into creative and artistic lives, casually switching languages and mannerisms, combining and creating traditions as they go.
Then came the elections, which felt like a repudiation of the civil rights history that I teach and the multicultural life that I try to create every day. I spent weeks trying to understand.
After the deaths of Carrie Fisher and Debbie Reynolds, I recalled the first time I saw "Singin' in the Rain," about 11 years ago at a time I was trying to better understand men and love by watching Gene Kelly and Frank Sinatra films. I have been singing my children awake with "Good Morning" ever since.
Watching the film again with my son this New Year's Eve (as well as all the "Star Wars" films), I am once again filled with wonder and a new hope at how the many influences in our lives help us find meaning and create our own joy, our own paths.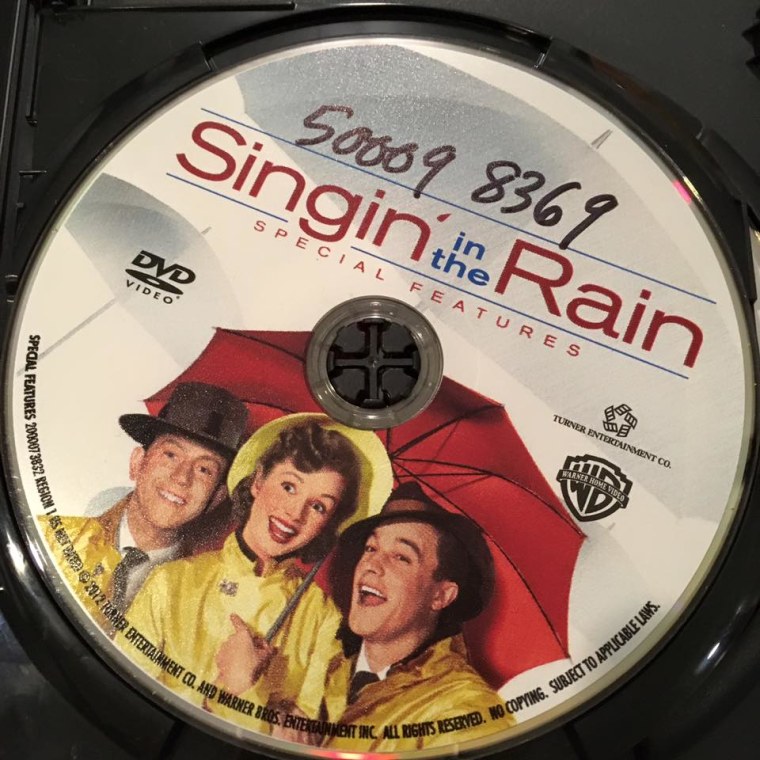 I thought about this at a Chinese yo-yo performance for a Taiwanese-American association New Year's Day celebration, when good friends laughed that my Chinese is more proper than theirs when I accidentally used an archaic term for grocery store, cai shi chang. I speak Mandarin Chinese fluently, but my Chinese is dotted with archaic terms because language continued to evolve and change after my parents left for America. It is these funny little anachronisms that set me apart from my friends who are more recent immigrants, that remind me of the ways my family history is embedded in time and place.
When my children were small, we often spent New Year's Day with my mother's Japanese-American best friends. Every year, Mrs. Kubota would tell us that we cannot start the new year without eating mochi in ozoni soup first thing. Then, after we finished our soup, she would fill our plates high with sushi, sashimi, shrimp, tempura, daikon, gobo, and more (One year my father called an ambulance because he thought he was having a heart attack when really he had just eaten too much at their house).
After my parents moved away, my children and I dropped major hints for other Japanese-American friends to invite us to their houses for New Year's Day oshogatsu, but we ended up learning how to make ozoni soup instead. It reminds us of those family friendships.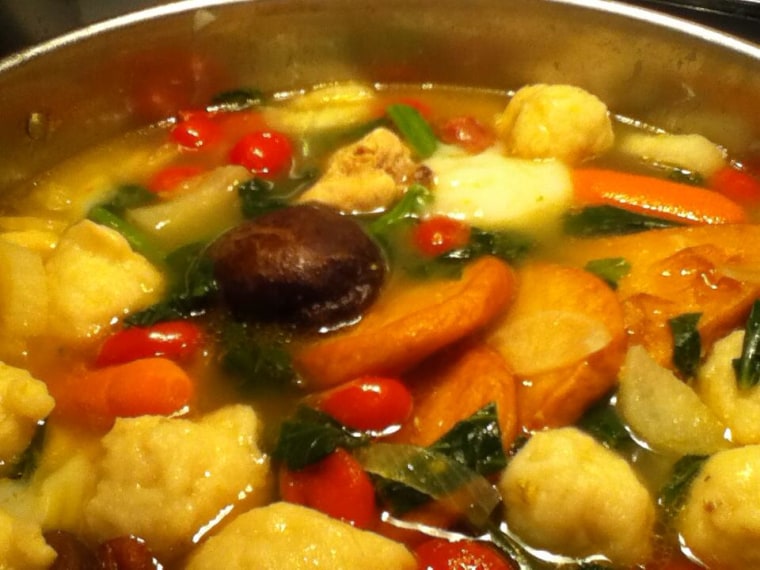 This year, my two older daughters spent the holidays with my mother, their grandmother. My mother was so impressed that my daughter was going to make ozoni soup for her on New Year's Day and remarked on all the fishcakes, taro, lotus root, and gobo that my daughter has prepared.
When I respond that I was making ozoni soup, too, my mother was surprised. "You know how to make it?" she asked.
Then, my mother told me that she was going to celebrate New Year's Eve with her neighbors: "We watch the ball drop at 7:00, which is midnight in New York City, everybody goes kiss kiss, then we go home and go to sleep."
I remember how uncomfortable my parents were when they first moved to Hawaii and everyone was always trying to hug and kiss them, and now, it seems, they are kissing back.
Follow NBC Asian America on Facebook, Twitter, Instagram, and Tumblr.
RELATED