For Julie Ae Kim, a board member of the New York City chapter of the National Asian Pacific American Women's Forum (NAPAWF*NYC), the Donald Trump presidency has been an "assault on reproductive justice, LGBTQIA equality, and gender equity."
To best defend against that assault, Kim believes a coalition based on intersectional feminism is needed.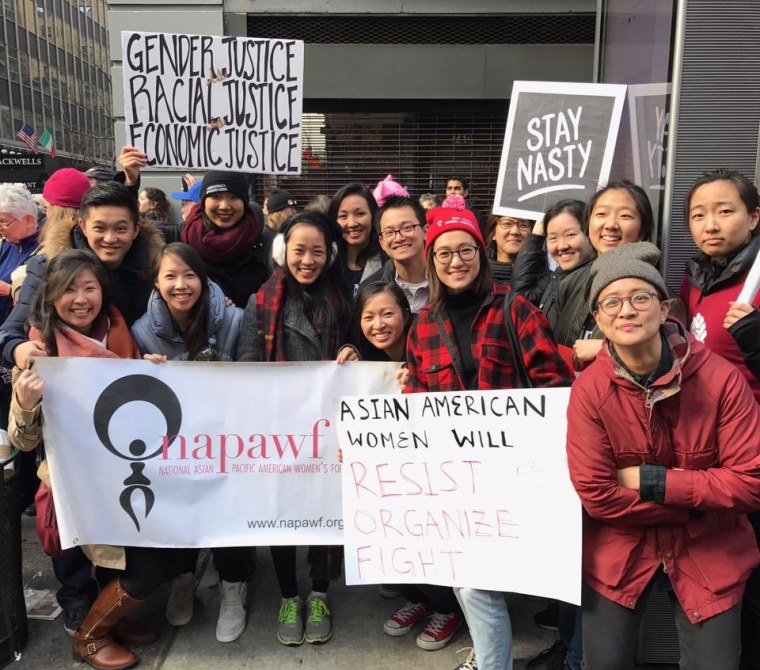 "An Asian-American feminist movement is the only movement that is able to accurately advocate for and represent the needs of Asian-American cis and trans women," Kim told NBC News. "Every day comes a new attack on Muslims, undocumented immigrants, environmentalists, and so forth. There cannot be a divide and conquer — there must be a strong base that is ready to show up, resist, protest where we are needed. And yes, we are needed."
RELATED: At Women's March, Asian-American Demonstrators Work to Channel Anger into Action
To help build that coalition, NAPAWF*NYC is sponsoring a series of events on Asian-American feminism scheduled to take place over the next five months. The series, which is planned to take place in New York, is open to the public and will cover topics including the history of Asian-American feminism, organizing, and the movement's role in reproductive rights and politics.
The first event of the series, Asian American Feminism in the Age of Trump, is scheduled for Feb. 12 at New York University and is conceived as a Women's March debrief, introduction of intersectional feminism, and an open exploration of Asian-American feminism.
"I welcome any ally to join the Asian American feminist movement because feminism is as much about learning and undoing the sexist and patriarchic structures that affect both men and women as it is about achieving equal rights and opportunities for women," Kim said.
Follow NBC Asian America on Facebook, Twitter, Instagram and Tumblr.