The Supreme Court's 8-0 unanimous ruling to allow states to draw their legislative districts according to total population drew praise Monday from Asian American and Pacific Islander groups.
In affirming a lower court's ruling in Evenwel v. Abbott, Justice Ruth Bader Ginsburg writing for the court said there was no reason to constitutionally require that voter eligibility, instead of the total number of residents, be used for redistricting. The lawsuit, brought by two voters against the state of Texas, had strong implications for the entire nation, particularly states with significant minority populations ineligible to vote because they are legal permanent residents or haven't turned 18.
A mandate that local and state districts be decided based on the number of registered or eligible voters could have excluded 45 percent of the Asian-American population and between 30 and 40 percent of the Native Hawaiian and Pacific Islander population from the base used to establish district boundaries, advocates say.
"Everyone counts in our nation's democratic process," Christopher Kang, national director of the National Council of Asian Pacific Americans, said in a statement. "The lives of every individual in the United States — whether or not they are eligible to vote — are affected by government policies and therefore deserve representation."
Mee Moua, president and executive director of Asian Americans Advancing Justice AAJC, also welcomed news of the Supreme Court's ruling.
"This is a huge win for our democracy and today's decision ensures that all members of society are represented by our government," Moua said in a statement.
At the center of Evenwel v. Abbott was the "one person, one vote" rule and the Equal Protection Clause of the 14th Amendment. While the Constitution requires that congressional districts be drawn equal in population, the Equal Protection Clause is silent on which total population should be used in creating state legislative districts. Most states glean that data from the U.S. Census, a nationwide headcount conducted every 10 years that includes non-citizens, felons, and children.
"Everyone counts in our nation's democratic process."
In 2014, Sue Evenwel, a member of the State Republican executive committee, and Edward Pfenninger sued then Gov. Rick Perry claiming that the state's new senatorial voting districts, signed into law the year before, were "malapportioned." Evenwel and Pfenninger, who were represented by Project on Fair Representation, a conservative advocacy group, argued that the redistricting violated the "one person, one vote" rule. They reasoned that the vote of someone in a district with a high percentage of eligible voters would carry less weight than the vote of someone in a district with a low percentage of eligible voters.
A decision in favor of using the total number of eligible or registered voters to draw state legislative boundaries would have likely been a boon to Republicans, who tend to live in areas with higher concentrations of voters.
To be sure, the Supreme Court's ruling Monday does not preclude states from using methods other than total population to draw up local and state districts. But Ginsburg, writing for all but Justices Samuel A. Alito, Jr. and Clarence Thomas, noted that elected officials serve everyone and not just eligible voters. Her opinion also said apportionment based on total population "promotes equitable and effective representation."
"Nonvoters have an important stake in many policy debates — children, their parents, even their grandparents, for example, have a stake in a strong public-education system — and in receiving constituent services, such as help navigating public-benefits bureaucracies," Ginsburg wrote.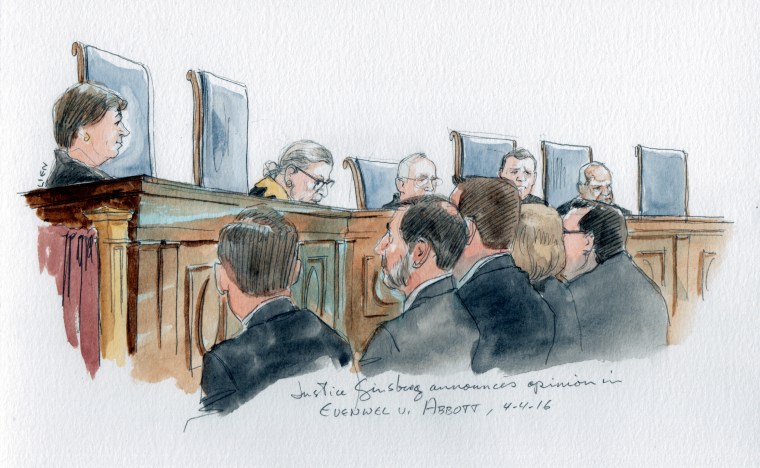 Stewart Kwoh, president and executive director of Advancing Justice - Los Angeles, said in a statement Monday that a ruling in favor of Evenwel could have negatively impacted Asian Americans living in California.
"Had the Supreme Court ruled that district lines need to be drawn based only on eligible voters, 2.3 million Asian Americans in California would have been discounted, including immigrants and youth who are not able to vote," Kwoh said.
Follow NBC Asian America on Facebook, Twitter, Instagram, and Tumblr.