James Hong, an actor in the acclaimed film "Everything Everywhere All At Once," went viral on Sunday for his acceptance speech at the Screen Actors Guild Awards, in which he called out Hollywood for its lack of Asian representation in the past. 
Hong, who plays main character Evelyn Wang's disapproving father, Gong Gong, was given the spotlight after the film won best cast in a motion picture. Surrounded by his "Everything Everywhere" castmates, Hong called out the industry for its historical practice of "yellowface," which involved mimicking the appearance and speech of an Asian person, and celebrated the triumph of Asian artists in achieving a growing presence in Hollywood. 
Hong, 94, recalled the racist environment Asians dealt with in Hollywood not long before he began his career in a Clark Gable film. Hong cited "The Good Earth," a film about a farmer in China during the early 20th century, in which the main characters were played by white actors.
"The leading role was played by these guys with an eyes tape up like this and they talk like this because the producer said the Asians were not good enough and they are not box office-[worthy]," said Hong, pulling his eyes back and imitating the old-school yellowface. "But look at us now." 
The moment received a standing ovation and was shared widely online.
Hong wasn't the only one who had a major moment Sunday night. Michelle Yeoh, who plays Evelyn, also made history as the first Asian woman to win a SAG Award for lead actor. 
"This is not just for me," Yeoh said. "It's for every little girl that looks like me."
Ke Huy Quan, who plays doting husband Waymond, similarly became the first  first Asian to win best male supporting actor at the SAG Awards. 
In his speech, Hong also made a reference to Yeoh's now-iconic "shut up" moment at the Golden Globes in January, during which she shushed the acceptance speech wrap-up music and jokingly threatened organizers with her martial arts skills if they didn't allow her to finish her speech. Yeoh's moment also went viral, with critics saying that for Asian women, who contend with historical pressures to make themselves small, the quip was profound. 
"That's all I'm gonna say because otherwise we'll be kicked off the stage," Hong said. "But if they try I'll quote what Michelle said: 'Shut up, I can beat you up.'"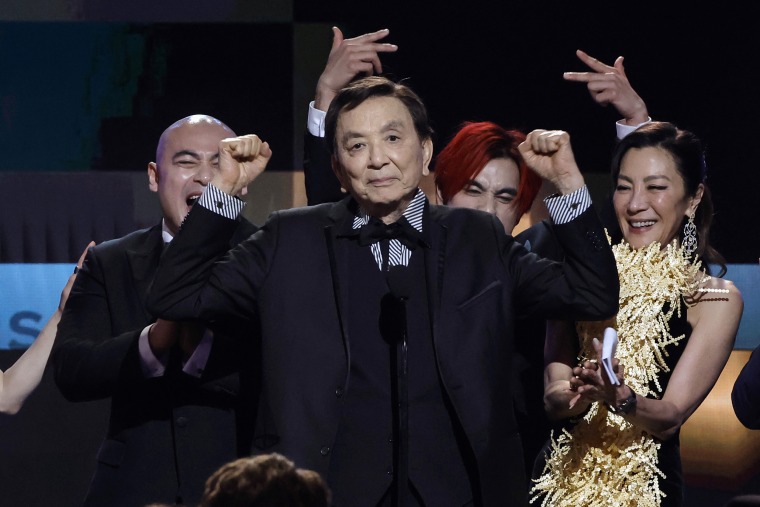 Hong, one of the most prolific actors in Hollywood history, boasting more than 700 credits over the course of his 70-year-long career, has always been outspoken about the hurdles that Asian American actors face in the entertainment industry. He's also been heavily involved in activism and was one of the founding members of the East West Players, a group that aims to advance representation in theater.
"When I came back from Hong Kong at 9 years old, I was beaten up in the grade school playgrounds, because I couldn't speak English," Hong recalled to NBC News. "From that point, I fought all the way to what I'm doing now. So I encourage all Asian Americans, all people of all different nationalities, to express yourself and do your own thing the best you can, and then things will get better as a whole."