Some fly for business, some for pleasure. But at least one Taiwanese American, Yintzu Huang, took a long-haul flight to her native land for a different reason — to cast a ballot in the island's election on Saturday.
"I do feel so strongly that we should definitely all go out and vote," said Huang, 34, a video editor who lives in Brooklyn, New York.
Taiwan, the self-governing island of nearly 24 million people off the coast of China, doesn't permit voting by absentee ballot, prompting some Taiwanese to fly home to take part.
Taiwan's government doesn't have official figures on how many Taiwanese American expats are expected to return to vote for a president and legislative representatives. About 19.3 million people are eligible to cast ballots, among them Taiwanese Americans who are dual citizens or who have legal residency and meet certain other conditions.
The stakes are high this year, and the outcome could steer U.S.-China-Taiwan relations. The election comes amid a U.S.-China trade war, ongoing pro-democracy protests in Hong Kong and soured relations with China under Taiwanese President Tsai Ing-wen of the independence-leaning Democratic Progressive Party, or DPP.
Beijing views Taiwan as a renegade province that Chinese President Xi Jinping has said "must and will be" reunited with the mainland. Amid the Chinese civil war, the Nationalists retreated to Taiwan in 1949, fleeing communist forces.
Tsai, elected as Taiwan's first female president in 2016, is facing challenges from Han Kuo-yu, the nominee of the Beijing-friendly Chinese Nationalist Party, or KMT, who serves as mayor of Kaohsiung in southern Taiwan, and from James Soong, chairman of the People First Party.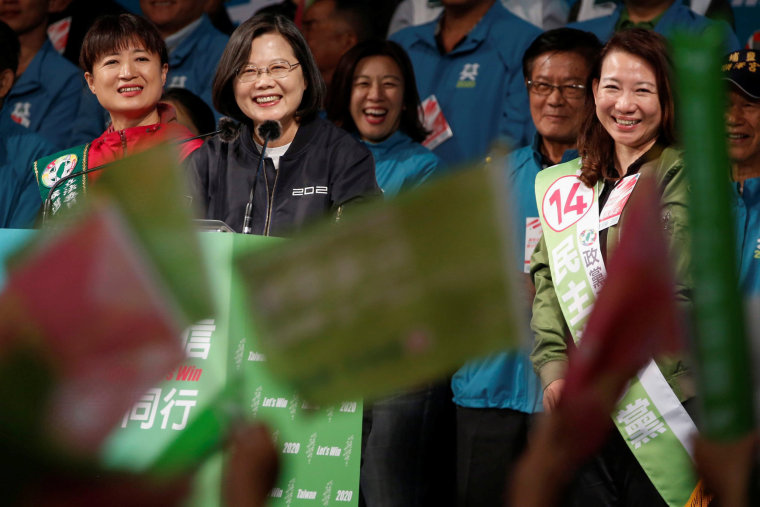 During Tsai's presidency, China has increasingly shrunk Taiwan's space on the international stage, blocking an annual invitation to the World Health Assembly and poaching its dwindling number of allies, leaving just 15 countries with diplomatic relations with Taiwan.
The United States, meanwhile, infuriated Beijing last summer when it allowed Tsai to stop in America during her journey to visit Taiwan's Caribbean allies. Congress has passed various bills to strengthen U.S.-Taiwan relations, while the State Department last year approved $2.2 billion in arms sales to Taiwan.
The United States recognized Beijing as the government of China in 1979 and doesn't have formal diplomatic ties with Taiwan, but U.S. law requires Washington to provide Taiwan with sufficient defense equipment and services for self-defense.
Polls give Tsai a double-digit lead over Han, her closest competitor. While she hasn't always been popular, Tsai saw her numbers climb in 2019, the result of factors that include robust economic growth, the widespread protests in Hong Kong and fears of China's growing influence and control.
But Jiunn Chen, secretary of the Long Island, New York, branch office of the KMT of China, whose wife flew back with a delegation to vote, doesn't believe the polls. Han told supporters in late November to lie and tell pollsters that they're voting for Tsai, a move to trick the DPP into thinking it's going to win.
Chen said he believes Han, a former legislator, can still pull off a victory, adding that "he's a guy who knows the suffering of the people" and could even bring democracy to China.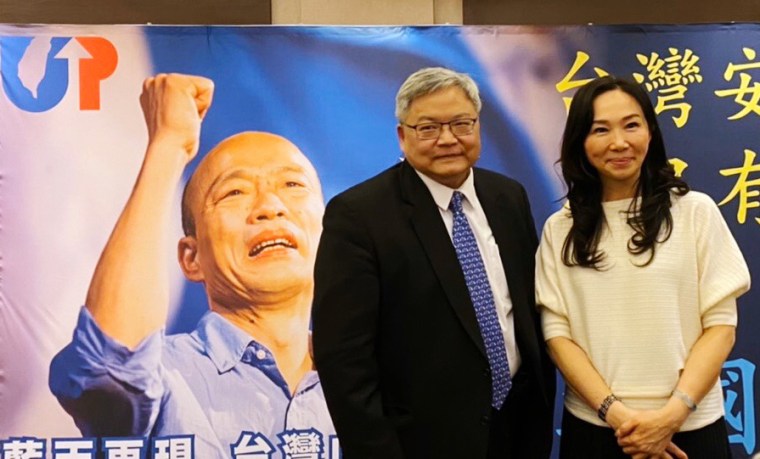 But Cheng-Kai Kao, 29, a filmmaker from Taiwan living in Brooklyn who flew back for the election, said Tsai is his choice.
Kao cited Taiwan's legalization of same-sex marriage last year, a first in Asia, and Tsai's forceful response to a speech Xi gave on cross-strait policy in January 2019 as reasons he supports her.
Tsai rejected Xi's claim that the "one country, two systems" framework that the mainland uses with Hong Kong was the way to resolve cross-strait conflicts.
"She is such a modern woman," Kao said of Tsai.
Despite the apparent strengthening of relations between the United States and Taiwan, Seung Yan Chan, standing committee member of the KMT Eastern Regional Office who lives in New York, said he's concerned that cross-strait communications between China and Taiwan have ceased.
Although Chan was born in Hong Kong and is unable to vote, he said he'll still fly to Taiwan this month with overseas Taiwanese KMT supporters to participate in an island-wide tour to drum up support for Han, the party's candidate.
"At least he's willing to communicate with China," Chan said of Han. "That will help the economy of Taiwan."
Download the NBC News app for breaking news
Huang, the video editor from Brooklyn, said her vote is going to Tsai. But in 2008, Huang said she backed KMT candidate Ma Ying-jeou, who went on to serve two terms as president, ushering in a warming of cross-strait relations.
Huang cited low salaries and the effect of the global recession on Taiwan's economy as reasons to vote for Ma. His presidency subsequently brought Taiwan closer to China with the signing of nearly two dozen trade agreements over six years.
That didn't sit well with many Taiwanese, including college students who stormed and occupied the chambers of Taiwan's lawmaking body in March 2014. The occupation was in protest of what they viewed as the opaque ratification of a trade deal with China after the KMT pushed it through Parliament.
That gave rise to the Sunflower Movement, whose protesters feared a loss of Taiwanese sovereignty and identity.
"The Sunflower Movement really changed me a lot," said Huang, who voted for Tsai in 2012 and again in 2016. "It really helped me build my own identity, culture-wise."
While supporters of Tsai and Han may not agree on much, Huang and Chan said they believe this election could be close.
After a televised presidential debate late last month, the Taiwanese news station TVBS polled Tsai at 45 percent, Han at 29 percent and Soong at 7 percent.
Apple Daily, a Chinese-language newspaper, put Tsai at 49 percent, Han at 15 percent and Soong at 6 percent in a poll late last month.
But the Apple Daily numbers also noted that nearly 1 in 5 Taiwanese still hadn't decided whom to support.
"Every vote becomes very important," Chen said.