For David Han, his journey to the U.S. had long been a dark and hidden secret.
When he was just two years old, his mother took him and his sister from Korea to Mexico and then across the border to Los Angeles. For several years, Han, now 20, said they lived with family in a church in the Koreatown section of Los Angeles.
His mother's status is still uncertain, but just a few years ago while in high school, Han discovered the power of his story. He began telling the world he was undocumented, and he hasn't stopped.
RELATED: These Women Are Fast Becoming 'the Face of American Immigration'
On July 27, Han -- who has received relief from deportation through the Deferred Action for Childhood Arrivals program (DACA) -- will join 14 other "dreamers" to tell their stories again on the second Dream Riders Across America tour.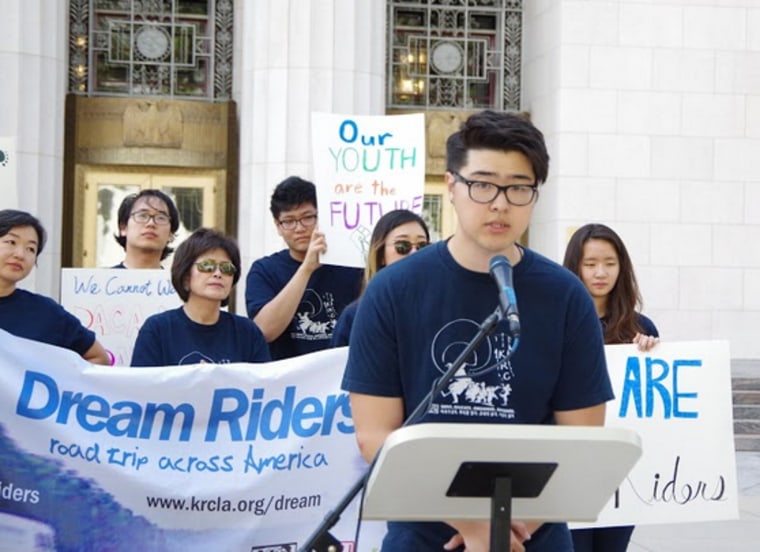 Organized by the National Korean American Service and Education Consortium (NAKASEC), the Korean Resource Center (KRC), and several other groups, the 12-day bus tour hopes to engage Asian American and Pacific Islanders and other immigrant communities in Virginia, North Carolina, Georgia, Florida, Alabama, Louisiana and Texas.
Han was part of the first such tour in 2013, one year after DACA began.
Now in 2015, the circumstances for the second tour have changed, especially with the anti-undocumented immigrant rhetoric on the current presidential campaign from GOP front-runner Donald Trump. Considering the southern swing, organizers like Emily Kessel of NAKASEC acknowledged it was like going right into "the eye of the storm."
But in an interview with NBC News, Kessel said the states were chosen precisely because they're considered battleground states, like Texas where one of the suits delaying DACA has been filed.
She's fully expecting the anti-undocumented immigrant rhetoric to continue. "We're taking every precaution possible to make sure that everyone is safe and secure," Kessel said, though mindful that an important message still has to get out. "We just have to promote our narrative more strongly."
It means Han and the dream riders will be front and center, because when they come out to tell their story, the hope is that others will too.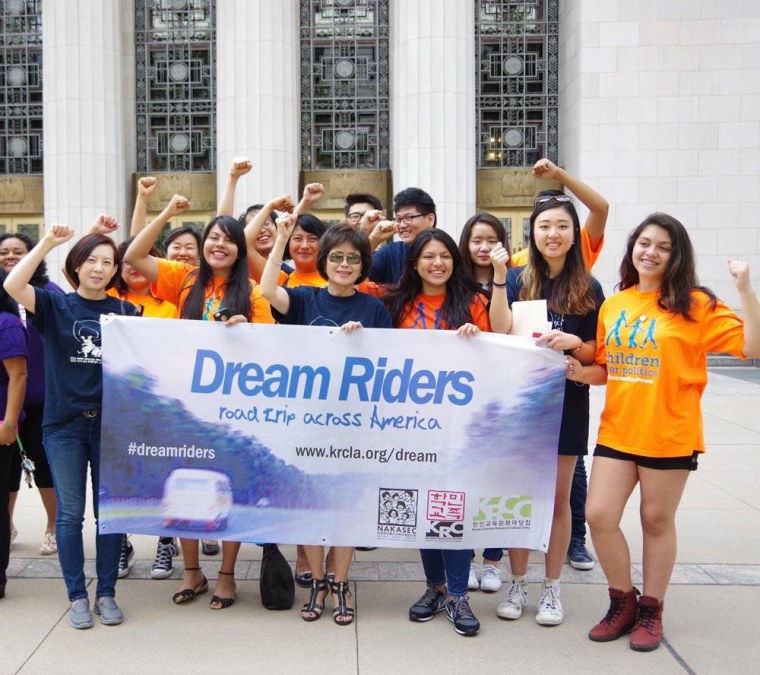 "There is still a hesitancy in our AAPI [Asian American Pacific Islander] community to come forward and reveal one's status," Kessel said. "And there still is fear in the community about coming forward. For instance, just like with other communities, folks are not sure what will happen after the Obama Administration to programs like DACA. And the high fees for initial and renewal costs (around $500 dollars) are also a barrier for many families."
Kessel said that 8,000 Korean community members were accepted for DACA initially, with more than 5,000 accepted for renewal. But she said that number is a fraction of the estimated 80,000 Korean undocumented who could be eligible.
"I met hundreds of undocumented students, and I said, 'Wow,' everyone here has their own struggles, their own stories...And I wasn't alone."
Other Asian Pacific Islander communities have experienced the same low turnout.
Out of more than 19,000 Chinese eligible, only 837 have applied based on a 2014 analysis of numbers from the Brookings Institute and the Migration Policy Institute. The numbers were also especially low among Filipinos -- of whom 27,000 were potentially eligible an only 3,874 applied.
And then there are people like Bo Daraphant, 19, who initially overstayed a tourist visa from Thailand to live with his cousins in America in 2009. But that was two years late for the DACA cutoff date.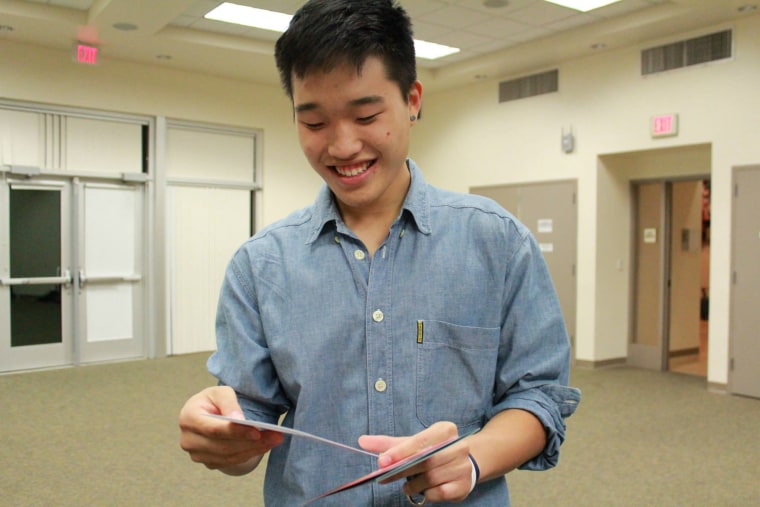 Daraphant, 19, was saved by two California laws, a version of the Dream Act which allowed financial aid, plus AB540 which cut fees to help international students attend California's public universities. It coincidentally benefitted the undocumented, including Daraphan, who is now a student at the University of California at Irvine.
RELATED: Turning Today's Immigrants into Tomorrow's Leaders
He wouldn't have even known about the opportunity, he says, if he hadn't gone to student rally at UCLA while in high school. "I met hundreds of undocumented students, and I said, 'Wow,' everyone here has their own struggles, their own stories," Daraphant said in an interview with NBC News. "And I wasn't alone."
He was particularly surprised to see Asian undocumented people like himself.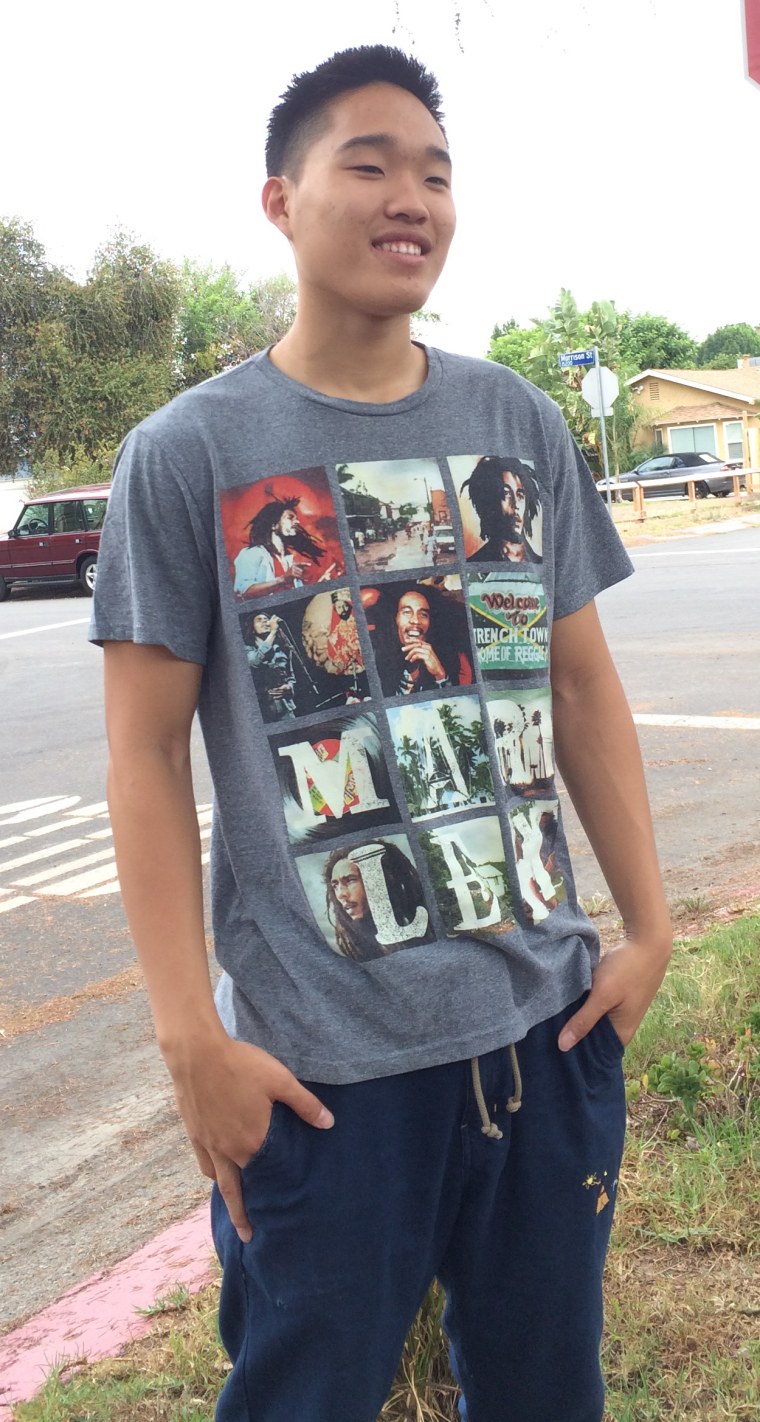 Eventually, working with groups like the Korean Resource Center and NAKASEC, Daraphant got into UC Irvine, and began to share his own story about the undocumented experience. First he spoke at a school rally, then at even more events like a protest with UC President Janet Napolitano.
"After that I opened up to hundreds of kids," he said before embarking on the Dream Rider tour where he hopes to see America, meet many new people, and convince others like he was convinced that it's time to come out of the shadow. "It's a great opportunity, you just got to do it...I'm scared. But you can't let the fear take control of things, or you can't live the life you want to live."
RELATED: Asian-American Leaders Slam Bill as 'Anti-Immigrant'
For Daraphant, the life he wants means helping others through his activism and his art.
While in college last spring, the self-taught aspiring street artist created a mixed-media depiction of a dreamer. He used his own life, not as one to be hidden in shame, but as inspiration for his art.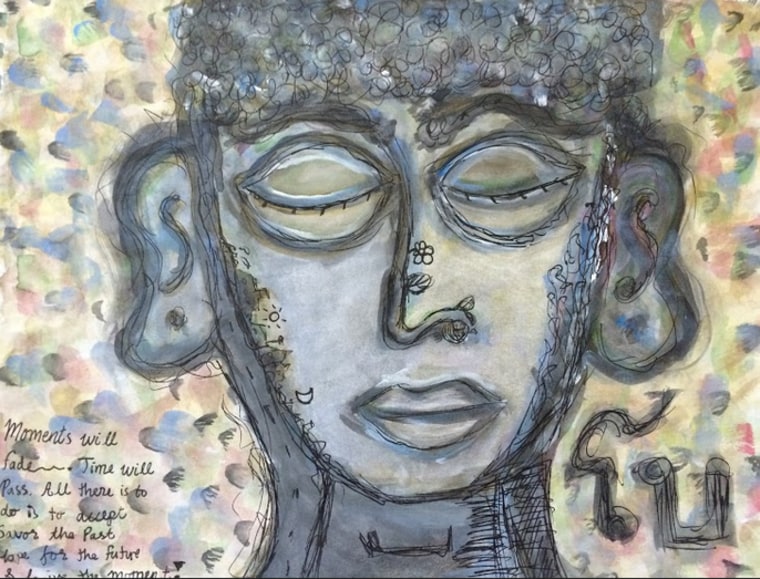 It's a mindset that the youthful dream riders like Han and Daraphant hope will draw out others with similar stories to join them.
The Californians are especially looking forward to interacting with non-Asian American groups on the 12-day tour on issues beyond DACA and DAPA.
"I think it's great to meet these people and hear their stories and to unite," Daraphant said. "One person, you can't really do much. But when you form a bigger community, you can make more changes."