The honor guard practiced one last time in front of the station house, and the men and women of the 84th Precinct in Brooklyn filed into formation on the street. The plaque dedication ceremony for two New York City police officers shot to death as they sat in their patrol car was about to begin early Sunday afternoon — exactly one year after their deaths — and a New York Police Department (NYPD) official in a suit went over the particulars of the ceremony with the mother, father, and wife of the late Detective Wenjian Liu.
More than 50 of Liu's friends and relatives, wearing buttons to remember the 32-year-old Chinese-American police officer, made their way to seats set up on the street outside of the precinct. Family and friends of the late Detective Rafael Ramos, Liu's partner that day, did the same. Soon after, the officers were called to attention, the national anthem sung, and the dignitaries introduced.
Following an invocation, Mayor Bill de Blasio was first to speak.
He recalled the lives of Liu and Ramos, how the stories of these two men struck a deep chord with so many around the country. Liu, who emigrated to the United States at the age of 12, joined the NYPD after the terrorist attacks on Sept. 11, 2001, de Blasio said, because being a cop was a calling for him. Ramos entered the police academy later in life, at the age of 37, serving as a mentor to younger officers, the mayor said.
Liu, a seven-year veteran, loved to fish and shared what he caught with his family. Ramos, 40, left behind a wife and two sons; he was studying to be a chaplain.
"These two men had extraordinary integrity," de Blasio said.
"Before my son's death, I would hear his voice every day for the past 33 years of his life."
Neither had any idea that a 28-year-old man named Ismaaiyl Brinsley, would fire a gun into their cruiser on Dec. 20, 2014. Brinsley, who had a history of arrests and made threats against police on social media after shooting his girlfriend in Baltimore last year, took his own life that very same day, shooting himself on a subway platform not far from where he killed Liu and Ramos with the very same gun.
Brinsley's threats were apparently connected to police incidents around that time involving the deaths of African-Americans, including the fatal shooting last August of Michael Brown in Ferguson, Mo., and a grand jury's decision last December not to indict an NYPD officer accused of placing a chokehold on a Staten Island man, Eric Garner, who died during an arrest last summer.
Police Commissioner William Bratton, who spoke after de Blasio, said Liu and Ramos were "faithful to all that is good" and that their deaths "were not in vain." He said their murders had the effect of stemming protests against police, which, at the time, were gaining traction following the deaths of unarmed black men.
"Their deaths stopped a momentum, a momentum towards a precipice in this country a year ago that was beginning to spin out of control," he said. "It stopped that insanity."
RELATED: Chinese-American Officers Stream to Wenjian Liu's Funeral
RELATED: Chinese Community Reels After Brooklyn NYPD Shooting
After several other city and police officials addressed the crowd, Liu's father, Wei Tang Liu, came to the podium with his wife. A female Asian-American police detective stood off to their side. Liu, a garment factory worker, spoke in his native dialect of Taishanese, and he sobbed throughout. Midway through, he took out a handful of paper napkins in his pocket, wiping his face before continuing, and his wife, Xiu Yan Li, standing at his side did the same.
Liu finished speaking, and Wenjian Liu's widow, Pei Xia Chen, translated for her father-in-law. Before she began, Chen took several deep breaths, glancing to her right where all of Liu's friends and family were seated. Some were crying, and so was she.
"Before my son's death, I would hear his voice every day for the past 33 years of his life," Chen said, translating for Liu. At one point, she struggled to continue, heaving as the female detective standing next to her whispered something in her ear. Chen pressed on with the translation, thanking everyone for the support they've received. She concluded by wishing all in attendance a "Merry Christmas" and a happy and safe new year.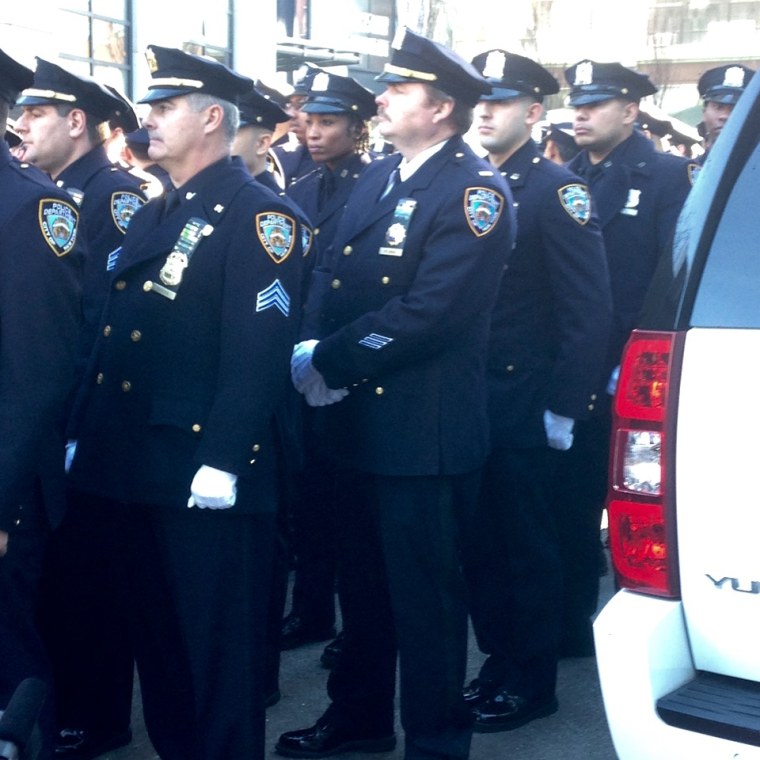 Ramos' wife, Maritza, did not deliver remarks at the ceremony. She spoke at a service Saturday in Queens honoring her husband and Liu. She also announced last week that she was establishing a foundation in her husband's name to help families of police killed in the line of duty.
As bagpipes played, the plaques for Liu and Ramos were unveiled, and Father David L. Cassato, an NYPD chaplain, blessed them. A police helicopter flew overhead in a straight line, and attendees raised their phones to photograph the two plaques. They will join others hanging in the station house that honor four fallen police officers from the 84th Precinct, also killed in the line of duty.
RELATED: Slain Cop Was Set to Become Chaplain on Day of Brooklyn Ambush
RELATED: 'Assassinated': Shock After Two NYPD Officers Gunned Down in Their Car
After the ceremony ended, attendees lingered to take more photos, and Wei Tang Liu, his head lowered and still sobbing, stood with his family in the mix of officers and civilians. It was close to 2 p.m., and there were still wreaths to be laid 45 minutes later near the spot where Liu and Ramos sat in their patrol car for the very last time.