The family of a man shot dead by police in June plans to file a $20 million lawsuit against the Washington state sheriff's office they say is responsible.
Jeffrey Campiche, an attorney representing the family of Tommy Le told NBC News that Le's family does not believe there was reason to use deadly force on the night Le, who was 20, was killed.
At around midnight on June 13, the King County Sheriff's Office received multiple 911 calls about gunfire and a man lunging "with a knife" in the city of Burien, a suburb of Seattle, according to a Sheriff's Office statement.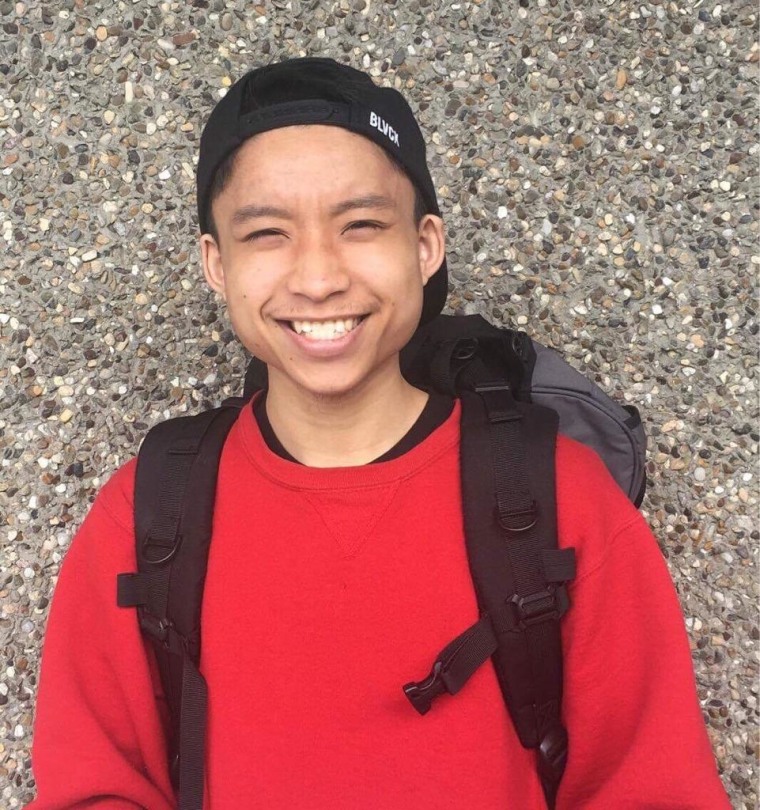 After deputies arrived on the scene, a witness identified Le as the suspect and pointed him out walking toward the deputies while making stabbing motions, according to police. Two officers told Le to drop what he was holding, but he allegedly continued advancing. The deputies then unsuccessfully used their Tasers to try and stop him before Deputy Caesar Molina then shot multiple times, hitting Le, according to the release.
Le was pronounced dead at Harborview Medical Center in Seattle on June 14, the same day he was supposed to graduate from a high school completion program at South Seattle Community College, according to his family.

More than a week after the incident, the sheriff's office said that Le was holding a pen in his hand at the time of the shooting.
Le's autopsy, which was released by his family, said Le was shot twice in the back and once in the wrist, disputing the Sheriff's Office's account, according to Campiche, who said the autopsy suggested Le was shot from behind.
"So if he was attacking somebody else and they shot him in the back, the deputy would have hit or killed the people that Tommy was allegedly attacking," Campiche said.
Le's family alleges that his death was a violation of the Fourth Amendment, according to court documents filed by the family on Sept. 7. The family also alleges that Le's death deprives his parents of their Fifth and 14th Amendment rights to a relationship with their son.
The family is seeking $10 million in compensatory damages and another $10 million in punitive damages.
"They believe he probably would not have been shot if he was white, and they want to try to change the practice and the policies of the King County Sheriff's Office to comply with the United States Constitution," Campiche said.
News that Le had attacked police was difficult for his family to believe, Xuyen Le, his aunt, told NBC News.
"That's not how Tommy was taught," she said. "When the cops keep coming to your house telling your family that Tommy attacked, he was chasing after the deputies with a knife, it was very hurtful because Tommy, he's not like that."
She described her nephew as a goofy, lovable, and caring person who never made any bad jokes. Le also had no criminal history, Campiche said.
Le's autopsy indicated no signs of drug use, though the sheriff's office is awaiting the results of additional tests to see if Le had used LSD or mushrooms according to Sgt. Cindi West, public information officer for the King County Sheriff's Office.
The Sheriff's Office declined to comment on the Le family's intent to file a lawsuit, citing the ongoing investigation and the fact that the office has not yet reviewed the claim.
"It would not be appropriate to comment at this time," West said in an email.
While Le's family grieves his loss, distress is also felt by the greater Vietnamese community. Linda Tran, an attorney at Campiche's law office and president of the Vietnamese American Bar Association of Washington, told NBC News she has received many private messages from the community expressing confusion over the incident.
In July, a public forum was held in Seattle where community members were able to ask questions about the incident.
"As you walked in, you could feel the tension and the sadness and everyone's feelings, and there's so much community support for Tommy Le's family," she said.
"Our lawsuit will not bring back Tommy Le or restore him to his family, but from the family's standpoint, they left Vietnam to be free of oppression and to come to a country where they had rights and protections and opportunities and safety," Campiche said. "And they feel that it's their duty as U.S. citizens to stand up when people's rights are trampled on."
Follow NBC Asian America on Facebook, Twitter, Instagram and Tumblr.