The wife and eldest daughter of a Chinese-American physics professor accused of spying have been added as plaintiffs to a federal lawsuit alleging malicious prosecution and invasion of privacy.
Wife Qi Li and eldest daughter Joyce Xi joined the suit in documents filed on July 7, a couple of months after Xiaoxing Xi first brought his complaint in federal court in Philadelphia.
In it, 59-year-old Xi argued that lead case agent Andrew Haugen told prosecutors Xi's dealings with colleagues in China were "for a sinister and illicit purpose," even though Haugen allegedly knew they were "legitimate normal academic collaborations."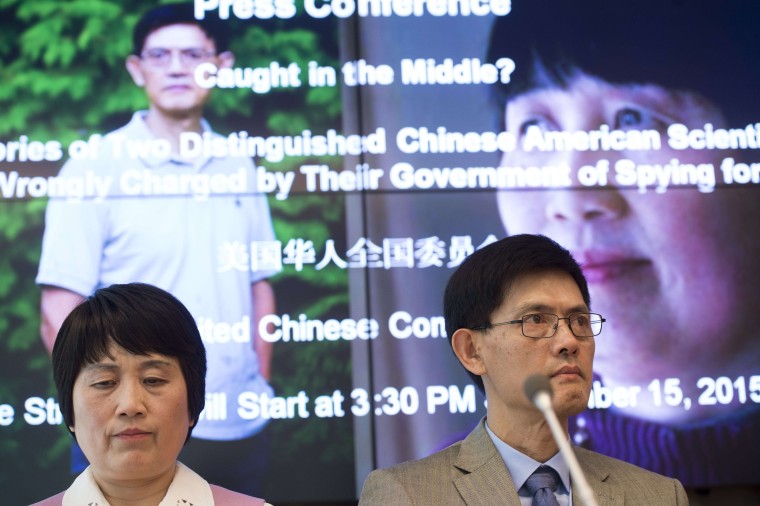 An indictment handed up in May 2015 by a federal grand jury in Pennsylvania accused Xi of sharing information with counterparts in China about a pocket heater, which Xi bought in 2004 for use in his superconductor research, court papers said.
He was charged with four counts of wire fraud in what prosecutors said was an effort to help the Chinese become "world leaders of the superconductivity field."
RELATED: Scientist Formerly Accused of Spying Sues Alleging FBI Agent Falsified Evidence
But the government dropped its case in September 2015 after Xi and his attorney gave a presentation to investigators a month earlier, according to court papers.
Xi's lawsuit said that the only thing the physics department's interim chair at Temple University in Philadelphia discussed in emails with colleagues in China was technology he himself had invented and published — not the pocket heater.
And that, the suit contends, was a fact Haugen knew before Xi was ever indicted.
Li, also a physics professor, and Joyce Xi were at home in the early morning hours of May 21, 2015, when authorities came to arrest Xiaoxing Xi, according to court papers.
Not fully dressed, Xiaoxing Xi answered the door after hearing loud, urgent knocks. Awaiting him on the other side were armed federal agents, some with a battering ram, court documents said.
Li and the couple's two daughters, the youngest age 12 at the time, were held at gunpoint as a handcuffed Xiaoxing Xi was led away, his lawsuit claims.
All of them were forcibly removed from their bedrooms, and agents allegedly refused to explain the grounds for Xiaoxing Xi's arrest, the amended complaint said.
The youngest daughter was not named as a plaintiff in the lawsuit.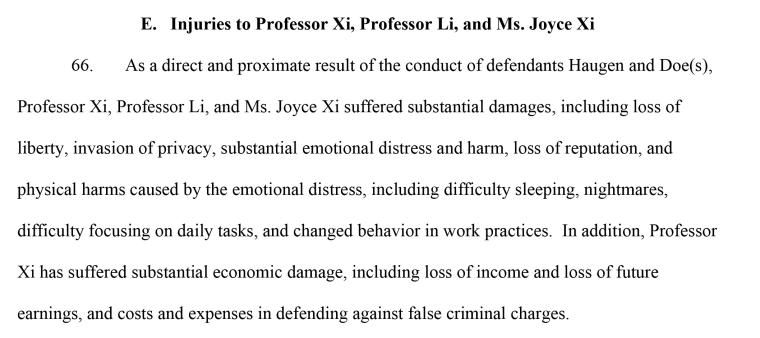 The revised complaint claims that Li and Joyce Xi, in addition to Xiaoxing Xi, have suffered loss of liberty, invasion of privacy, substantial emotional distress and harm, and loss of reputation as a result of Haugen's alleged actions.
It also said they have nightmares, trouble sleeping, and difficulty focusing on daily tasks.
"Having experienced a prosecution that resulted from innocent communications and research, and having been subjected to false charges, Professor Xi, Professor Li, and Ms. Joyce Xi fear that their current and future words, phone calls, emails, and actions, however innocent, may be similarly misused by the government," the court filing reads.
RELATED: Petition Demands Apology for Chinese-American Scientists Previously Accused of Spying
A naturalized citizen born in China, Xi is among several Chinese-American scientists who in recent years have had federal criminal indictments dismissed before heading to trial.
Last May, the Congressional Asian Pacific American Caucus, among others, called on the Justice Department to investigate whether race, ethnicity, or national origin played a role in bringing espionage charges against Asian Americans, including Xi and hydrologist Xiafen (Sherry) Chen.
In an email to NBC News, the Justice Department declined to comment on the amended complaint. Xiaoxing Xi's attorney did not immediately return a request for comment about the addition of Xi's wife and eldest daughter as plaintiffs in his lawsuit.
Follow NBC Asian America on Facebook, Twitter, Instagram and Tumblr.