When Lolo Santosa was a college student in her hometown of Jakarta, she volunteered for a clean-up of the Ciliwung River, one of the country's most polluted waterways.
What she remembers most vividly from the experience is seeing the living conditions of some of her fellow Jakartans.
"Under the bridges, there were people living there in such horrible conditions," she told NBC News. "It bothered my conscience, growing up with that understanding that I'm very blessed to have what I have, to have the education that I have, but a lot of my fellow Indonesians or Jakartans didn't have it. So when I moved to the U.S., I think that part of wanting to help still stays. It just stays."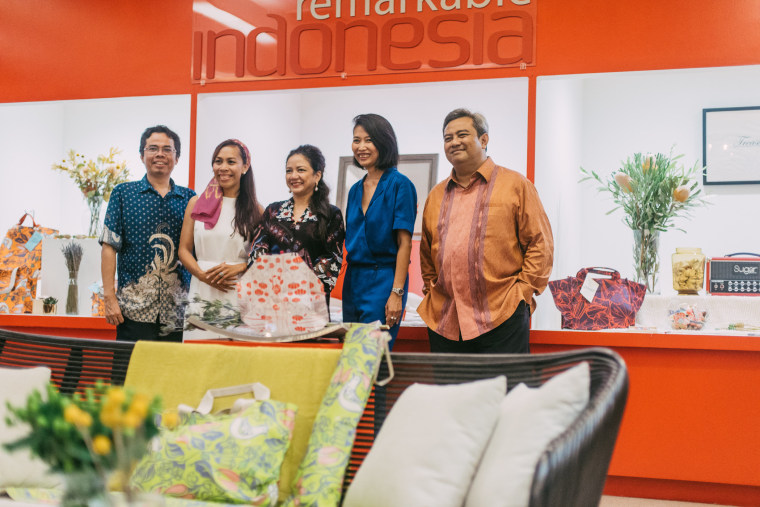 According to Indonesia's Central Statistics Agency, approximately 28 million Indonesians — or over 10 percent of the population — live in poverty.
So, in 2014, Santosa — a former lawyer who had since moved to Los Angeles to pursue a career in fashion— left her steady job as an assistant to an executive at clothing retailer Fred Segal to start Toko-Toko, an online store, pop-up shop organizer, and fashion branding company. Its mission: to be a cultural bridge between the U.S. and Indonesia through trade, fashion, art, and philanthropy.
Toko-Toko — Indonesian for "shops" — is headquartered in downtown LA's arts district and holds two pop-up sale events a year, one in summer and one in winter. At its first pop-up event in August 2015, Santosa featured five Indonesian brands she had hand-picked. That number has since grown to 25 and includes both U.S. and Indonesian fashion, accessories, and lifestyle brands.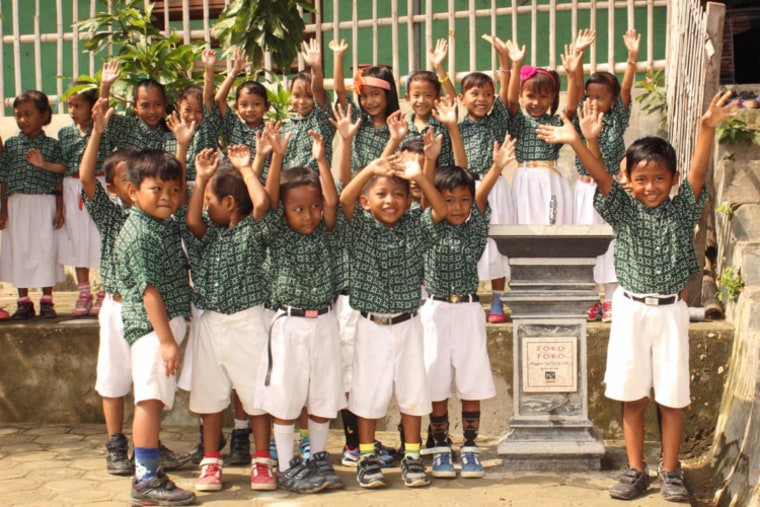 Santosa and her business development partner, Susan Dietch — a native of Bali — curate products from Indonesia-based brands, many of which are independently run and lack the resources to export and market their goods to the U.S. Santosa and Dietch then work with the brands directly, overseeing everything from shipping to packaging to product photo shoots. Items range in price from $8 to $148.
It's also shopping with a sustainability slant: The two travel to Indonesia regularly to ensure the brands they represent make products in the most eco-friendly way possible. And 10 percent of all purchases go toward an Indonesia-based cause of the company's choosing.
"[The dollar amount] might not be a very big number if we're selling items for $20. But in Indonesia, it stretches so much," Santosa said.
Last year, Toko-Toko partnered with non-profit organizationWater is Life and a local Indonesian charity, Himpunan Penduduk Pemakai Air Minum, to help fund the construction of residential water pipes and sinks in local schools in Ngminbang, a village in East Java. The village's main water source had dried up in a drought in 2010, forcing residents to walk 7 miles to their next nearest source. They are now able to fill buckets with clean water for everyday use in the front of their homes.
"When we started Toko-Toko, it was definitely to show the U.S. market that there are beautiful products and cultures in Indonesia that can be shared through fashion," Santosa said.
According to Dietch, part of building Toko-Toko's cultural bridge is connecting Americans to an image of the country that goes beyond news headlines and associations with cheaply made, mass produced goods.
"They've heard about the Bali bombings or tsunamis. But fashion doesn't see [citizenship] or religion," Dietch said.
"When we started Toko-Toko, it was definitely to show the U.S. market that there are beautiful products and cultures in Indonesia that can be shared through fashion."
Santosa also sees it as a way of preserving the richness of Indonesian craftsmanship, methods for which have been passed down within families from generation to generation.
"This art may be dying if they don't have enough customers. We want to make sure that they continue to get customers so these skills — beautiful artisan work — don't die or disappear from the islands," she said, referring to crafts like traditional batik or ikat prints which can take months to design and produce.
In 2017, Toko-Toko hopes to strengthen its Southeast Asia-U.S. bilateral exchange. Santosa and Dietch recently launched Legra, their sustainable in-house label, and are expanding their vendor list to include brands from other countries in the region, like Malaysia and the Philippines.
In addition to funding water access, the company is also partnering with Bulan Sabit Merah Indonesia, a social services organization, to address natural disaster relief efforts and senior citizen issues.
And for the first time ever, they will be bringing their summer pop-up event to Jakarta, where they will introduce Indonesian shoppers to independent American brands. Santosa and Dietch anticipate thousands of shoppers and say they will challenge Indonesian brands to engage in a philanthropic exchange with the U.S.
"For the two of us, our vision is gigantic. We're not thinking small because we're really opening markets: opening markets for the U.S. brands to go to Indonesia. Opening markets here for the Indonesian brands to come to the U.S.," Santosa said.
"We want to benefit two countries," Dietch added. "So, it's time to bring America to Jakarta."
Follow NBC Asian America on Facebook, Twitter, Instagram and Tumblr.